This post may contain affiliate or referral links. Read more about this in our disclosure policy.
Have you ever visited the Old Faithful Geyser Basin? It's an incredible spot worth seeing in Yellowstone National Park. If you've never been there before, plan a trip to see it in person for an exciting and unforgettable experience.
Guide to the Old Faithful Geyser Basin
Old Faithful is by far one of the most fun experiences you can have while visiting Yellowstone National Park with your kids. If for sure will not disappoint and they will have these memories forever. It's a must-see location that's for sure. If you are passing through or specifically came to see the geyser itself you must know about the scenic drives as well as all the wildlife you can see in the area. Take a few days to enjoy it all.
With rentals available all over the world, you're sure to find the perfect place to stay. Whether you're looking for a rustic cabin in the woods or a luxury villa in town, Airbnb has something for everyone. Plus, with prices that are often much cheaper than traditional hotels, you'll be able to stretch your vacation budget even further. If you sign up with Airbnb you will get a $40 credit to start off with! Another option is looking into a Yellowstone Vacation Home if you will be in the area for an extended period of time.
Related: Must See Grand Tetons National Park Scenic Drives
Grand Teton & Yellowstone Adventure Notes Books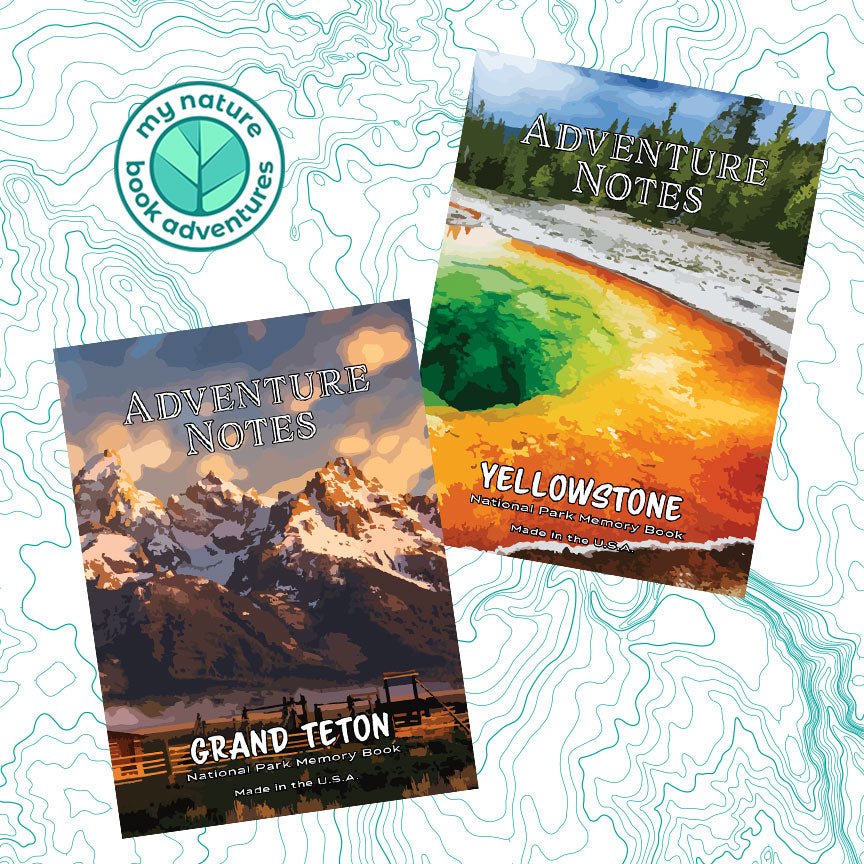 The perfect way to remember your trip to each iconic National Park. These Grand Teton and Yellowstone Adventure notes books are great for memories to look back on years down the road. Fill them in, add photos, and reminisce. Find even more National Park Adventure books for future visits.
What Is the Old Faithful Geyser Basin?
Old Faithful is the name of one of several geysers in Yellowstone National Park. It received its unique name 150 years ago and has been a local treasure ever since. You can find the geyser in Teton County, Wyoming, an area consisting of a little over 4200 miles with over 23,000 people. The Old Faithful Geyser Basin is famous because of its unique appearance and old age. It's the first geyser throughout the park to receive a unique name that dates back so long ago.
Related: 12 Tips for Visiting Grand Tetons National Park with Kids
Interestingly enough, the geyser erupts every so often. On average, it erupts every two hours, but sometimes the time between eruptions is even less than that. The predictable geothermal feature started in 2000 and has yet to disappoint ever since. It continues to erupt now in 2021. When it erupts, hot water pours out of the geyser, spraying up to more than 100 feet high. While it's not the most giant geyser or even the most popular one in Yellowstone National Park, people love it because of its predictability.
When Is It Best to See the Old Faithful Geyser Basin?
If you're visiting for the first time, you probably want to know when it's the best time to check out this unique geyser. If you'd like to have a more intimate experience with fewer people around while you see it, it's a good idea to visit early in the morning or later in the evening. The geyser is often most visited in the afternoon hours, meaning it might be harder for you to get the best view of it with plenty of other people around.
Related: 11 Best Hikes in Grand Teton National Park
You can expect to see many crowds when you visit because many people have heard fantastic things about Old Faithful and want to experience it for themselves. It's a busy time for the area during late spring, summer, and late summer. You can visit the geyser at any time when the park is open to the public. However, it's a good idea to choose a bright and beautiful day when the weather cooperates and gives you more time to see Old Faithful and explore the area.
Will I Need a Pass to See It?
You'll need to purchase a pass to access Yellowstone National Park. Once you've got the pass, you can check out all the geysers in the area, including the Old Faithful. Ask the rangers at the desk for their Junior Ranger program book for any kids traveling with you. You can also ask them about any must-see locations at the park!
Don't forget to visit the Ranger Station so any kids traveling can get their National Park Passport stamped.
If you haven't been to the Old Faithful Geyser Basin at Yellowstone National Park, plan a visit to see it in person. If you wait long enough, you can even watch it erupt in front of you while making sure that you're not standing too close to it when that happens. Tourists come from across the country and worldwide to visit this local treasure found in Teton County, Wyoming.