This post may contain affiliate or referral links. Read more about this in our disclosure policy.
Yellowstone National Park is a beautiful park filled with wildlife and epic views. There are so many things to see and many roads to take, it's hard to know what route to take if you're running on precious time. Here are some of the best Yellowstone Scenic Drives to take when traveling through Yellowstone National Park.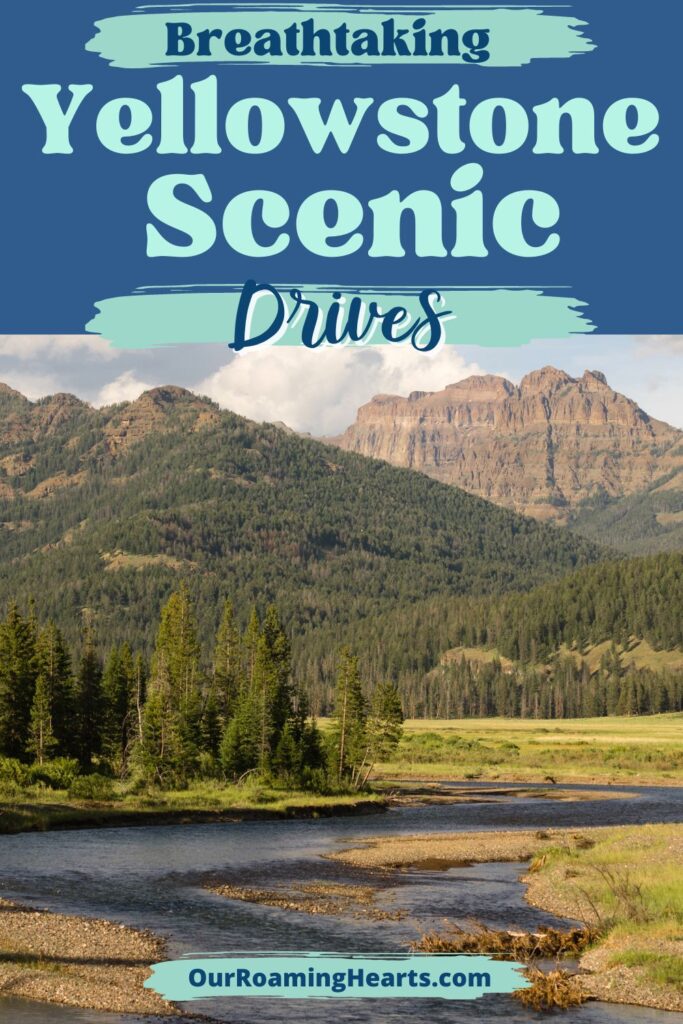 Breathtaking Yellowstone Scenic Drives – Yellowstone National Park
Most of these drives are in Yellowstone National Park but at the bottom, there are a couple of scenic drives that start outside the park but lead you inside the park as well.
How long does it take to drive the Yellowstone scenic loop?
This one you can do in as little as 4 hours if you see nothing and there are no stops, but it has taken as long as 7 hours due to animal stops and animal crossings. That time differs if you are doing it on a tour bus as they have a planned time frame.
Are 2 days enough in Yellowstone?
You can see the major points in 2 days. Things like Old Faithful, Grand Prismic, and Lamar Valley. But you will want to spend more than that because there is so much more to see!
How many days do you need in Yellowstone?
I really suggest 5 – 7 days to really take in everything. You don't realize how truly big Yellowstone National Park is until you get there. I made this same mistake. Old Faithful and the geyser basin there and Grand Prismatic Spring is really 1 full day. Driving Lamar Valley and taking in animal sightings can take up another full day easily. As you can see it really adds up.
Can you drive through Yellowstone at night?
Yes, keep in mind speed limits are lower at night. You also need to be extra diligent because many animals will blend in and you may not see them until the last minute. You also will not be able to see many of the views the drives below are famous for.
There are advantages to night driving such as when you have clear skies the night sky can put on an amazing show.
Related: Ultimate Guide to Chief Plenty Coups State Park in Pryor, Montana
Now on to the list of the best Yellowstone Scenic Drives
Grand Loop Road – Most Popular Yellowstone Scenic Drive
The Grand Loop Road is actually the main road to travel to see most of the attractions within the park and is the most famous Yellowstone scenic loop. The Grand Loop Road includes many of the famous spots in Yellowstone such as the Upper and Lower Falls, Hayden Valley, Mammoth Hot Springs, Grand Prismatic Spring, and Old Faithful.
There are two points in the park that are best for entering and starting this loop. The first is the popular West Yellowstone Entrance. There is plenty of lodging in the town of West Yellowstone and then you can come in and do the loop. You can also come in from the south entrance as I did from Grand Teton National Park as well.
This loop is roughly 145 miles long and Google says you can drive it in 4 hours without stopping I would plan at least 2 days as locations like Old Faithful can easily take half a day on their own. Plus you want to allow plenty of time for animals to stop! Like these guys in the photo below who were just chilling on the side of the road!
You can divide this loop in half by using Norris Canyon Road. This makes staying in West Yellowstone or in Canyon Village your best option as you can do the top half of the loop one day and cut back to your lodging location via the Norris Canyon Road then on day two do the lower half of the loop.
Grand Loop Map:
Grand Loop – Madison Junction to Old Faithful
This is part of the Grand Loop Road Mentioned above but the Madison Junction to Old Faithful is a beautiful 17-mile stretch of road that will take you to a few hot springs like Grand Prismatic and many geothermal including Old Faithful itself. This road can be very busy at times, but not as congested earlier in the spring.
Plus if you are lucky you can see one of the many geysers go off since many of them are spread out. I got to see 2 others go off, other than Old Faithful!
Madison Junction to Old Faithful Map:
Wildlife Safari Loop in Yellowstone Country
Ok this is the MEGA loop for wildlife and starts in Gran Tetons and then heads into Yellowstone but then continues on into Bozeman Mt, Big Sky MT, West Yellowstone Mt, then heads into Idaho and ends in Jackson Wyoming. This loop is a multi-day travel loop and you can see the Wildlife Safari Loop in Yellowstone Country loop but I am going to focus on the Yellowstone National Park part of it, which is about 70 miles.
In my experience, the best places to see animals are in Hayden Valley (between Lake and Upper Falls on the map) and Lamar Valley and also near the Grand Canyon of Yellowstone all of which are on this drive.
I took part in the route (from Upper Falls to Lamar Valley and on to Beartooth Highway) and on my drive, I saw tons of bison, antelope, a coyote, a black wolf, and many types of birds including a bluebird. Others have seen bears, elk, deer, moose, and more!
Wildlife Loop Map:

Firehole Lake Drive off Yellowstone's Grand Loop
This is only a 3-mile one-way road that's jam-packed with geysers and hot springs that you can see from the road. There are also boardwalks that will get you much closer as well. Firehole Spring, Surprise Pool, White Dome Geyser, and Firehole lake are just a few great things to see on this road.
The Firehole Lake Drive also ends right across the street from the parking lot for the Fountain Paint Pots. This is a quick Yellowstone scenic loop that has a lot to see in a small space!
Firehole Lake Drive map:
Firehole Canyon Road Drive to Falls and Swimming in Yellowstone
Firehole Canyon Drive is another one of the Yellowstone scenic loops and is a 2-mile one-way road with a falls and swimming area at the end. It is right off Grand Loop Road just south of Madison Junction. This is a great place safe for swimming, although there are some quick-moving rapids along the drive as well. While this road is not very long (2 miles), it does have some fantastic views of the canyon and Firehole Falls.
Firehole Canyon Road map:
Beartooth Highway
While the Beartooth Highway is mostly outside Yellowstone I suggest starting at Tower Junction IN Yellowstone and while it adds around 30 extra miles it does include places like Lamar Valley.
You can also start in Red Lodge Montana and take the drive into Yellowstone. The Beartooth Highway to Yellowstone is one of the most dramatic entrances into the park with over 20 mountain peaks, and hills full of wildflowers.
This road is open Memorial Day through Columbus Day every year as long as the weather cooperates.
Buffalo Bill Scenic Byway
Teddy Roosevelt once called the Buffalo Bill Scenic Byway the "most scenic 52 miles in the United States." There are many mountains and giant rock formations that you will come across. Also be on the lookout for the large number of wildlife including bighorn sheep, bison, deer, elk, black bears, and grizzlies.
This route starts (or ends depending on which way you go) at the Buffalo Bill Center of the West in Cody Wyoming and ends at the East Yellowstone Entrance. I suggest going all the way to Yellowstone Lake which has a geyser right on the shoreline!
While the byway is open year-round, the entrance into East Yellowstone closes beginning November 1st.
Buffalo Bill Scenic Byway map
Chief Joseph Scenic Highway
Also called Highway 296, Chief Joseph Scenic Highway is a 47 mile stretch of road that connects Cody Wyoming the Beartooth Highway and the Northeast corner of Yellowstone. It also has many points of interest for you to stop and see. At Dead Indian Pass, there is an amazing spot to view the surrounding mountains and hills. There's also a hiking trail at this point that will take you to a mesmerizing waterfall.
The best times to drive this highway are summer and fall. In winter the Beartooth closes due to snow to the north part of the highway do as well.
Chief Joseph Scenic Highway map:
Gallatin Valley Route
Follow this scenic drive through the narrow canyon along the Gallatin River for one of the most beautiful drives in the country. The movie A River Runs Through It was filmed on this river and is also the same route that Lewis and Clark took. You will take US 191, which runs into the northwestern corner of Yellowstone National Park. Gallatin Canyon is a great place to stop for a picture while on the Gallatin Valley Route.
For this Yellowstone scenic drive, I suggest starting (or ending depending on which way you go) at the Museum of the Rockies in Bozeman. It's an amazing museum on the Montana Dinosaur Trail and is where the whole Jurassic Park theme started! Oh best of all, from what I could tell all those dinosaurs had been found IN Montana!
Then as you head towards the famous West Yellowstone Entrance you dip in and out of the park with so much to see on the way!
Gallatin Valley Route map:
These are a number of great routes to take while visiting Yellowstone. Which route will you take on your adventure into one of the most iconic national parks in the world? Have you done any of the Yellowstone Scenic Drives? Let us know in the comments what you thought of them and any animals you saw!