This post may contain affiliate or referral links. Read more about this in our disclosure policy.
How about making your next epic adventure to Grand Tetons National Park in Wyoming? The national park is loaded with exceptional hiking trails, wildlife, and incredible scenic views. With so many trails, it's hard to know which to choose. Take a look at our list that we think are some of the best hikes in Grand Teton National Park.
Grand Teton & Yellowstone Adventure Notes Books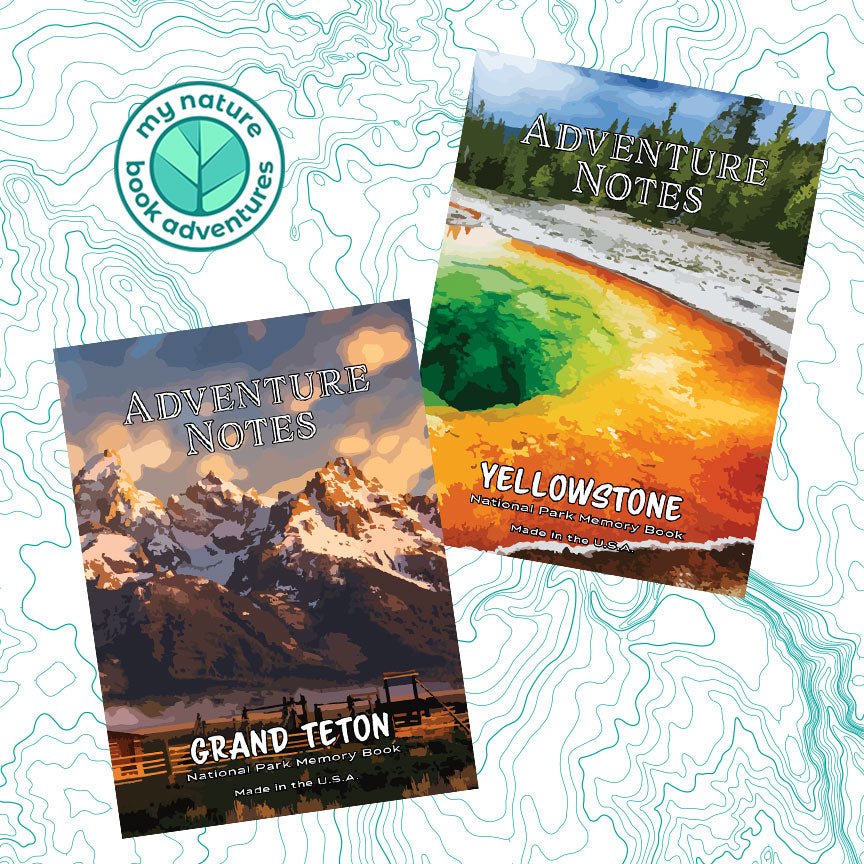 The perfect way to remember your trip to each iconic National Park. These Grand Teton and Yellowstone Adventure notes books are great for memories to look back on years down the road. Fill them in, add photos, and reminisce. Find even more National Park Adventure books for future visits.
11 Best Hikes in Grand Teton National Park
Can you hike to the top of Grand Teton?
You can to an extent. You have to get permission from the Rangers and file for a back county permit with your hike info and date length so they can keep track of you and make sure you make it back. The most popular route is the Owen-Spalding and this trail is rough even for the most experienced hikers so newbies don't even try it.
How long does it take to hike around Jenny Lake?
Round trip it's 7.5 miles around the lake. Most people hike from the visitor center to Hidden Falls which is an almost 6-mile round trip hike. Many will use the Jenny Lake Boat Taxi and save almost 5 miles off their hike round trip.
What do you need a Backcountry Permit for?
If you will be doing any overnight hiking or camping outside the main campgrounds you need a permit. This is so the rangers know where you are going and when you expect to be back so they know to go looking for you if you don't return.
Be sure to get your requests in early because they only allow so many per trail at a time to keep the National Park wild. Depending on the timeframe you are there thee is a possibility to obtain some free ones just walking up to the ranger station too. Get the details at the Grand Teton National Park Backcountry page.
Stay Near the Best Hikes in Grand Teton National Park
Depending on what hikes you are looking to do depends on where you should stay. I always suggest Staying at Colter Bay Village because you are central to almost everything and the village has everything you could need from a gas station to a grocery store.
You can also check out Airbnb (use my link to get a free $40 credit) there are plenty of places to stay just outside the park that still offer amazing views for a bit cheaper price!
See all Grand Teton National Park Lodging.
Jenny Lake Loop & Inspiration Point Hike
Jenny Lake Loop
Length: 7.6-mile hike
Difficulty: Moderate
Jenny Lake hiking trail will for the most part hug Jenny Lake a majority of the hike while providing amazing snapshots of the lake and rugged mountains in the backdrop. Jenny Lake Loop takes an average of 5 hours while climbing approximately 900 feet, but nothing too strenuous. The best time to hike Jenny Lake is between June and October and might be closed during the winter season.
You can take the Jenny Lake Boat Taxi across the lake saving about 2.4 miles each way in your hike. Many take the boat then hike to Hidden Falls which is only a half-mile one way from the boat dock. This is one of the most popular on the Best Hikes in Grand Teton National Park list.
Inspiration Point
Length: 2.2 Mile Hike
Difficulty: Easy
Inspiration Point has one of the best views in Grand Tetons National Park. Jenny Lake and the Cathedral Group has some amazing views along the way. The Inspiration point trailhead actually begins from the Jenny Lake Loop and is a great trail for younger children.
Lake Solitude Hike
Length: 15.3 Miles Roundtrip
Difficulty: Moderate/Strenuous
You can capture some panoramic pictures of the Tetons on Lake Solitude hiking trail. To the west lies the pyramid peaks of the "Cathedral Group". You will more than likely run by wildlife, waterfalls, and wildflowers on this beautiful path. Lake Solitude Hike will take hikers on average 7-9 hours to complete.
Teton Crest Loop
Length: 48 Miles Roundtrip
Difficulty: Difficult
This would be a suicide hike for the beginning hiker. The Teton Crest Loop covers a huge portion of the Grand Tetons National Park that will run you north to south. It's best to start this trail from Granite Canyon and head north towards the mountains.
Teton Crest Loop is a great trail for backpacking along with great stopping points to set up camp. The trail showcases fields covered in gorgeous wildflowers while taking you to lofty vantage points on this epic hike. This is probably the most difficult hike on the Best Hikes in Grand Teton National Park list.
Death Canyon Trail
Length: 7.9 Miles
Difficulty: Moderate
The Death Canyon Trail offers a decent workload, as it has steep ascents and descents at points and than becomes moderate at other times. This trail features Phelps Lake and is best ventured between July until September.
Paintbrush-Cascade Loop
Length: 19 Mile Hike
Difficulty: Very strenuous
If you're up for the challenge, the Paintbrush-Cascade Loop delivers hikers a challenging yet very rewarding epic hike. Many hikers choose to do this one in two days versus one long day of hiking. You'll also come across amazing views of Leigh Lake and Jackson Lake.
Related: What Should be in Your Hiking Pack
Hermitage Point Trail
Length: 9.7 Mile Hike
Difficulty: Easy/Moderate
While the Hermitage Point Trail is a decent length trail, it is kid-friendly throughout the entire hike with stellar views. It takes most hikers right around 5 hours to hike while climbing around 700 feet. The landscape changes several times throughout the hike, with forests, rolling terrain, and wetlands.
Phelps Lake Trail Loop
Length: 6.3 Mile Hike
Difficulty: Moderate
On the Phelps Lake Trail Loop, you will hug the lake for a majority of the hike. You'll witness great views of the Grand Tetons range and also a good glimpse of Death Canyon Tetons. This trail is not to be confused with the Phelps Lake hike, which is far more strenuous.
Signal Mountain
Length: 6.8-mile hike Round Trip
Difficulty: Moderate
Hiking Signal Mountain will provide and an excellent view of Jackson Lake and the Snake River from a lookout point called Jackson Point Overlook. You'll even get a great look at Mt. Moran on this trail. Signal Mountain trail will take you on average of 4 hours and 850 feet climbing elevation.
Two Ocean Lake Loop
Length: 6.4 Mile Hike Round Trip
Difficulty: Moderate
You can hike this trail in whichever direction you wish but we suggest a counter-clockwise direction heading west around the northern part of the lake. This will bring you the best views. The Two Ocean Lake Loop hike should take you around 3 hours to hike. Hikers should be made aware of the bear presence in this area.
Amphitheater Lake Trail
Length: 9 miles round trip
Difficulty: Difficult
This is an unofficial and unmaintained trail out to Delta Lake, one of the Grad Teton's Hidden Gems. There will be fallen trees and boulder climbing but many say you can do it in 5 hours there and back but add in time to have lunch by the lake and just relax there. This trail is best hiked May – October and you gain just over 2,000 feet on the hike but trust me the lake is worth it!
Taggart Lake
Length: 3.3-mile round trip
Difficulty: Easy
The Taggart Lake Trail is a great trail suitable for all ages (especially children) and offers amazing views almost immediately. The trail should take roughly 2 hours and deliver great views of the Tetons across Taggart Lake. You might even run into horses while on this trail. This is listed as one of the Best Hikes in Grand Teton National Park for families.
These are only a small chunk of some of the best hikes in Grand Teton National Park. Which of these trails has you the most excited while you plan your visit? If you've hiked trails in this park before, tell us which ones you loved.