This post may contain affiliate or referral links. Read more about this in our disclosure policy.
Camping is a great way to experience nature and spend time with friends and family. But if you've never done it before, it can be tricky to know what you need to bring. This is our Camping 101, from what to pack to where to go. So whether you're a first-time camper or a seasoned pro, read on for some must-know tips!
Table of contents
General Camping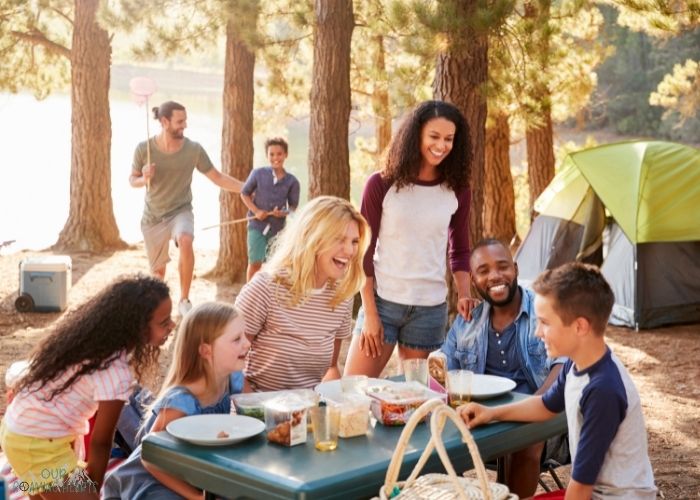 7 Reasons to Take Your Family Camping – Camping has many benefits from new experiences to improved confidence. Here are 7 great reasons to take your family camping this year.
Campfire Cupcakes – Homemade Chocolate Cupcake Recipe – Looking for an easy recipe to satisfy a sweet tooth? These Campfire Cupcakes made with my Homemade Chocolate Cupcake Recipe will satisfy any sweet tooth!
The Ultimate Guide to Passport America Campgrounds – Ever wonder about the Passport America Campgrounds you see advertised? What is Passport America? How does it work? Is it worth the hype? Let's break down the details for you since it's one of the questions we get asked often!
Amazon Camperforce – Our Experience Workamping – Amazon Camperforce offers the ultimate workamping job. They pay for your site, pay you per hour plus overtime and bonuses! See our experience and tips!
Camping With Kids Bucket List: 25 Camp Activities for Kids – Check out this ultimate camping with kids bucket list, 25 camp activities to do with kids you can try on your next adventure.
The Ultimate Guide to The National Park Service Junior Ranger Program & Junior Ranger Badges – The National Park Service Junior Ranger Program is a great way for kids to learn the history of each National Park Location, earn Junior Ranger Badges, and in most cases, it's free!
Where to Camp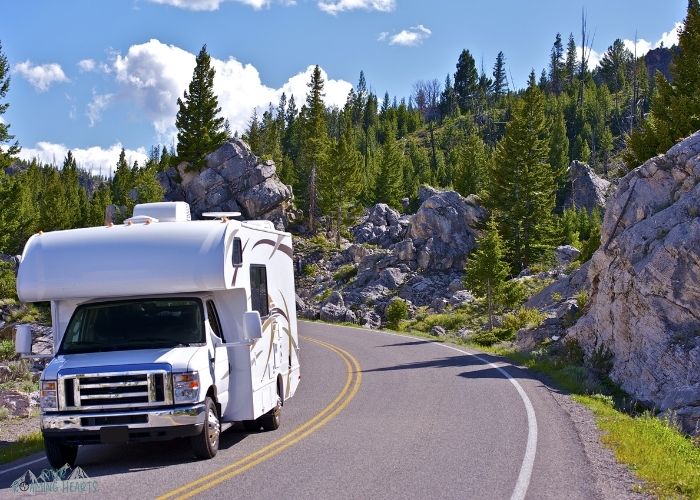 Best Free Camping Sites in the USA – Heading out camping? This list of the best free camping sites is a must! Plus I show you how to find 100s more free sites to camp at.
How to Find the Best Free Camping Sites & Free RV Camping – Did you know there are hundreds of free camping sites across the country and just as many free RV camping spots? Here are the best ways to find them and list of the top spots!
Top 10 List of National Parks for Your Next Camping Trip – Looking for a unique camping trip. Check out this Top 10 List of National Parks for Your Next Camping Trip. They will make a trip you won't forget!
32 of the Best Places for Free Camping in the Southeast USA – Why are you paying for camping spots when some of the best places are free? These are the best free camping spots in every state in the southeast USA!
Best RV Campsites in the Southwest – Looking for campsites in the Southwest, US? Be sure to check out these Best RV Campsites in the Southwest with amazing views and features.
Best Campsites near Asheville NC – Beautiful campsites near asheville area will provide you with the most incredible views, spacious areas for families, and plenty to do.
32 Free Camp Sites in the Midwest USA – Traveling by RV can get expensive if you are staying at many of the resort campgrounds you think of when you think of RVing. Then we started finding free campsites like the ones outlined here.
Campgrounds in Myrtle Beach – Grapefull Sisters Winery and Carroll Woods Campground Review – Looking for campgrounds in Myrtle Beach where you can enjoy some quiet, good wine and still enjoy the vacation town of Myrtle Beach? This is it!
Red Gate Farm Campground Review Savannah, Georgia – While it is right in the middle of everything, literally next to 516 and close to anything you might need, you would never know it! I felt like we were staying in the country! It was quiet, and there are lots of green trees and grass around with lakes to take in.
Where to Camp in North Carolina – One of my favorite places to camp is in North Carolina. You can choose from camping right on the beach and playing in the Atlantic Ocean or hiking the beautiful Smoky Mountains.
Mountain Creek Campground Gardners, PA Review – We love they are settled in the mountains, you can't beat the views. The campground is gated and only accessible via code.
Best Campgrounds in the South – Whether it is the summer or winter, you can find some great camping in the south. The weather never gets too cold and being outside is experiencing nature is a great way to recharge. Here are just a few of the best campgrounds in the South that I love.
Camping Tips & Tricks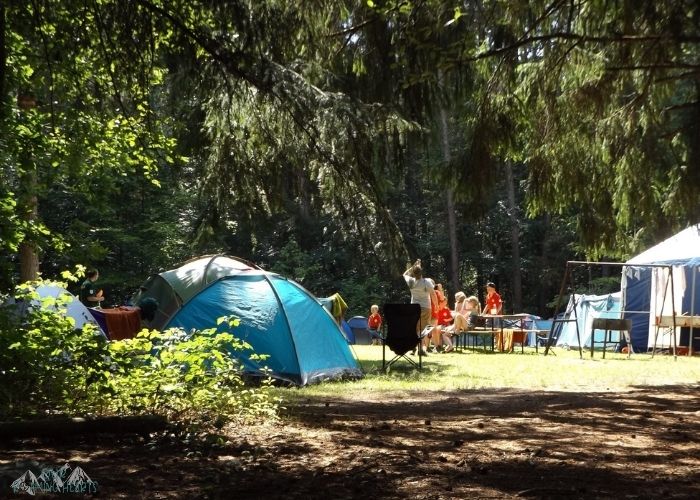 5 Camping Tricks You Need to Know About – 5 camping tricks to make your stay a little more comfortable, and efficient. Enjoy your family adventure without the hiccups along the way.
Tips for First Time Tent Campers – I am here to tell you that camping does something to you, opens you up, and connects you to nature in a way that no hotel can. Check out my tips for first-time tent campers.
Family Camping Safety Tips You Don't Want to Miss – If you are taking your family camping you don't want to miss these camping safety tips. Camping is a great way to bond and make memories if you do it safely
RV Camping Hacks That You Must Know About – RV camping hacks you will wonder how you ever lived without. They will make your life easier and keep you safe. You will think why didn't I think of that?!
Full-Time RV Living – How We Book RV Spots – When you are Full-Time RV Living planning ahead for overnights is imperative. Here is how we did it to save money as well.
Rv Living – How We are Cutting our Campground Fees by 70% or more! – I was challenged to share how I plan to save money while full-time RV Living.
15 of the Ultimate RV Storage Hacks – RV storage is an important part of owning a recreational vehicle. If you're traveling, you need places to store your belongings. Check out this list of ultimate RV storage hacks.
Camping Must-Haves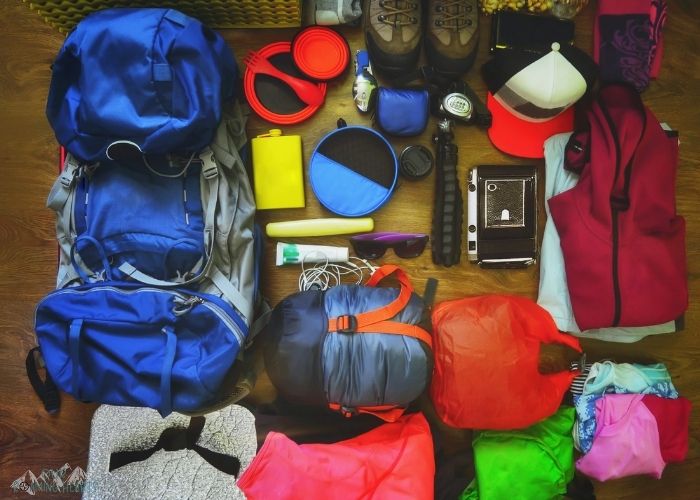 11 Must Have Camping Gear – You can't camp without the proper gear. You need some items to help you have a decent experience. Here is some must-have camping gear.
10 Things to Pack for Your Camping Trip – When planning a great camping trip you must be prepared for anything. Plan ahead and bring everything you may need so you can enjoy not having to worry about ruining the fun when something does not go as planned. These items should be added to your packing list.
55 Absolute MUST Have RV Accessories from Full-Time RVers – When it comes to RVing, we don't mess around. If you are new to the RV life, here are 55 RV Accessories must haves from fulltime RV'ers.
Camping Gift Ideas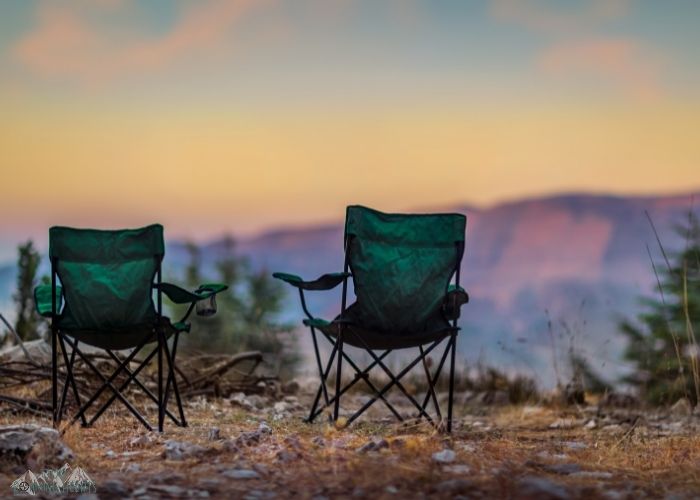 Camping Gift Ideas for the Camping Lovers – Do you have an avid camper in the family or a close friend? If you struggle to find camping gift ideas for them I have you covered here!
Campfire Games – Memory Match Free Printable – Want to get kids excited about a camping trip? Then try campfire games! This campfire memory match is a great one to even take along!
18 of the Best Camping Gift Ideas for Kids – Get your kids into camping! Now sure how to start? Use this list of the Best Camping Gift Ideas for Kids to peak their interest.
26 of the BEST Gifts for RV Living – Are you looking for gifts for your RV friends? These Gifts for RV Living are perfect for fulltime and part-time RVers. Here are our top 26 items.
Camping can be a fun, adventurous way to spend time with your family and friends. It is important to be prepared before you go camping so that you have an enjoyable experience. By following the tips in this blog post, you will know what to bring with you and how to set up camp. Have fun and enjoy the great outdoors!