This post may contain affiliate or referral links. Read more about this in our disclosure policy.
There are so many things to do in each city and state in the country and I know the feeling of not wanting to miss a thing when in the area. Making your list of fun things to do on a vacation is half the fun! So check out our location and ideas in each state below.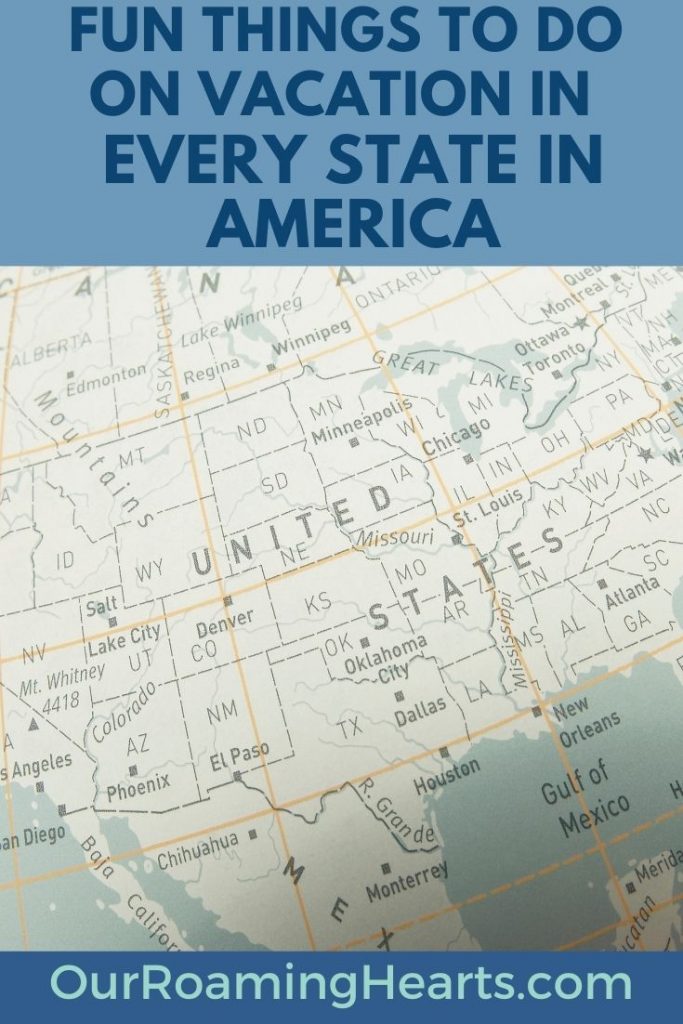 Fun Things to do on Vacation in Every State in America
From the beaches of Florida to the mountains of Colorado, there's something for everyone in America. If you're looking for fun and exciting things to do on vacation, consider one of these amazing destinations. Each state is linked and takes you to the area on our site where all our posts and ideas are for that state. I have also mentioned a few ideas right here on the page.
Happy trip planning!
Alabama – In Huntsville AL there is the NASA Space and Rocket Center. That was my son's favorite thing to do on vacation in Alabama.
Alaska – Alaska is full of nature and one of the more popular stops in Denali National Park.
Arizona – Arizona has so many National Parks and National Park Sites, the most popular being the Grand Canyon. Route 66 also runs through Arizona. There are also many Native American historical sites, wile west sites, and ghost towns to take in.
Arkansas – One of our favorite things to do on vacation in Arkansas was Hot Springs, National Park. We are also looking at doing the Crater of Diamonds State Park when we pass through again this summer.
California – Everything from Disneyland to several National Parks like Yosemite National Park, to the Golden Gate Bridge.
Related: The Ultimate Guide to The National Park Service Junior Ranger Program & Junior Ranger Badges
Colorado – Home to several National Parks such as the Rocky Mountains. Also home to Pikes Peak and the Pikes Peak Gold Rush in Colorado Springs. Also a very popular skiing state!
Connecticut – Home of Yale, the Mark Twain House, and the Daniel Webster House just to name a few!
Delaware – Make sure to check out Fort Delaware State Park, Rehoboth Beach, and the First State National Historic Park.
Florida – From the Florida Key up to Everglades National Parks, Manatees viewings, Weeki Wachee Springs State Park Mermaids, up to historical St Augustine and into the Panhandle there is so much to see and do.
Georgia – With the Georgia Aquarium, CNN studio tours, a National Seashore, Fort Pulaski, Tybee Island, and one of the most haunted cities in America you can get your fill in Georgia.
Related: The Ultimate Georgia Vacation Guide
Hawaii – One of the most popular things to do is hit one of the world-famous beaches. There are also the Pearl Harbor sites and lots of nature hikes and volcanoes to take in. You can visit Hawaii on a budget so it's easy for the whole family to visit!
Idaho – Home of Crater of the Moon National Park and parts of the Oregon Trail and several amusement parks.
Illinois – Everyone thinks of Chicago right away but they also have some amazing state parks like Starved Fock State Park.
Indiana – Home of the Indianapolis Speedway, several amazing state parks, and lots of historical sites.
Iowa – Pikes Peak State Park and the Mississippi River museum come to mind here.
Kansas – Home to some of the most amazing nature spots and historical places. Oh and Schlitterbahn water park.
Related: A Day at Noah's Ark Encounter Kentucky
Kentucky – Home of the Kentucky Derby, The Corvette Museum, The Creation Museum, Mammoth Cave National Park, and more!
Louisiana – There are so many old southern plantations to take in and even New Orleans can be family-friendly!
Maine – We had a blast in Maine. While we didn't see any moose we did take un the Portland Head Lighthouse and Acadia National Park.
Maryland – While in Maryland make sure to get down to Washington DC. There is a lot of history in Frederick and Baltimore and let's not forget the horses on Assateague Island!
Massachusetts – There is so much to see and do in Boston and many of them on are the Freedom Trail. There are also many National Park Sites like JFK's Boyhood home. Don't forget to head out to Cape Cod as well!
Michigan – Michigan has some amazing state parks, chances to see the northern lights, and the Henery Ford Estate! They also have one of the best Halloween celebrations in the country!
Minnesota – Lots to do for nature lovers from state and national parks to zoos and theme parks. They have a Laura Ingalls homestead oh and of course Mall of America.
Mississippi – They have a national military park, Elvis Presley's birthplace, beaches, and lots of southern history.
Missouri – Most known for Branson Missouri, they also have the Ozarks, part of Route 66, the Titanic Museum, and some amazing caverns.
Related: 39 Free Things to do in Branson MO
Montana – They have some amazing Things to do in Billings MT and that is close to Yellowstone National Park. They also have Glacier National Park, the Battle of Little Big Horn site, the Montana Dinosaur Trail, Lewis and Clark Caverns State Park, and so much more.
Nebraska – Many Oregon Trail sites are in Nebraska. They also have some great art museums and pioneer museums.
Nevada – Everyone thinks of visiting Las Vegas when they think of Nevada but there is so much more to do! Things like Hoover Dam, Lake Tahoe, Great Bason National Park, and Fly Geyser.
New Hampshire – Know for its picturesque small towns and their fall leaf tours they also have Mount Washington, some beautiful state parks on lakes, and railways.
New Jersey – Know for the Jersey Shore and one of the best flea markets in the country, you can also visit Liberty park and see the Statue of Liberty, take in Atlantic City.
New Mexico – If you can make it in October make sure to take in the Balloon Fiesta! New Mexico also has part of Route 66, several National Parks and Native American Sites, White Sands National monument, and some amazing campgrounds.
New York – Known for New York City but there is so much more to see and do! From visiting Niagara Falls to the Finger Lakes Region and their award-winning state parks, too many NPS sites like the Women's Rights Center.
Related: The Ultimate 5 Day Itinerary of New York City Things To Do
North Carolina – You can start at the coastline, and the Outer Banks and work your way inland toward Asheville and the Biltmore Estate and even further inward toward the Cherokee Indian Reservation and the Great Smoky Mountain National Park. Make sure to take in all the craft breweries along the way!
North Dakota – Home of Abraham Lincoln State Park, Theodore Roosevelt National Park, Fort Mandan (think Lewis and Clark), and several wagon trails. Plus many Native American Historic sites and some great workamping jobs!
Ohio – Hubby is a huge Ohio State Buckeye fan so we have explored Columbus Ohio pretty well. But Ohio, in general, has Cedar Point, Cuyahoga Valley National Park, the Rock, and Roll Hall of Fame, the Columbus Zoo, the National Museum of the United States Air Force, and so much more.
Oklahoma – Oklahoma hosts part of Route 66 and the Blue Whale. There is also the Battle of Washita National Historic Site, the Pioneer Woman's hometown with her shops and restaurants, the Oklahoma City Memorial, the National Cowboy & Western Heritage Museum, and many beautiful state parks!
Oregon – Home to part of the Pacific Coast Highway, Crater Lake National Park, Multnomah Falls, and the Oregon Trail Interpretive Center.
Related: 6 Free Things to do in Gettysburg Pa
Pennsylvania – So Much of our country's history is in this state. From the Batte of Gettysburg National Historic Site to the Carnegie Museum of Natural History. When you visit Philadelphia alone you have the Liberty Bell, Constitution Hall, The US Mint, and the Betsy Ross House. They also have Hershey Park and a wonderful Amish Countryside.
Rhode Island – This may be a small state but there is so much to do from the Newport Mansions to all the lighthouses!
South Carolina – There is so much more than just Myrtle Beach here. Make sure to take in all the southern charm in Charleston and the amazing state parks in the northwest part of the state.
South Dakota – Mostly known for Mt Rushmore and one of the Laura Ingalls Homesteads. There is also Badlands National Park, Custer State Park, Wind Cave National Park, the famous Wall Drug, and more.
Tennessee – I love Tennessee! Aside from the 189 Free Things to do in Tennessee, there is Gatlinburg and Pigeon Forge with many attractions, a Titanic museum, and the Smoky Mountain National Park. Then Chattanooga had Ruby Falls and Lookout Mountain, Memphis had Graceland. Then Nashville we spend so much time there. I share our Top 21 Things To Do on Your Nashville Vacation.
Texas – Another state with so much to see and do! Start with our Top 51 Things to do in Texas and our list of 145+ Top Free Things to do in Texas.
Related: Top 51 Things to do in Texas & Other Tips for Your Texas Vacation
Utah – Utah is home to so many National Parks from Arches National Park to the Grand Canyon and Zion. St George Utah is a great place to start when planning a visit.
Vermont – While a small state there is a lot to do! We shared how we spent a week in Vermont with 6 people and only spent $250! The Vermont Teddy Bear Factory is here, Ben and Jerry's, Green Mountain Coffee, and Cabot Cheese all of which you can tour.
Virginia – Not only home to the Jamestown Settlement and Colonial Williamsburg but also Shenandoah National Park, Arlington National Cemetary, and Mount Vernon. Also an easy drive into Washington DC.
Washington – Home of Seattle and Coffee and several national parks such as Olympic National Park, and Mount Rainier National Park. Also the Mount Saint Helens Volcano, the Museum of Flight, and more. This is also the state to see fall colors on the west coast.
West Virginia – Home to the New River Gorge National River and the New River Gorge Bridge. They also have some beautiful state parks and railroad history.
Wisconsin – The state for everything cheese and dairy. They also are home to the Wisconsin Dells, a mecca for waterparks, and the first Laura Ingalls homestead.
Wyoming – Mostly known for Yellowstone National Park and the Grand Tetons National Park. They also host part of the Oregon Trail.
Have you been to all of these amazing places in the US? There are so many fun things to do on vacation, it's hard to fit them all into one trip. Luckily, with 52 states (plus D.C.), there are plenty of opportunities to explore new destinations each year. Are there any other great ideas for fun things to do on vacation that we missed? Let us know in the comments below – we always love hearing from our readers!