This post may contain affiliate or referral links. Read more about this in our disclosure policy.
Are you planning a trip to the Grand Tetons National Park with your kids this year? You all are sure to have a blast with the many things to experience and see. We have a bit of information you might want to check out. Let's take a look at 12 safety tips and fun tips to make sure everyone has an awesome and safe time while visiting the Tetons.

12 Tips for Visiting Grand Tetons National Park with Kids
While you are visiting the National Park consider staying at Colter Bay Village. I loved my stay and I even shared a video of my cabins inside and out.
Check out the Grand Teton National Park Video at the bottom of the post for even more Grand Teton Tips!
You can always stay outside the park in an Airbnb for cheaper and then just take the extra time driving in and out each day. When you sign up for Airbnb with my link you get a free $40 credit!
Grand Teton & Yellowstone Adventure Notes Books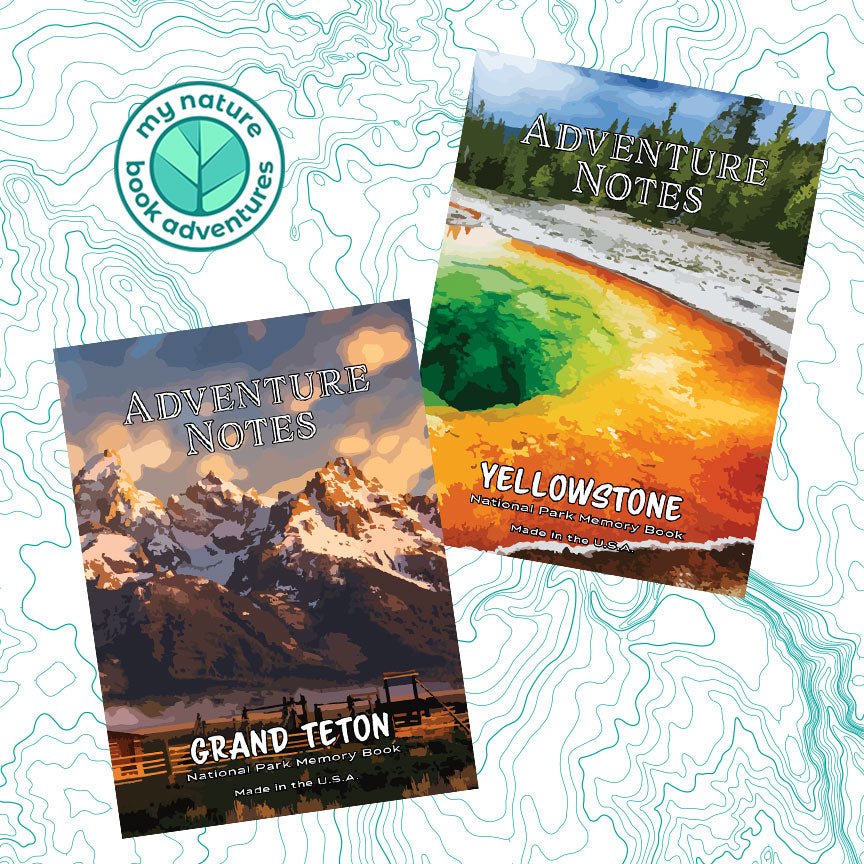 The perfect way to remember your trip to each iconic National Park. These Grand Teton and Yellowstone Adventure notes books are great for memories to look back on years down the road. Fill them in, add photos, and reminisce. Find even more National Park Adventure books for future visits.
For your children to have a safe and fun time while visiting Grand Teton National Park, there are certain guidelines to go over with them. These really apply to any National Park but it's a good idea to start with these safety tips.
Stay in eyesight on Hiking Trails
They need to be within eyesight of you at all times. Wild animals roam free in the park and you never know when you will turn the corner and encounter one of them. The biggest thing to remember is the bears!
Steer clear from ledges and steep scenic overlooks
There are some deadly drop-offs that can prove fatal. Tell them before you get out of the car to be extremely cautious. Don't take your eyes off of them around these overlooks. I always keep a hand on my younger kids when we are at the locations.
Teach them about animal encounters
Teach them about the animals your family might encounter and teach them the proper method for avoiding confrontation with them. I suggest carrying bear spray and teach older kids how to use it. The ranger at the visitor centers is happy to give demonstrations. Younger ones need to know they can't run up to them to try to pet them.
Leave no traces
Show your children the importance of how to leave no food or wrappers behind. Always pick up all trash and toss it in the proper waste bins, they will be bear safe.
Become a Junior Ranger
Your son or daughter between the ages (5-12) can become a Junior Ranger on their visit to the Tetons. They will discover more about the park and learn about plants and wildlife that they might come across. They'll even get a badge presented to them by a park ranger.
Ask the rangers at the desk for their Junior Ranger program book for any kids traveling with you. You can also ask them about any must-see locations at the park! Don't forget to visit the Ranger Station so any kids traveling can get their National Park Passport stamped.
Hike Hidden Falls Trail
Consider taking your family on the Hidden Falls Trail hike. This easy family-friendly hike has exceptional views and amazing waterfalls to see. You can take the Jenny Lake Ferry across the lake and then the hike is just about a mile round trip.
Related: 11 Best Hikes in Grand Teton National Park
Hike the String Lake Loop
Another trail that is suitable for the whole family is the String Lake Loop. It's an easy hike and you get some amazing views along the way.
Visit Menor's Ferry Historic District
This whole loop is about 0.3 of a mile. You can see the old ferry and they even have old ranger programs there. You can visit the General store which is part museum part actual store with samples of local products like huckleberries!
Then head down by the river and see where the old ferry was then visiting the late Ferry owners home before heading back to the parking lot and taking in the amazing views at the Chapel of Transfiguration.
Swim the Cold Water of Jackson Lake
With all the hiking you just got done with, how about a cold splash in Jackson Lake? Even when it's summertime, the water is at a very chilly temperature since it's snow runoff.
If you head down to Colter Bay Village there is a swim beach there with some amazing views as well! This is also a great place to catch a sunrise or sunset! You can view my Jackson Lake Sunrise video to see why I love it!
Drive Teton Park Road
Take the Teton Park Road and drive through the park. Start at Jackson Lake Junction and drive counter-clockwise for the best views. This road offers a lot if stops and things to do, some amazing sights and even wildlife spotting!
Rafting Snake River
Are all your family members above the age of 6? If you've never done rafting as a family, you're missing out. It's a thrilling time with laughter and funny guides that ensure your safety. How about white-water rafting Snake River?
Take the Jackson Hole Tram
Located on the border of Jackson Hole Wyoming at the Grand Teton National Park is the Jackson Hole Ariel Tram. The tram takes you up 4,000 feet in about 12 minutes.
The views are amazing, you can spot wildlife and then once at the top you have to try the waffles at the cafe everyone raves about them.
These are a number of ways to keep your kids safe, and for them to have a good time while visiting Grand Tetons National Park with Kids. If you've taken your children on past trips there, what other things did they enjoy doing?