This post may contain affiliate or referral links. Read more about this in our disclosure policy.
Savannah, Georgia is a popular tourist destination for a number of reasons: its charming and historic architecture, rich history, lush parks and squares, and delicious Southern cuisine. If you're planning on visiting Historic Savannah Georgia for the first time, here is your guide to enjoying the city like a seasoned pro!
First off, be sure to visit some of Savannah's most famous landmarks, like River Street along the Savannah River waterfront, Forsyth Park in the heart of downtown Savannah, and Chatham Square. Make sure to take a stroll down tree-lined streets like Bull Street or Monterey Square for some amazing photo ops. And don't forget to enjoy some of the local restaurants and pubs – Savannah is well-known for its fantastic Southern cooking!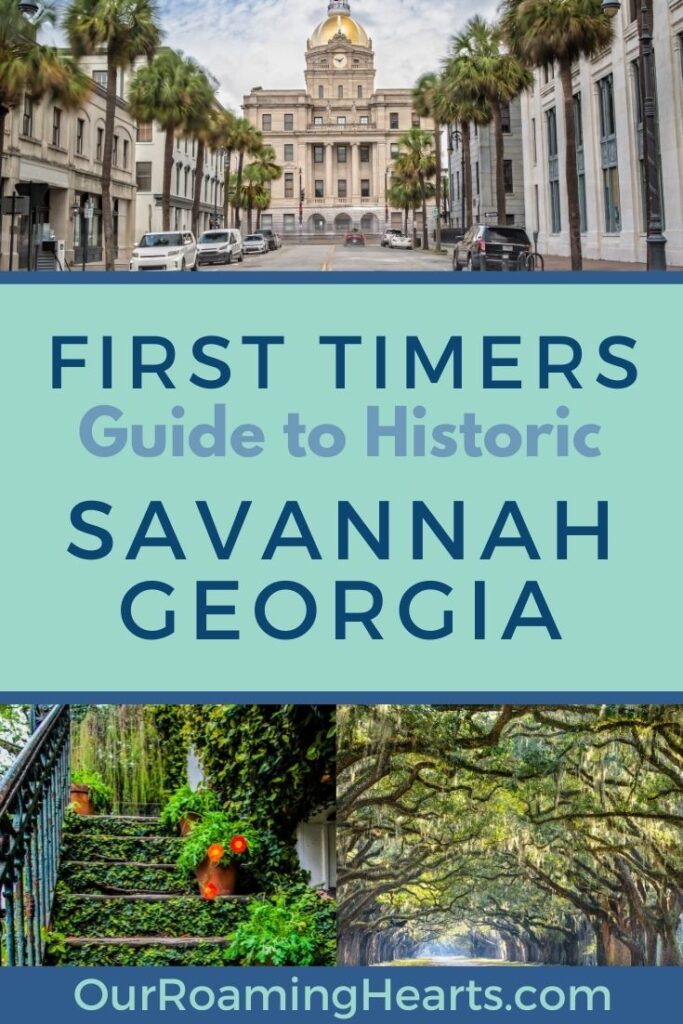 How to Save Money When Visiting Historic Savannah Georgia
There are several ways we saved money on our trip to Savannah Georgia.
Once we knew our dates I stalked Groupon for ticket discounts. I got tickets to the Davenport house (still available at the time of this post!), The Harper Fowlkes Home (also still available!), and the Mighty Air Force Museum.
Depending on what you are planning to do it could be very beneficial for you to purchase a pass that bundles attraction for one low price. Here are the best ones for Savannah:
Each one has its own perks and rates for attractions so be sure to check each one for the best possible bundle for your vacation.
Where to Stay in Historic Savannah Georgia
With rentals available all over the world, you're sure to find the perfect place to stay. Airbnb has something for everyone. Plus, with prices that are often much cheaper than traditional hotels, you'll be able to stretch your vacation budget even further.
If you can not find an Airbnb that fits your needs a second option is VRBO. Find an amazing vacation home for your family.
RV Park – When we visited Savannah Georgia we stayed at Red Gate Farm Campground and we loved it! They have animals on the property even peacocks. They even offered up the eggs from their chickens for free a few mornings we were there.
They have a beautiful pond with a swing and a playground overlooking it. It is not in the heart of downtown but it's really easy to get there. We loved it and highly recommend it!
If you are looking to stay at a hotel there are a few that are highly recommended in the heart of downtown.
Savannah Inn– On the lower end of the price scale this is the place to look at.
River Street Inn– For a more midpriced option right on River Street on the water I suggest the historical River Street Inn. Many rooms have exposed brick walls, beautiful hardwood floors, and not your typical beds!
Hamilton-Turner Inn – On the upper more pricey side but very worth the stay! Located in an old historic home with hardwood floors, the original wallpaper (which you won't believe!), amazing original doors.
The bedrooms are stately and historical and just not your average room and perfect for a stay in Savannah Georgia.
Related: Things to Do in Savannah GA – Best Places to Chill Out
Choice Hotels also has several hotels in the area perfect for your stay.
McMillan Inn Bed and Breakfast – If you are more of the bed and breakfast crowd I suggest McMillan Inn Bed and Breakfast. They too have an old historic home and antique furniture.
HomeAway Vacation Rentals– HomeAway has so many historical rentals right in the heart of downtown. From garden units to units with courtyards and more!
If you are booking your stay online make sure to check out if you can get cash back from Ebates Travel!
Now that we have where to stay covered let's talk food.
Where to Eat in Historic Savannah Georgia
Our first trip at the top of my list was Paula Deen's Lady and Sons and it was soo worth the visit! Good ole southern food! With butter Chapstick tossed in (yeah so not kidding!) We did the buffet so we could try a little bit of everything!
We also had lunch at the Pirate House. It used to be a real-life pirate hang out, they do tours along with offering some of the best fried chicken (made with honey!) we have had to date!
Make sure to make reservations at Mrs. Wilke's Dining Room. We weren't able to get in because we didn't make reservations in time but everyone was raving about it! They serve amazing family-style meals.
Related: Easy and Fun Weekend Getaways in Georgia
Wiley's Championship BBQ– If you are in the mood for BBQ make sure you check out the championship BQQ over at Wiley's.
What to Do in Historic Savannah Georgia
While traveling be sure you bring change so you can take advantage of any pressed penny machines you come across. These make great souvenirs.
I highly recommend stopping by the visitor center and taking one of the Savannah historic trolleys and getting a tour of the city, learning the history, and then you and get on and off all day!
If you are on a budget there are 14 Free Things to do in Savannah Georgia.
Many tours of historic homes and attractions including the trolley are included in the Savannah Tour Pass. 1 pass to over 30 attractions and you can save over 55% on ticket prices! The pass can be accessed right from your phone alone with maps and guides.
Forsyth Park – This might be the most famous SOUTHERN park in the country! It's an amazing place to get pictures and just take them in!
Harper Fowlkes House – A Greek revival house built in 1842, the last owner in 1934 was a woman and the history of a woman owning a house in this time period is pretty awesome.
Davenport House – This is the house owned by Isaiah Davenport, an architect. Back then architects didn't have websites or even pictures of their work. Their portfolio of what they were able to do was their homes so there is so much detail here!
Both homes above are included in the Savannah Tour Pass.
Colonial Park Cemetery – This cemetery opened in 1750 and was rumored to be much larger than this but thanks to the Union Troops during the Civil War Camping here and messing with headstones there was no way to tell.
They moved stones and now many of the surrounding buildings have found human remains while building or renovating. The Union Soldiers also messed with the dates on the headstones to show they died before they were born or died 400 years after they were born!
Related: 31 Free Things to do in Atlanta, Georgia
Get Spooked – Because of all the stories like the ones above there are so many haunted buildings and spooky places in the city. They suggest visiting the Colonial Park Cemetery at night for a spooky time.
The Mercer Williams House has been labeled as the most haunted house in the city.
There are many ghost tours included in the Savannah Tour Pass.
Visit City Market – There are many stores to wander through including an amazing candy store! This is also an area of many of the trolley stops and a perfect place to people watch.
The Mighty 8th Air Force Museum – This is the museum with the big plane you can see on I-95. There are so many planes to visit the kids will love it, there is so much history to take in and the gardens are so peaceful.
Make sure to take a walk downtown. Sit in one of the over 20 garden squares and just take in the city. Tickets to this museum are included in the Savannah Tour Pass
If you are a homeschool family make sure to check out Things to do in Savannah GA When Visiting as a Homeschooling Family
Why You Need to Step Outside Historic Savannah Georgia
There are several great places just outside Savannah city limits you should try to check out if you have the time!
Tybee Island – We loved the drive out to Tybee Island, they have an RV park right on the water if you are so inclined! The lighthouse has several buildings related to the lighthouse and the island. Then head out and take a walk on the beach!
Fort Frederica – Fort Frederica was a pre-Revolutionary War fort. The ruins of the fort are there and many of the outlines of the buildings and the artifacts. There is so much history and it has been one of our favorite Junior Ranger Badge locations to date!
Fort Pulaski – Fort Pulaski is where the kids got their first Jr Ranger badges and where we dove headfirst into the National Park System. Walking the fort and stepping into history was so much fun. There is a great self-guided tour to see a civil war ear fort.
Hilton Head – There is quite a bit to do in Hilton Head when you come in for the day. I suggest driving the Island and taking in its old southern charm. There is the lighthouse the Stoney-Baynard Ruins, the marina village, and more!
What to Know About Historic Savannah Georgia
Check the Calendar: There is always so much going on, you might be able to take in a festival or other event, and you should if you can!
Summer is no Joke: Summer's are hot. I'm not talking normal summer hot but over 100 degrees F and it feels even hotter. The jokes about southern summers started here. Be prepared to cool off, drink lots of water, and spend time inside as well!
You will pay for parking: Budget for parking, you will pay for it pretty much anywhere in town. Walking is one of the easiest ways to get around or take the DOT trolley but plan to park your car for the day when downtown.
Have you been to Savannah? If not, put it on your list of places to visit. It's a charming city with plenty of history and activities to keep you busy. We hope our guide has helped you get a sense of what to expect and how to make the most of your time there. Thanks for reading!