This post may contain affiliate or referral links. Read more about this in our disclosure policy.
Heading to Chicago, Illinois is one good decision. You can spend all day in the city doing various activities. One thing I have noticed that in Chicago, there are tons of things to do. You don't have to limit yourself to just doing one activity. Follow along as I show you 27 top things to do in Chicago, Illinois.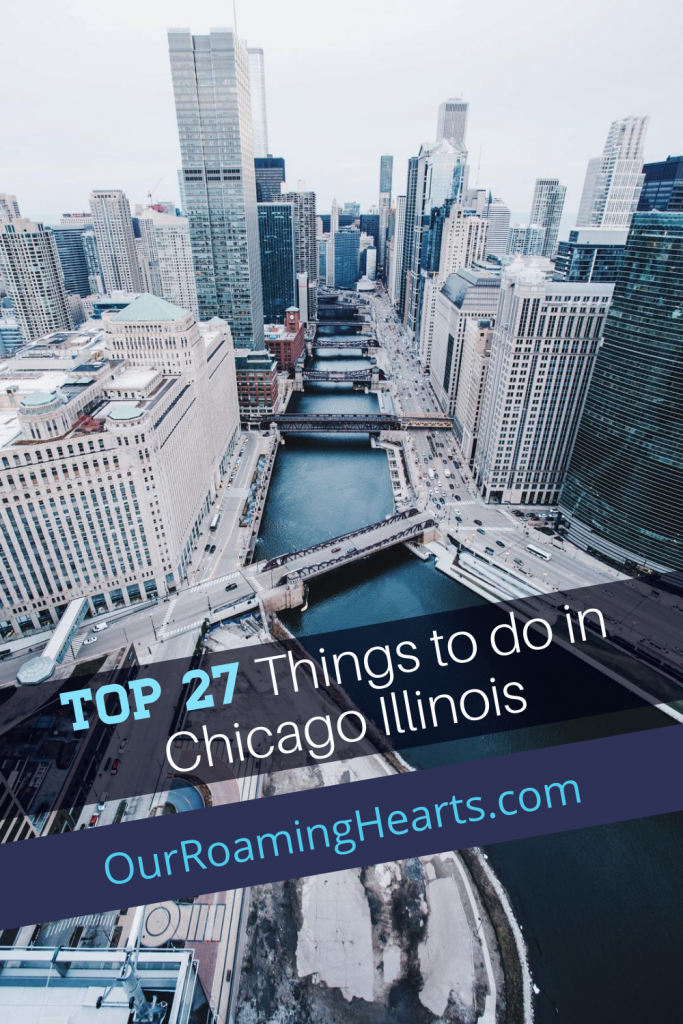 Top Things to do in Chicago Illinois
Before you get started you need to know a few handy tips that can save you a lot of money. When you get a Chicago CityPASS you can get entry to up to 5 attractions for one low fee. This will save you money versus paying admission fees at the door. You can pick and choose your attractions to customize your Chicago vacation. The second tip is simply two words. Water. Taxi. Oh yes! These are a thing and SO MUCH FUN to do!
Related: Saving Money With CityPASS – Everything You Need to Know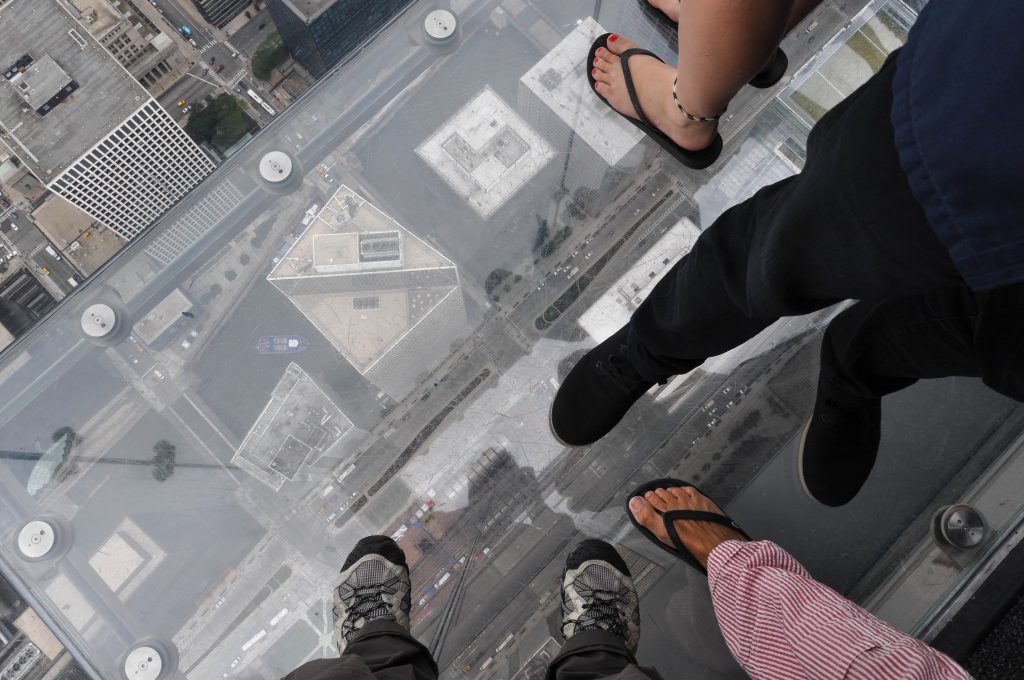 Skydeck Chicago
On the 103rd floor of Willis Tower, the tallest building in the western hemisphere, experience clear observation boxes like The Ledge, which extends over four feet out from the building and offers views of four states and up to 50 miles. If you love beautiful views, be sure to visit the Skydeck!
Field Museum
Boasting experiences and exhibits with current and past world cultures as well as the earliest fossils and more, the Field Museum is one of the largest Natural History Museums in the world.
Adler Planetarium
The first planetarium in America, Adler Planetarium is a National Landmark dedicated to the study of astrophysics and astronomy. All ages are welcome, so be sure to check their website for their current exhibits.
Art Institute of Chicago
View classic masterpieces from artists such as Van Gogh, Monet, and Degas at the Art Institute of Chicago, located in Grant Park.
Museum of Science and Industry
The largest science center in the western hemisphere, the Museum of Science and Industry is perfect for families but has something for all ages to enjoy.
360 CHICAGO Observation Deck
Located on the 94th floor of 875 North Michigan Ave (formerly the John Hancock Building), the Observation Deck offers panoramic views of Chicago from the heart of the Magnificent Mile.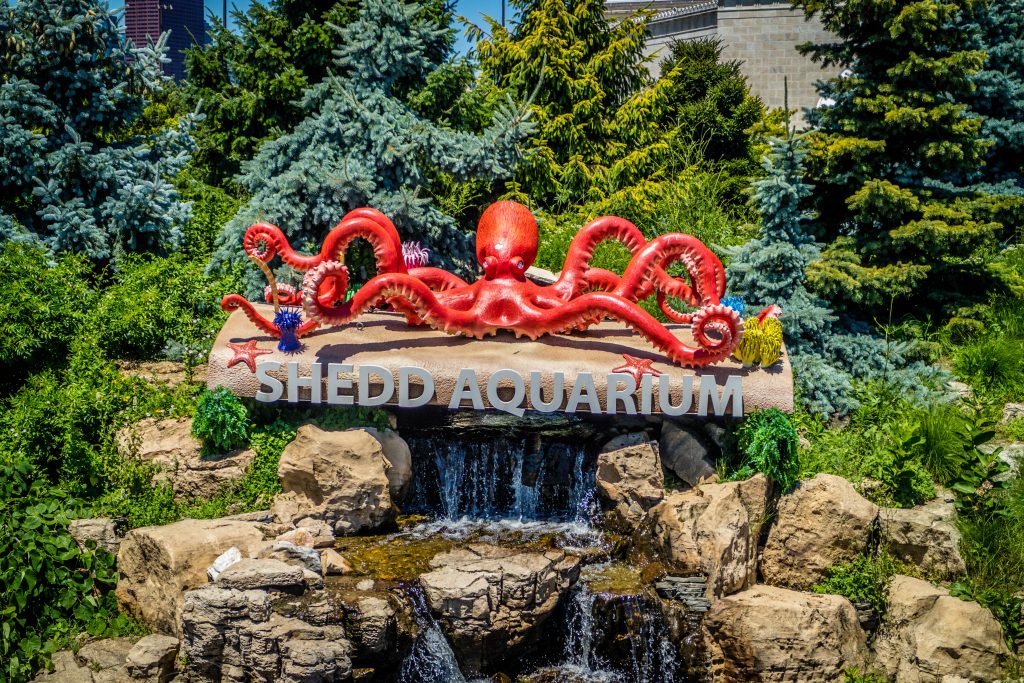 Shedd Aquarium
Explore the world's rivers, reefs, lakes, and oceans just off the loop in Chicago! Be sure to catch the aquatic presentation, too. Book a Water Taxi to take you the 3 miles across the harbor to the Navy Pier.
Legoland Discovery Center
Located in the Chicago suburb of Schaumburg, Legoland is an indoor family entertainment destination that hosts Lego-themed rides, activities, a 4D cinema, and more.
Mitchell Museum of the American Indian
Found in Evanston, Illinois the Mitchell Museum of the American Indian centers around the culture, arts, and history of the native people of North America.
Children's Museum in Oak Lawn
A hands-on location for kids and learning, the exhibits include interactive rooms as well as performances.
Related: 32 Free Camp Sites in the Midwest USA
Mascot Hall of Fame
Previously an online-only hall, as of 2018 the Mascot Hall of Fame found a physical home on the southern shore of Lake Michigan. This hall of fame has a mission to honor mascot performances, programs, and performers who have had a positive impact on their communities. It's great fun for all ages!
KidsWork Children's Museum
Hands-on art and science exhibits await your family at KidsWork. Explore two floors of learning through play!
Illinois Holocaust Museum & Education Center
Educate yourself, combat indifference, hatred, and prejudice, and honor the memory of those lost in the holocaust at the Illinois Holocaust Museum & Education Center.
Cloud Gate at Millennium Park
One of the greatest pieces of public art in the world, "The Bean" is a large, reflective piece that distorts the city's skyline on the outside and multiplies and warps reflections on the underside. Don't miss this site for pictures!
The Magnificent Mile
Thirteen blocks of North Michigan Ave is known as the Magnificent Mile. It hosts 460 retailers plus countless restaurants.
Wrigley Field
The oldest ballpark in the National League and second oldest in the Majors, Wrigley Field opened in 1914 and is home to the Chicago Cubs. In the off-season, you can enjoy a 60-minute tour.
Chicago Riverwalk
If you're looking for some physical activity, the Chicago Riverwalk is a great choice. Experience nature in the city with kayaking, boat rides, bike rides, and fountains or enjoy an architectural walking tour or the Vietnam Veteran's Memorial.
Lincoln Park Zoo
With free admission and the ability to visit year-round, Lincoln Park Zoo is one of the oldest zoos in the United States.
Navy Pier
Built in 1916, Navy Pier has 50 acres of entertainment and attractions from the Centennial Wheel and other rides to shops and food. This is a site to see and so much fun to just walk around. It's the perfect place to hitch a ride on a Water Taxi to the Shedd Aquarium.
Frank Lloyd Wright's Robie House
A historic landmark built in 1906, the Robie House is open for tours. Its impact on American architecture in the Prairie School style was undeniable.
Related: 30 Must Stop at Route 66 Attractions
Money Museum at the Federal Reserve Bank
One of only 12 Reserve Banks, the Money Museum at the Federal Reserve is open for students to learn more about the Reserve and how it works.
Grant Park and Buckingham Fountain
Home of the Museum Campus (Shedd Aquarium, the Field Museum, and Adler Planetarium), Millennium Park and other parks, trails, a dog park, a skate plaza, and Buckingham Fountain among other sites, Grant Park is situated in the Loop neighborhood of Chicago and is often referred to as "Chicago's Front Yard." Buckingham Fountain is one of the most impressive ornamental fountains in the United States.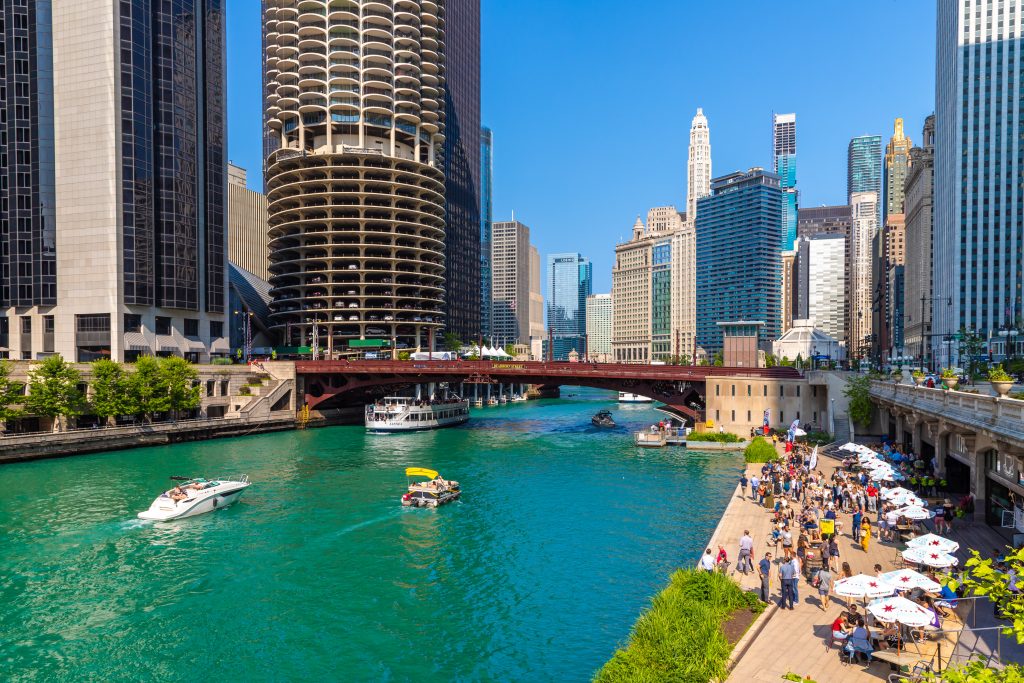 Chicago Architecture River Cruise
Enjoy a float down the Chicago River and view the vast architecture of this historic city! In the photo above you can see the round tower building. This building has apartments and condos on the top and the bottom portion is the parking 'garage'. The River Cruise I went on in 2005 took you pretty close to the building and the cars are all back into their spots. There is no way I would be able to back into a spot like this, I would fear falling out the backside but the building is pretty spectacular to see.
Oak Street Beach
Located on Lake Shore Drive, Oak Street Beach is a summertime destination that offers tons of amenities for a fun day outdoors!
Deep-Dish Pizza at Pequod's
Chicago is famous for its deep-dish pizzas. If you are planning a visit, be sure to try an award-winning deep dish at Pequod's!
Bicycle or Walk the 606
The former Bloomingdale Line was converted in 2015 to an elevated rail trail where you can bike or walk on the northwest side of Chicago. Now referred to as the 606, you can explore different landscape design and art installations on this elevated greenway.
Garfield Park Conservatory
This 184-acre park hosts one of the largest botanical gardens in the United States as well as outdoor athletic and leisure options.
What else should be on our things to do in Chicago list? Tell me your favorites in the comments below and why it's your fave!