This post may contain affiliate or referral links. Read more about this in our disclosure policy.
Traveling by RV can get expensive if we are staying at many of the resort campgrounds you think of when you think of RVing. We started by saving money by staying a week at a time to get the weekly rate, which is normally 1 night free. Then we cut our campground fees by 70% with our memberships. We started finding free campsites in the midwest like the ones below. All of our camping tips are in one place on the Camping 101 page.
32 Free Campsites in the Midwest USA
Ok, let's face it even out in nature you want a bit of elbow room to sleep right? This Montana 8-person tent from Coleman is perfect for that! Of course our family of 7 (8 with the dog!) loves this 10 Person tent from CORE it has a divider so you can have 2 rooms or keep it wide open. Then there is my dream tent I am trying to talk hubby into! It has 3 rooms and sleeps 10 *drool*!
I also want to make sure you saw how I find free campsites those sites have been a lifesaver for us when camping and boondocking! If you are headed in this direction check out these awesome free campsites in the midewest.
Related: Camping Memory Match Game
Harvest Hosts
Harvest Hosts offers RVers unlimited access to farms, breweries, wineries, and attractions across North America. Your membership allows you to stay overnight at any of these businesses and in return, all you have to do is support them by making a purchase (go on a farm tour, enjoy a wine tasting, grab a flight of beers, etc.) How fun is that!? head to Harvest Hosts site and see where you can stay as you're driving through.
Boondockers Welcome
Boondockers Welcome opens up a world of new camping opportunities. Escape the crowded and noisy campground in favor of a private spot on a beautiful property and a meaningful connection with a friendly host. Enjoy truly unique stay experiences often without any sacrifice to comfort as 70% of Boondockers Welcome hosts offer hookups.
Free Camp Sites in Minnesota
Three Lakes County Park – Camping right by the lake. While not ON the water you will most likely be able to see the water from where you camp at. This site is available for RVs and there is no max RV length!
Paul Bunyan State Forest, Little Gulch Lake – This is a very rustic campsite on the lake. The lake isn't huge but with the picnic tables and fire pit, it sure is a great place to relax.
Free Camping on the Lake in Buffalo MN – This is a Boondockers Welcome site on someone's property right on the lake. It can handle just about any size camper and even has a 15AMP power plug!
Free Camping on a Small Farm in Prior Lake MN – Located on a small hobby farm there are plenty of animals to take in friendly dogs are welcome as well.
Related – 10 Things to Pack for Your Camping Trip
Free Camp Sites in Iowa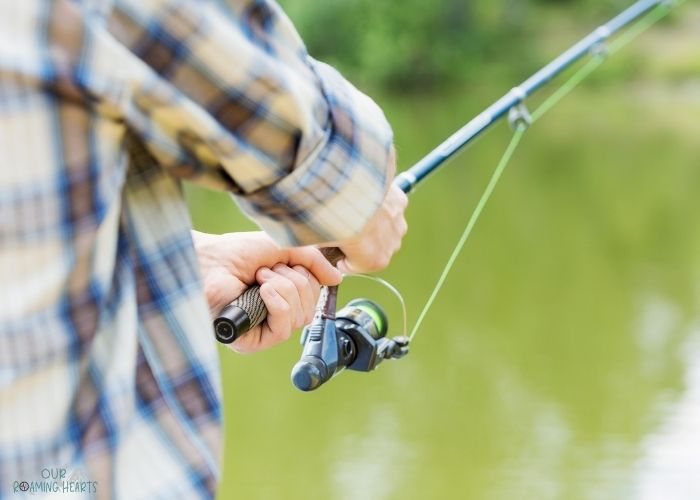 Fountain Springs – This is the site for fishermen! Great fishing hole and fire pits to cook up what you catch.
David Bates Memorial Parks – This is a great little camp spot along the Iowa River. This site has a few picnic tables and fire pits and can fir RVs as well and the area is beautiful.
Free Camp Sites in Missouri
Indian Trail Conservation Area – This location can fit RVs up to 45 feet in length and while just a very basic place to camp it's right b the Mark Twain National Forest and has hiking and fishing.
Bismarck Conservation Area – A well-maintained camping area near water and a boat dock. Each site has picnic tables, a fire pit, and a grill.
Daniel Boone Conservation Area – This camp area can fit RVs up to 30 feet in length and is also well maintained near the Missouri River and close to wineries!
Related – Family Camping Safety Tips You Don't Want to Miss
Free Camp Sites in Wisconsin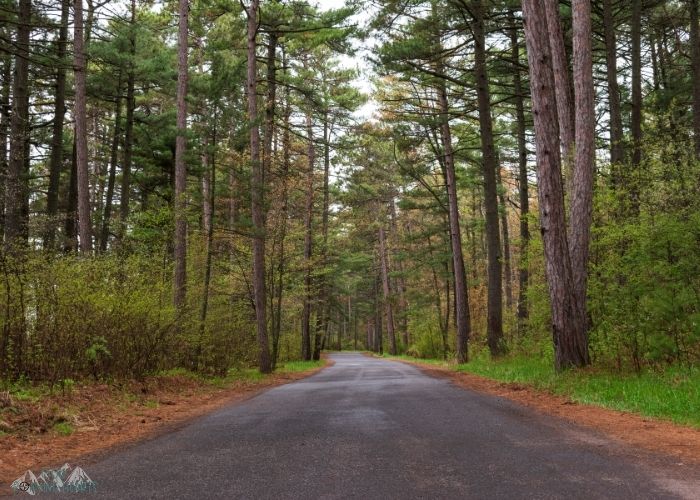 Pioneer Park – Right between the two parts of the Chequamegon-Nicolet National Forest this camp area has a playground, a fishing pond, a ball field, horseshoe pits & ATV/horse pull track. Lots to do!
Majestic Pine Casino – Yes a Casino. Why? Because they have 5 spots that give free electricity! Great spot for RVers.
Free Water and Electric Hook-Ups in Delton, WI – A great location near the Wisconsin Dells with water and electric hookup.
Related – 7 Reasons to Take Your Family Camping
Free Camp Sites in Ohio
Hidden Hollow Campground – Tent and RV camping with around 20 campsites picnic tables, fire rings, and VAULT toilets. Law enforcement patrols the area regularly and is a great guide to the area.
Bob Evan Farm Restaurant and Museum – A great place to camp you can get sites with electricity for $15 or sites with our for free. This location is on the National Register of Historic Places and they host many events throughout the year.
Lane Farm – The plus side of this campsite is you have to travel the Covered Bridge Scenic Byway to get there! This site along the Little Muskingum River is a shady area adjacent to a walnut plantation.
Loose Moose Lodge – 30AMP electric hookup, water, a dump station, and an off-leash area for pets!
Edgar Ranch – A boondocking spot on a beautiful scenic working livestock ranch. They do maintain bees on one side of the farm so not the best spot if you are allergic.
Related – Must-Have Camping Gear List
Free Camp Sites in Illinois
Jackson Falls – Located in the Shawnee National Forest's Hidden Springs Ranger District, the road to get here is a bit rough but for those who love to hike it's an amazing location.
Kaolin Pit Pond – Located in the Trail of Tears State Forest this campsite will fit RVs up to 25 feet in length.
Free Camping on a Rural Farm – Located on a 50-acre beautiful and quiet farm.
Turkey Bayou Campground – I small little park with places to camp. There is a lake in the campground area as well.
Free Camp Sites in Michigan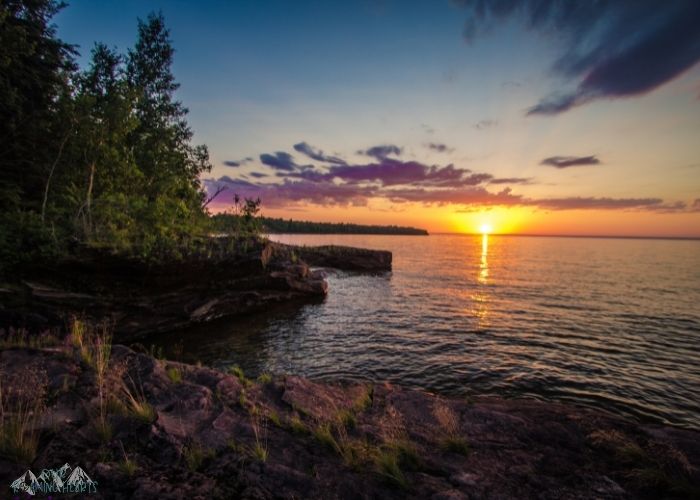 North Shore of Lake Superior – Free camping right on Lake Superior! This campsite is located in Tahquamenon Falls State Park so you will need a permit to camp.
French Farm Lake – More free camping on the water near Mackinaw City. Small RVs under 25 feet are able to fit here too.
Lake Michigan Scenic Pull-Off – This is a scenic pull-off located right on the water and a great spot to rest one night before heading on to your destination.
Bullard Lake – A Boondocking location in a driveway, this is a dog-friendly location and close to a fishing pond.
Free Camp Sites in Kentucky
Mammoth Cave Back Country Campsites – Located in the Mammoth Cave National Park, this is a very peaceful location. Make sure to take in the Park while here.
Turkey Foot – Camping along a creek that has good fishing and is even deep enough for a bit of swimming.
Robinson Forest WMA – Free camping spot near Mine Made Adventure Park.
Related: 12 Staycation Ideas in Lexington Kentucky
Free Camp Sites in Indiana
Blackwell Horse Camp – Located in Brown County State Park this is a great free camping spot next to some fun horse trails.
Buzzard Roost Recreation Area – Located in the Hoosier National Forest and right on the Ohio River.
Saddle Lake Recreation Area – This campground is also in the Hoosier National Forest and is just beautiful. From the campground, you can take the 2.2-mile hike around the lake, take in fishing, and more.
Chateau de Pique Winery via Harvest Hosts – This location is at a winery via Harvest Hosts. There are electric hookups and free wifi.
If you are looking for more free campsites in the midwest I shared the best free camping sites across the country and 32 free camping spots in the southeast USA as well.
Have you camped at any of these free campsites in the midwest? I'd love to hear what you thought! Let me know in the comments below.