This post may contain affiliate or referral links. Read more about this in our disclosure policy.
Everything really is bigger in Texas. Including this list of the top things to do in Texas! They have everything from NASA, too many presidential stops, swimming holes, and some just plain crazy museums. Add in some amazing restaurants and a few lodging tips and you have everything you need for a perfect Texas Vacation. While on your travels keep these Fun Facts About Traveling Through The State of Texas in mind and see if you can visit any other free things to do in other states.
Where to stay in Texas
As a full-time traveler, I try to avoid hotels at all costs. Normally we take our RV with us and stay at campgrounds, National Parks, state parks and even camp for free every chance we get.
With rentals available all over the world, you're sure to find the perfect place to stay. Airbnb has something for everyone. Plus, with prices that are often much cheaper than traditional hotels, you'll be able to stretch your vacation budget even further.
If you can not find an Airbnb that fits your needs a second option is VRBO. Find an amazing vacation home for your family.
Plus you will have access to a kitchen so you don't have to eat out every night. This will save you money for other great things to do in Texas.
I just did a quick search on Airbnb for Texas and you can rent everything from super cute vintage Airstreams and tiny homes to your own private guesthouses. You can even find whole homes to rent for a weekend or even a week.
If you are on a budget you can rent just a bedroom for under $20 a night.
Home Away – They have rentals all over the world including these amazing castles you can rent in Europe!
VRBO – Stands for Vacation Rentals By Owner. The owners list the rentals instead of going through a rental agency this way. This is the Home Away umbrella.
VacationRentals.com – Also under the Home Away umbrella and another great way to find homes to rent.
Home Stay – Just like Airbnb you can rent out a home or just a room.
Related: 20 Tips for Road Trips – That Saved Us Over $900 on Our Last Road Trip!
If a rental site just isn't for you I suggest checking out Extended Stay America you can get a mini kitchen and many more creature comforts then a regular hotel and the little extra you will spend will even out if you use the kitchen while there!
One more thing. IF you are visiting the bigger cities in Texas then I suggest checking out the local Entertainment Book. They have tons of coupons on everything from hotel stays, places to eat, places to shop, and local attractions.
Depending on what you are planning to do it could be very beneficial for you to purchase a pass that bundles attraction for one low price. Here are the best ones for Texas:
Each one has its own perks and rates for attractions so be sure to check each one for the best possible bundle for your vacation.
Now on to the list!
Nature, National Parks, and State Parks
There are many National Park sites, and state park sites filled with history that you won't want to miss. Plus there are plenty of ways to cool off in the hot Texas heat may of which are picture perfect things to do in Texas!
Ask the rangers at the desk for their Junior Ranger program book for any kids traveling with you. You can also ask them about any must-see locations at the park! Don't forget to visit the Ranger Station so any kids traveling can get their National Park Passport stamped.
Padre Island National Seashore – Ask any RVer what National Parks you have to see and most of them say Padre Island somewhere on their list. Watch for ghost crabs and watch the turtle releases.
Take to the beach via camping or even just a drive on the beach.
Enchanted Rock State Natural Area – This state park is one not to miss! Located 13 miles north of Fredericksburg the views of the dome and from the top of the dome are both worth the trip!
Big Bend National Park – I am all for visiting all the National Parks and Big Bend is in Texas so it makes our must-see list! Take a hike for some stunning scenery on paths like the Lost Mine Trail.
Terlingua Ghost Town – Located just outside Big Bend National Park, the town has a national chili cook-off, historical graveyard, an abundance of great abandoned buildings to check out. There are also many other small ghost towns around the perimeter of the park.
Hamilton Pools Preserve – Located in Austin this "pool" is an amazing picturesque location! During warmer months you can go swimming there is even a beach on the other side of where this picture was taken.
When the weather is colder check the website and make sure the pool isn't closed but it's still worth a visit just to take in the sites.
Water Gardens in Fort Worth– One of the great free things to do in Fort Worth is this fountain you can walk around in, it's that huge!
Related: The Ultimate Guide to The National Park Service Junior Ranger Program
The Narrows in Hill Country – This is another beautiful swimming hole but this one has a slightly challenging hike and isn't suggested for beginners. But if you can make it, the reward is breathtaking.
Jacobs Well – This swimming hole is available for swimming in the summer but the rest of the year is available for hiking and stunning pictures! This "well" is the second largest fully submerged cave in the state of Texas, the deepest part is 140 feet deep. The main cavern length is 4,341 feet in length!
Palo Duro Canyon State Park– With caves, cattle, cabins, and a rock formation called the 'lighthouse' this one has a lot to see and take in and the red rocks are just beautiful. Be sure to mark this at the top of your list of things to do in Texas.
Dinosaur Valley State Park– head to the river here and see the fossil dinosaur prints in the ground. There are plenty of ranger-led programs and a lot of info on dinosaurs here.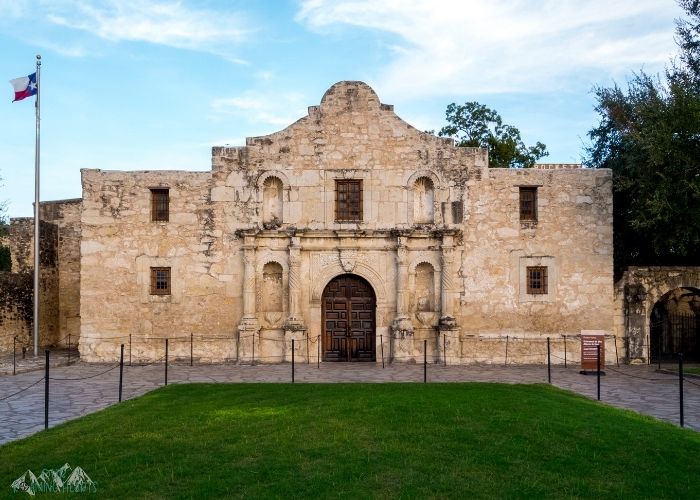 The Alamo and San Antonio Missions – We have all heard it. Remember the Alamo! When in Texas (San Antonio to be exact!) this is one of the must-see things to do in Texas. It is part of the National Park system along with several other of the San Antonio Missions.
The Alamo is free if you do the self-guided tour but you will be extra for an audio or guided tour.
Waco Mammoth National Monument – you can see an actual dig site here. They have a path where you can walk to see the digging process. This dig site is the nations only recorded dig site of a Mammoth nursery herd.
Little Chapel in the Woods– Viewing this chapel is just breathtaking. This chapel was constructed in 1938 and dedicated to Elenor Roosevelt. It's just beautiful.
Related: The 6 Best San Antonio Riverwalk Restaurants
Texas Attractions
From the NASA Space Center to one of the best waterparks, and even the Dallas Mint there are plenty of things to do in Texas to keep you occupied!
Nasa Space Center – Houston we have a problem! You can't pass up the Houston Space Station! A discounted ticket to this attraction is located in your Houston CityPass book (along with 4 other attractions!)
San Antonio Riverwalk – Walking down the river walk is free to do and an experience to take in. We choose to do the guided boat tour around the Riverwalk and learn more about the history and see the sights from the river.
Fort Worth Zoo – This is a huge zoo and if you only visit one zoo in the state this is the one to see. You can get a discounted admission rate with the Dallas /Fort Worth Pogo Pass.
Houston Downtown Aquarium – This aquarium is not your normal aquarium! It is part of your Houston CityPASS and for good reason. Not only can you take a train ride through the shark tunnel exhibit but they also have a white tiger exhibit, Yes in an aquarium it's pretty dang cool!
Schlitterbahn – Many say this is king of all water parks. It makes pretty much every top 10 list on the Travel Channel and that's because it's always on top of the thrill-seeking rides!
Dallas Mint – This is another great freebie on the list of things to do in Texas, make sure to check the website for dates and times, and I suggest going to during the week so you can actually see the mint in operation. How cool is it to actually see money being made!
Related: 19 of the Best Free Things to Do in Dallas Texas
Sea Life Aquarium – This aquarium is in the Dallas and Fort Worth area. Over 30 amazing displays featuring a 360-degree walk-through tunnel and a turtle rescue!
Sea World San Antonio – I visited Sea World in Florida growing up and it instilled a love for Sea animals in me. This is also where my love for manatees started.
For discounted tickets to Sea World, San Antonio check out the San Antonio Go Pass.
You can get discount to other places as well such as Six Flags Fiest, The LBJ Ranch Tour, A Cruise on the Riverwalk, Natural Bridge Caverns, San Antonio Zoo, Ripleys, Splash town water park, and more.
21 attractions in all to choose from and you can save over 40% off ticket prices.
The Battle for Texas the Experience – Learn Texas history and the battle of the Alamo hands-on in this amazing immersive experience.
Texas Presidential Sites
There are so many things to see related to many of the presidents of our country. From the JFK assassination to several presidential libraries you won't want to pass their up even if you didn't agree with their politics.
George W Bush Presidential Library – We loved touring the Bush library! From the 9/11 exhibit to the Oval Office replica and even the hands I've area for the kids.
George H.W Bush Presidential Library– Bush 41 as he was known at my husband's last duty station, was president when the Berlin Wall came down to a section of the wall is featured here at his library. A 2 1/2 Ton piece to be exact.
You will also find a TBM Avenger aircraft like the one Bush flew in World War II and a replica of Bush's Camp David office.
Kids will love the indoor White House playhouse they can crawl through and his the former First Lady read a story to them.
Lyndon B Johnson Presidential Library – locates on the University of Texas campus this library recently went under a massive rehaul. This building is 10 stories tall and is packed full of archives from LBJ's years in office but when visiting you can only access 3 levels.
Known for the limo he drove being displayed you can also see the sobering display Of the Texas Vietnam dog-tag exhibit. It displays, in alphabetical groups the replicas of the dog tags of 3,417 Lone Star soldiers lost in that war.
You can also view the collection of pens he used to sign every major legislation during his term in office.
Related: Saving Money on the Top Things to do in Dallas TX
Lyndon B Johnson Historical Park – Come and visit the LBJ ranch. This is a national park site so you can take advantage of ranger-led tours, their Junior Ranger program and more.
JFK 6th Floor Museum – walk through the timeline of JFK becoming president and then coming to Dallas. See the background of Lee Harvey Oswald. View the X where JFK was shot on the pavement from the window the shot was fired from.
Then follow the details of what happens in the moments after, grief with the Kennedy family and watch LBJ step up to the plate.
Lady Bird Johnson Wildflower Center – Located in Austin and named for LBJ's wife this wildflower center is one not to be missed. The flowers and gardens just soothe the soul.
Eisenhower Birthplace State Historic Site – Another presidential location (is it me or do a lot of presidents come out of Texas?!). This is the birthplace of president Dwight D Eisenhower.
This is that iconic little white farmhouse that is truly 100% Americana and it is furnished with period antiques and so worth the stop!
The Best Texas Food
You can't visit Texas and not try out the food! Texas is known for 2 things steak and Tex-Mex (aka tacos!) They also have some killer BBQ and of course some sweet pecan pie! trying out the food was on the top of my things to do in Texas list.
Cattlemen's Steakhouse – when in Texas you have to have a good steak! We were told to try out Cattlemen's locates in the Fort Worth Stockyards and ended up going for my birthday. It sure did not disappoint! They have been doing steak right since 1947!
The Oasis on Lake Travis– you see that restaurant up there?! Oh man, the food is good but they are nothing compared to the views! This one is all about the views.
Gilhooley's– Known as one of the oyster bars you have to try out because they do oysters in all sort of different ways! From oyster bread to gumbo and they even throw in a good taco, because it is Texas after all.
Related: 29 Free Things to Do in Austin Texas for the Whole Family
Collin Street Bakery– I don't know about you but I have the worst sweet tooth… and I love it! This bakery was started with a German recipe for fruitcake brought to this country in 1896 and the recipe is said to be over 6,000 years old!
They have since added pecan cake to the menu and the state fell in love with them! You will too.
Pecan Lodge– I was told I had to try the Pecan Lodge while in the Dallas area, of course, my mind is all hmm pecan pie and pecan cake… NOPE! It's BBQ all the way baby! But get there early, they truly smoke their BBQ and once they are sold out that is it!
Oh, and they are only open limited hours during the week and then open on the weekends!
Killen's Texas Barbecue – This is another great BBQ joint but this one is down south of Houston. With the amazing taste, you would never guess the place was founded only in 2013!!
Related: 19 Must-See Free Things to do in San Antonio Texas
Big Texan Steak Ranch – Located on Route 66 and home of the 72oz steak! While here you have to try the Texan King.
Whataburger – Yes, a fast food restaurant makes the list. Every Texan swears by these burgers so you have to try one and settle the debate yourself!
Texas Shopping
There are a few must stop at places that revolve around shopping in Texas. Plus when on your Texas Vacation you want a few great souvenirs right?!
Magnolia Market at the Silos – This is Chip and Joanna Gaines from HGTVs Fixer Upper's store. It has become a whole experience from the store to the kids play area, the teams ride around town to and from parking, to the food trucks that line up each day! Do not miss this- add it to your things to do in Texas now.
Texas U Pick Tulips – Rows and rows of acres and acres of nothing but tulips of all colors. With the ability to pick your own!
Other Texas Museums
These museums may not make your list to see if you didn't know they were there! Some of them are just plain weird some are pretty amazing and all of them are worth an hour or two of your time!
National Border Patrol Museum – No matter what your thought on the border patrol this museum has a lot of info on the history it all.
Toilet Seat Museum– Located in the San Antonio is this strange toilet seat museum. Each seat is painted and a work of art all on its own so you aren't just looking at normal toilet seats!
Munster Mansion – This isn't your normal tourist attraction. This home was recreated to look just like the mansion from the Addams family show! This isn't open year round but they do special events and open up at least once a year so watch the website.
Dr. Pepper Museum – Located in Waco Texas and included in your Austin/Waco Pogo Pass this is a fun tour. Learn about the history of Dr. Pepper. The museum is 3 floors and even has a soda fountain that you don't want to miss.
From here it's just a short walk down to the Magnolia Market and Silos mentioned above.
Other Things to do in Texas
These other attraction are a must see things to do in Texas and slightly out of the box, hence why they don't fit in the categories above, but they should definitely make it on your list for you Texas Vacation if you happen to be in the area!
Fort Worth Stock Yards – This is one of the first things we did when we visited Texas and I highly suggest it. Twice a day you can see an old fashion Texan cattle drive down the street, and it's 100% free!
They have many stores, restaurants, and museums to take in like Cattlemen's mentioned above. There is the famous star walk and even a weekly rodeo!
Run Through Texas Blue Bonnets– Bluebonnets are to Texas like beaches are to Florida, volcanoes are to Hawaii, and Glaciers are to Alaska, it's just something unique to the state that they are known for and you have to see them!
Celebrate the Day of the Dead (Día de Los Muertos) in San Antonio – While this is a festival so you will have to plan your trip around it, it is one not to miss. This festival is held every year in October.
Visit Blue Bell Ice Cream– Texas and their cult-like following with Blue Bell ice cream is something like I've never seen! You can tour the factory and get a scoop of the ice cream and put it to test for your self.
Related: Fun Facts About Traveling Through The State of Texas
Gruene Hall– This is the oldest run dance hall in the state! Take a break and do a little Texas two-stepping to some great country music. Also, make sure to check out the little small town it is in as well!
Texas State Capitol – Touring the capitol is free and learning the Texas history and seeing the amazing architecture in this building is a must!
Pecan Pie Vending Machine– Located in Cedar Creek, Texas this is an actual vending machine that you can buy pecan pie and other pecan desserts.
This bakery has such a high demand for their goods they ut the vending machine in to help the flow of traffic during the day and then to serve those who want a late night snack!
1800s Alien Gravesite – This iconic roadside America stop. Many today haven't heard the tale but in the small town of Aurora Texas in the 1800s there was a very well known UFO crash and the pilot of the UFO (who was killed in the crash) is said to be buried in this cemetery.
See his gravestone and visit some other historical graves of those from the Civil War, and World War I and II. Have you started your things to do in Texas list? Add this!
Bonnie and Clyde Grave Site – Another famous gravesite to visit is that of the famous Bonnie and Clyde Criminals. Located in Dallas the families never liked their romance and since when they died they were not married, the families buried them in separate grave sites, 2 miles art. Clyde's is a bit harder to see then Bonnies but both are worth the stop!
Cadillac Ranch – One of the more famous things to do in Texas is the famous Cadillac Ranch on Route 66 outside Amarillo Texas. These Cadillacs are buried halfway in the ground and if you bring your own can of spray paint you can leave your own mark on this landmark!
Congress Avenue Bridge– Walk on to the Congress Avenue Bridge in Austin Texas just before sunset and watch the famous Austin Bats take flight into the city for the night!
What are your must-see things to do in Texas? Let us know in the comments below!