This post may contain affiliate or referral links. Read more about this in our disclosure policy.
Camping with kids is a fun way to spend the spring and summer, as there is so much to do, see, and explore! If you are camping with kids anytime soon, you should have an arsenal of activities on hand. Check out this ultimate camping with kids bucket list, 25 camp activities to do with kids you can try on your next adventure. You will find that these activities aren't just fun, they are easy!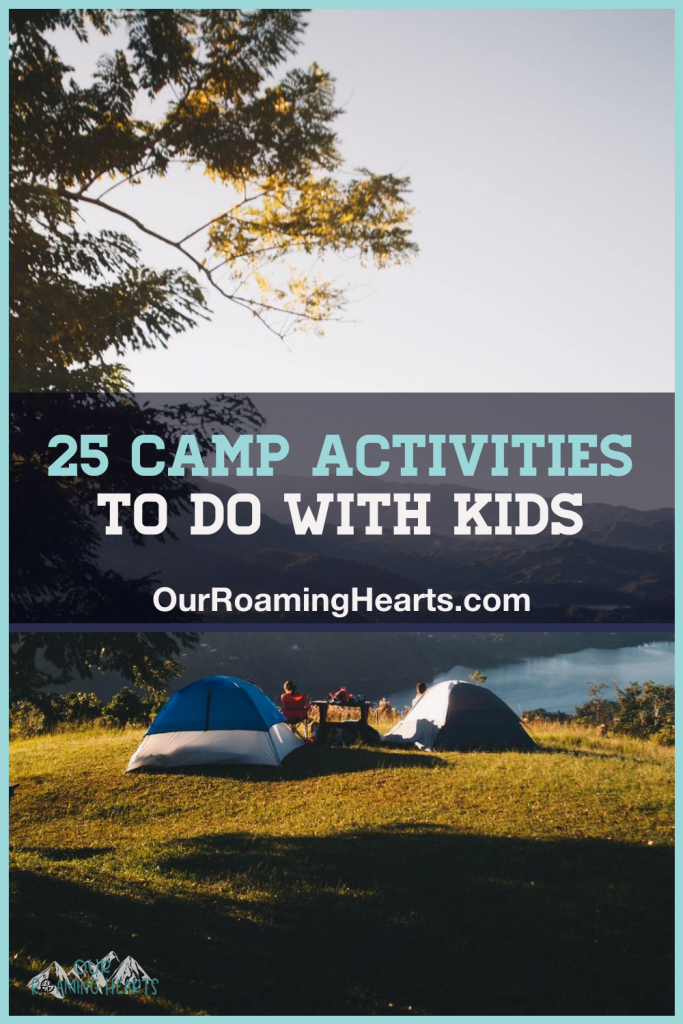 Bonus – At the bottom of the list you can receive this whole list as a printable to take with you on your camping adventure. This way, you won't miss out on any of the activities we suggest.
Related: 18 of the Best Camping Gift Ideas for Kids
Camping With Kids Bucket List: 25 Camp Activities to do with Kids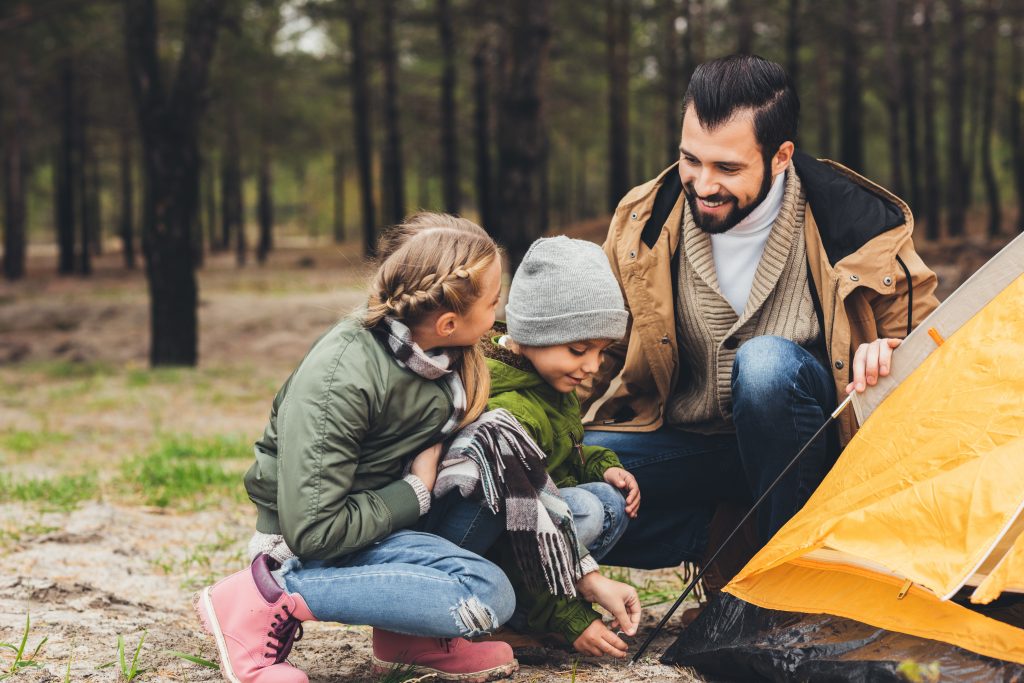 Let kids help pitch the tent. It will teach them about following directions and of course, teamwork!

Buy campfire popcorn and try popping it over the open fire.
Make a tin foil packet meal. Add meat, veggies, and seasonings in a tinfoil packet. Wrap it up, and grill it until cooked through.

Do sparklers. If you are in a park that allows sparklers, this can be a fun evening activity. If you don't have sparklers get these Magical Ultimate Flames packets to put in your campfire. These will turn your campfire to different colors.

Play flashlight tag. This is another fun game to enjoy when the sun goes down. To make it even more fun, wear dark clothing when you play.

Related: 7 Reasons to Take Your Family Camping

Play charades. You can play this game any time of day and it requires no materials.

Look for edible flowers. Take a guide with you so you can identify edible plants. You can even find tasty recipes online!

Do leaf rubbings with crayons and paper. It is a great way to bring a piece of your trip home with you.

Roast smores in ice cream cones. Stuff a marshmallow and chocolate in the cone, wrap in tin foil, and heat on the fire.



Listen to music. Dance if you are inclined. This is also a fun way to relax at night.

Create your own bird feeders with pinecones, peanut butter, and birdseed. Display them for the birds to enjoy.
Rent a boat and head out to the lake! This can be a paddleboat, rowboat, or even canoe.

Take a hike during a light sprinkle! Just take an umbrella and go.

Ask a park ranger your burning questions. They are there to help and love to chat.

Look for the perfect marshmallow and hot dog roasting sticks.
Related: Family Camping Safety Tips You Don't Want to Miss


Paint rocks. Hide them for other people to find. Get as creative as you can!

See how many different kinds of animals you can spot. Make a list. Take pictures if you can.

See how many different animal habitats you can find. Make a list. And of course, take pictures if you can!

Rent a bike and go for a spin.

Play old-fashion games like jump rope and jacks. These are inexpensive and fun.

Take advantage of the nature center if there is one. You can usually find exhibits, presentations, and all sorts of nature-related stuff!

Bring a deck of cards to play during the day or after the sun goes down.

Bring plenty of children's books and magazines to read…with a flashlight of course!

Brings simple crafts to enjoy like knitting, painting, or sketching. Gather around the picnic table and see how crafty you can get.

Teach kids basic survival skills. This can be things like fire safety, how to pitch a shelter, where to find water, how to boil water, and animal safety. All of these tips will come in handy and help them be better campers in the future!


Did you ever think camping could be so much fun! Consider these 25 camping activities to do with kids and you will never be bored!