This post may contain affiliate or referral links. Read more about this in our disclosure policy.
Have you ever been to Knoxville and tried one of their food challenges? If not, it definitely should be on your list of things to do! They have some of the best food in the South, and what better way to experience it than by trying to complete one of the famous food challenges. I'm always up for a challenge, so let me know if you're game. I promise you won't be disappointed! I wanted to share with you some of my favorite Food Challenges in Knoxville.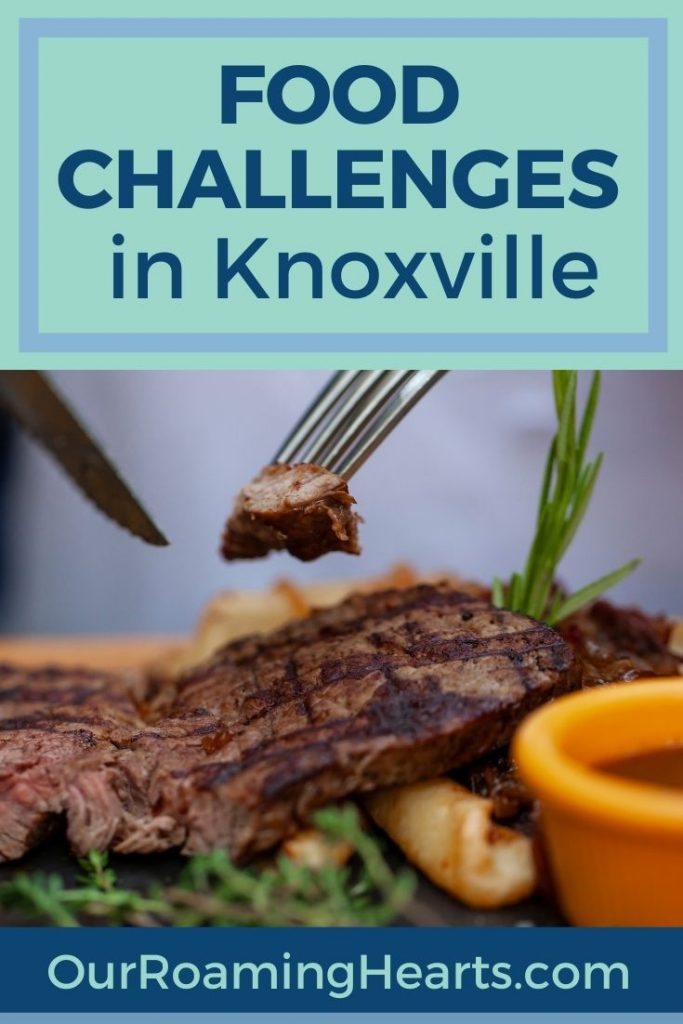 Food Challenges in Knoxville
Whether you are in Knoxville for a day or vacationing here for a week there are tons of free things to do in Knoxville you don't want to miss. On top of all these amazing Food Challenges to try out.
Related: 22 Must See Free Things to do in Gatlinburg Tennessee
The Tin Roof Challenge
This is where you choose from a few different sandwiches for the food challenge. The Tin Roof options are:
Grilled Chicken

Peanut Butter

Honey

You get a 32 ounce of milk included
If you eat the sandwich within 30 minutes, then you win a free t-shirt. Hey, I like collecting those t-shirts.
Related: 23 Free Things to do in Pigeon Forge TN
Challenger Burger
When it comes to food challenges in Knoxville, one of my favorite things to eat is burgers. I feel like there are so many ways burgers can be made, which is what makes this challenge fun. One of the Knoxville Food Challenges worth checking out is the Challenger Burger. This burger is a 3-pound burger with 3 pounds of fries included. If you complete the challenge, you get the burger for free.
Bratwurst Eating Contest
If you think that you can't get enough of bratwursts, then this is the challenge for you. The Bratwurst Eating Contest by @SchulzBrauBC is done around Oktoberfest and it's really popular. If you're going to be over this way during the contest, make sure you sign up!
Ye Olde Steakhouse
If eating a steak is your thing, then perhaps this Ye Olde Steakhouse food challenge is for you. Rumor has it that they serve a 60-ounce steak. Can you even imagine? It's said that this steak just melts in your mouth, so it shouldn't be too hard to eat. Are you up for the challenge?
Related: 9 Fun Things to do in Pigeon Forge Tennessee with Kids
Pizzilla Challenge
Raise your hand if you love pizza, because this Knoxville Food Challenge is for you. The type of pizza is New York Pizza, which sounds so delicious right now. This is a NY Pizza, so make sure you bring a hungry friend.
Rocky Top Challenge
Another fun Knoxville food challenge is the It's All So Yummy. This is an ice cream sundae challenge, but you must finish it within an hour. If you do finish it in an hour, it's free. I'd say this is one challenge that I can get behind.
I'd love to hear about your experience if you do decide to take the plunge. In the meantime, let me know if you have any questions about Knoxville's food scene – I'm happy to help!