This post may contain affiliate or referral links. Read more about this in our disclosure policy.
No matter what stretch of pavement you decide to take through Grand Tetons National Park, you are in for a treat. Each road has unique beautiful views while offering different wildlife and wildflower viewing opportunities. Here's a look at some of the scenic drives that you can hit while traveling this magnificent park.
Must See Grand Teton National Park Scenic Drives
Grand Teton & Yellowstone Adventure Notes Books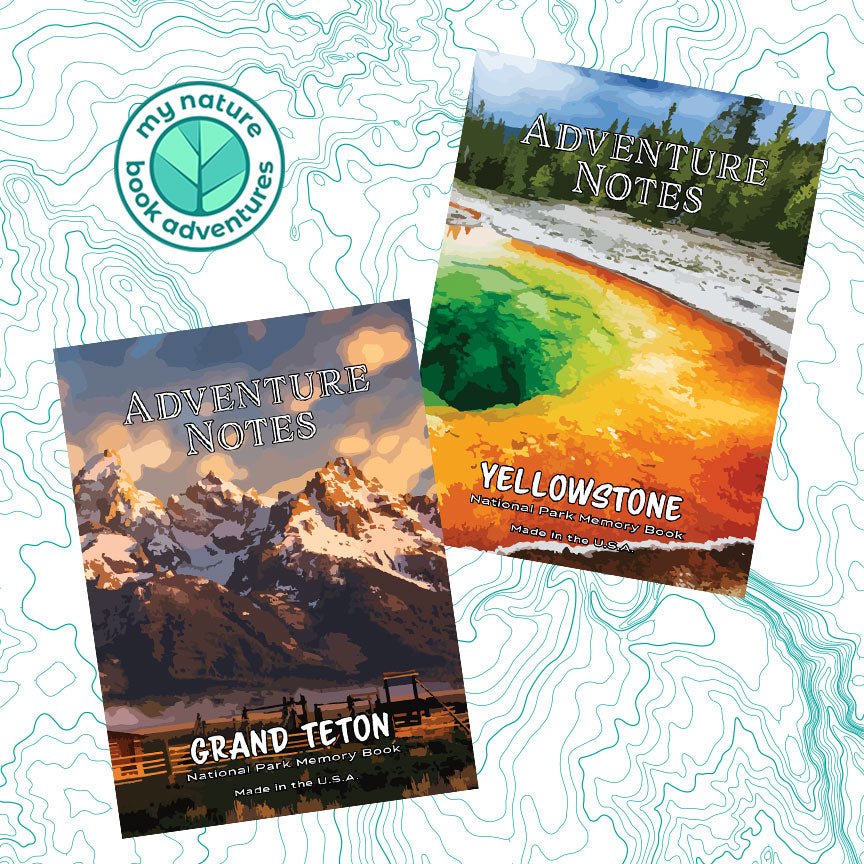 The perfect way to remember your trip to each iconic National Park. These Grand Teton and Yellowstone Adventure notes books are great for memories to look back on years down the road. Fill them in, add photos, and reminisce. Find even more National Park Adventure books for future visits.
Teton Park Road
One of the best scenic drives in all of the Grand Tetons is Teton Park Road. When you reach the sage flats, you'll witness the Grand Tetons in all their splendor. This road will lead you to Jenny Lake, which offers many water activities including fishing, kayaking, and sailing. If you catch the park on a peaceful day, the Tetons' reflection on Jenny Lake is incredible.
Check out the drive, in this video below
Buffalo Valley Road
This partially paved stretch of road is just to the east of Moran, Wyoming, and has several great spots to capture the Buffalo Fork River with the Grand Tetons off on the horizon. The Buffalo Valley Road has several trailheads great for hiking and is a great scenic road to spot wildlife and fields of wildflowers.
Related: 11 Best Hikes in Grand Teton National Park
Jenny Lake Loop
The Jenny Lake Loop is only a 5 mile, one-way road, but takes you past many breath-taking views in a short amount of time. Here you will come across the Cathedral Group Tetons as well as the gorgeous Jenny Lake. You can even ride a mountain bike to some great hiking trails that you can access on the Jenny Lake Loop.
See the Jenny Lake Loop drive in the video below.
Moose Wilson Road
Moose Wilson Road is a 7-mile road that travels along the Snake River. It's a great road to spot not only moose but bears, mountain lions, and other exciting wildlife. Don't worry, this road also has beautiful spots to pull over and see the Grand Tetons as well. The Phelps Lake trailhead access is located along this road.
Signal Mountain Road
You don't want to miss out on driving through the summit of Signal Mountain. The Signal Mountain Road is a 5-mile winding road that will take you past valleys. Make sure you get out at this point and keep your eyes peeled for all the wildlife down in the valley. It's a humbling experience in the summit, where you're surrounded by towering mountains. This road is not open during the winter season.
Related: 12 of The Best Places to Photograph in Grand Tetons National Park
Rockefeller Parkway
If you're planning on knocking out two birds with one stone in national park visits, this road is for you. The Rockefeller Parkway is an epic drive that will take you from Yellowstone National Park and into the Grand Tetons National Park. There are hundreds of places to stop and see wildlife and take gorgeous photos of the surrounding scenery.
Highway 191
Highway 191 is a heavily-traveled stretch of asphalt due to the amazing views and access to several great pitstops along the way. It's also the Grand Tetons National Park main highway that visitors take to get there. You can break off from it to run into rivers and lakes with the mountains in the backdrop, making many jaw-dropping photographs.
Mormon Row
Known for the famous barn picture with the Tetons in the background this is still a very popular stop with many more buildings then just the barn and all have amazing mountain views.
You can see Moron Row Drive in the videos below.
Grassy Lake Road
Located between Yellowstone and the Grand Tetons is Grassy Lake Road. This rustic 49 miles stretch of road will take you through the wilderness and has several trailheads that branch off toward majestic waterfalls. If you enjoy fishing, the Grassy Lake Reservoir is filled with rainbow, lake trout, and cutthroat.
Kelly WY & Antelope Flats
The Kelly WY & Antelope Flats has stops along the way that will make you feel like you're in the wild west. You will come across the famous Mormon Row; old homestead historic barns, along with pronghorns, moose, and bison.
Gros Ventre Road
The Gros Ventre Road will take you to great camping spots, trails, forests, and many great activities. It will take you into the heart of the park with fields of wildflowers with the mountains toward the top of the hill. If you're a backcountry hiker, there's an adventure awaiting you just off the beaten path.
These are several great scenic drives to endeavor on when you visit the Grand Tetons National Park. If you've visited on these drives before, tell us about your experience. What is your favorite Grand Teton National Park scenic drive?