This post may contain affiliate or referral links. Read more about this in our disclosure policy.
Legoland theme park in Winter Haven Florida is a great place to spend a day or two with your family and although it is a theme park, it is not your typical one. It has so many wonderful and fun things to do, as most have, but it is very educational and challenging for your kids, inspiring them to create and build, while still having the charm of a park with rides and great places to eat.
Orlando Tour Passes
There are so many options for bundling attractions at a fraction of the cost to get more bang for your buck. In the Orlando area, these are your best options:
Orlando City Pass – Save on tickets to famous theme parks
Orlando GoCity Explorer Pass – Choose from 2-5 attractions. You will have 60 days to use the pass.
Orlando Sightseeing Pass – Entry to 2-5 attractions. Over 25 attractions to choose from.
Orlando Tours – 25+ tours and excursions to choose from.
Make sure to check out our travel deals page for any deals or sales on your next trip no matter where it is!
While traveling be sure you bring change so you can take advantage of any pressed penny machines you come across. These make great souvenirs.
Related: Attractions included in the Orlando Sightseeing Pass
What can you not miss at LEGOLAND Florida?
LEGOLAND Florida is an amazing place that has plenty of activities and attractions to check out! With over 50 rides, shows and attractions, you won't want to miss anything while you're there – here are some of the top things to see at LEGOLAND! Fun Town: This area lets kids explore what life is like as a LEGO® citizen! The Dragon Coaster: A classic wooden coaster ride with twists and turns all made from Duplo pieces combined together. This is one coaster ride you won't ever forget! Splash Battle: An interactive ride where riders have their own water canons they can use to battle rival vessels featuring pirates, mermaids, sharks (not real ones!), and even sea monsters! Castle Hill Outpost Adventure Zone: In this zone, kids can climb up eight feet tall netted ropes courses towering above LEGOLAND Park as well as take on ziplines.
What is the least busy day at LEGOLAND Florida?
Good question! Generally, the least busy days at LEGOLAND Florida are weekdays during the school year. Tuesdays and Wednesdays are usually much less crowded than weekends! This is because the majority of people who visit LEGOLAND Florida on weekends tend to be from out of town, while most visitors during the week are local Floridians who want to bring their kids for a day of fun without having to travel too far.
Printable Legoland Suprise Tickets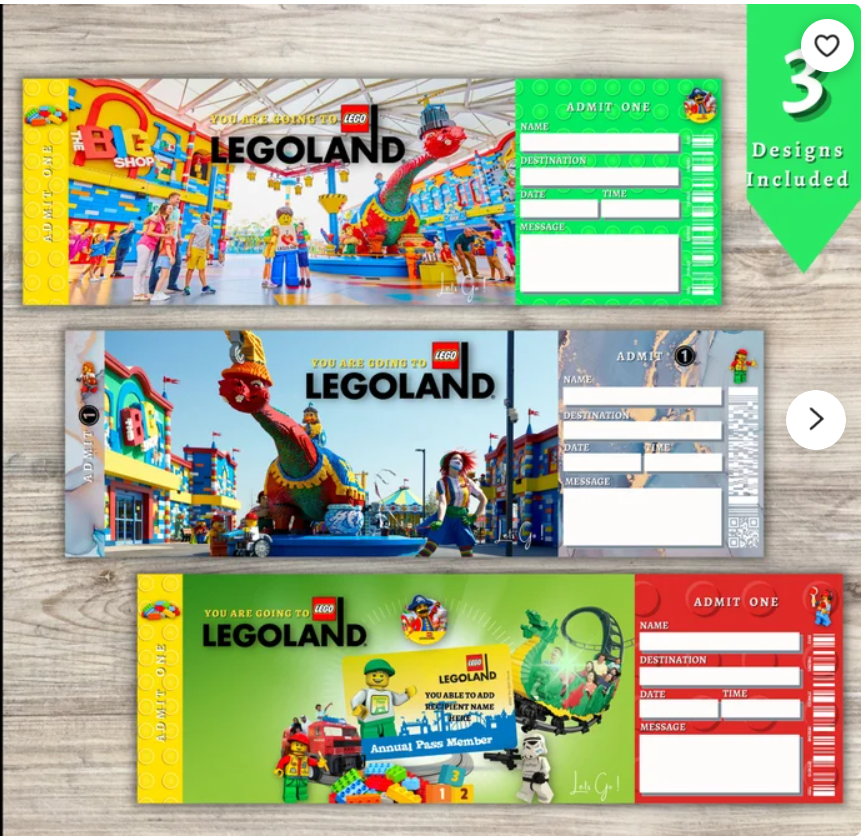 Send someone on the adventure of a lifetime with these magical printable Legoland Tickets! As the proud parent, grandparent, or guardian of an excited kiddo who loves Legos and their creations, imagine their joy when they open up one of these special tickets. Watch as they swing between confusion, disbelief, and pure bliss. They'll never expect what comes next!
Related: LEGOLAND Amusement Park, Winter Haven Florida
Legoland Apparel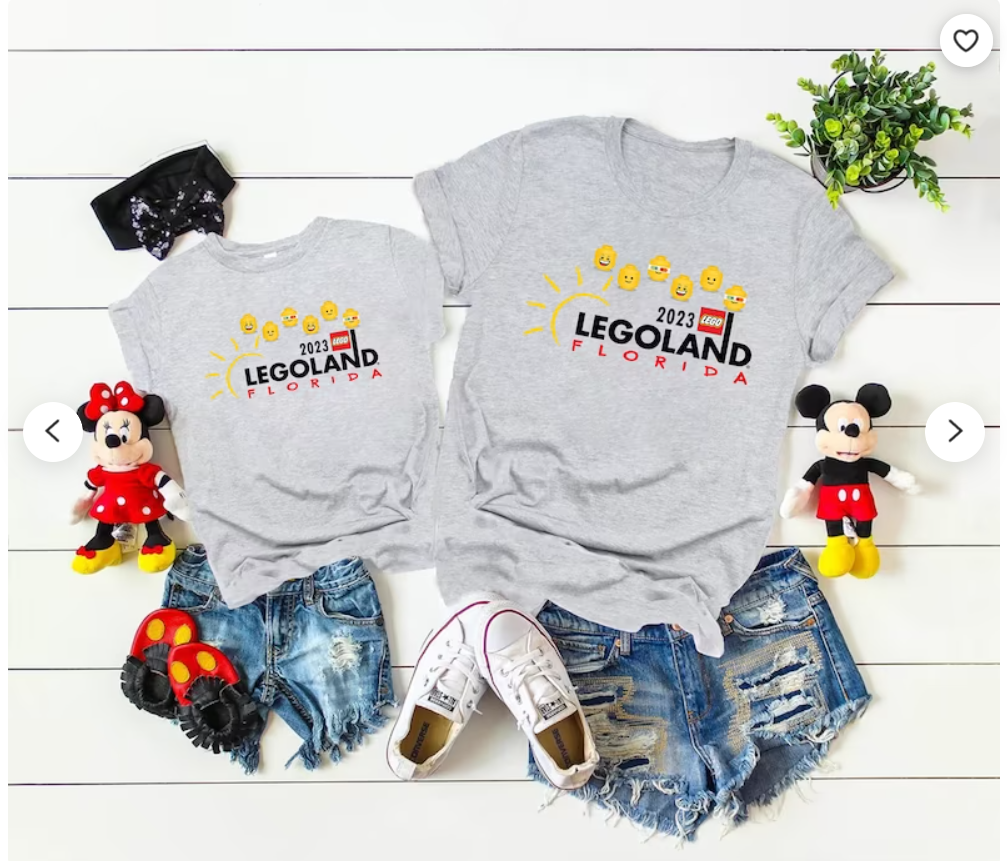 Give your little ones something to wear for their fun trip by purchasing some Legoland Apparel. With unisex sizes ranging from toddlers to adults, you can find the perfect fit for any member of your family, so no one misses out on this fantastic opportunity to show their love for Legoland. And with multiple colors, you can choose whichever best suits your taste or even mix and match to create entirely new looks!
Picnic Areas
There are at least two of these areas in nice, shady spots where you can sit down with your family and have a nice meal time together. You can bring your own food in, and save some money on a meal, and they are very friendly about letting you do so.
One area is across from the large wooden Dinosaur coaster, right past the kid's safari ride, and the other is closer to the front of the park, in the Duplo section. Both are very nice, and the Duplo one is under a roof, while the Safari area one is under shady oak trees. This gives you a good choice and if you wanted to do more than one meal, you could go for each one and not be in the same area of the park each time.
Legoland is fantastic for Star Wars Fans
Many people who are huge fans of both Star Wars and Lego would know that they do sell several sets of building bricks that are from the movies, but you may not expect there to be several things in the park that relate to them as well.
In the miniland, which is in the center of the park, there is a large section of Star Wars models built. Each one is different and they are from different scenes in the movies, and they also have buttons your kids can push that make them do different things, such as a ship taking flight, or music playing in the Cantina.
They also have large adult-sized figures built that you can take photos with, and they are unbelievable in person. Darth Vader, R2-D2, and Darth Maul are permanent displays there.
They do have several shops in the park that also carry movie-themed items, the bricks, of course, being some of them, but there are also lots of tee shirts and other items as well.
Related: Legoland Resort – 6 Reasons Why the Legoland Hotel is Totally Worth Your Stay
Build & Create areas
You would expect there to be a few spots where your kids can just sit and build but there are so many of them all over the whole park.
The park is divided up into specific sections with themes, like Duplo, Adventure, Safari, Imagination ..etc. Each section has multiple things to do, plus rides to ride and some have shows and places to eat as well, but in each one, you will find these building areas. Some are in the actual lines for the rides so that if the line is long, your kids can have something to do. Some are larger and have lots of different bricks for them to choose from as well. They truly encourage you to let them play and create, and for that, this park is so worth the visit.
There are educational class builds you can sign them up for as well, but that isn't really advertised unless you are searching for that type of thing. If you go to the back of the park, in the imagination area, where the race cars are, you can see the times for the classes and the age groups for them and sign your kids up ahead of time. Do this at the beginning of the day so you don't miss out. They will get to build animals or use robots that they learn to program on the computers and make them move or play music. The classes are small so it's intimate and the teachers can help when needed.
Visit in November or January
This is when it is the slowest time of the year and the coolest weather out. November, other than the week of Thanksgiving, is very quiet and slow. The weather is gorgeous 90% of the time, and you may even need a jacket. There are very minimal lines, about 5 to 10 minutes, even for roller coasters and more popular rides.
January can be chilly and windy but the crowds are way down too.
In November there is also usually a good deal on hotel stays that you can take advantage of. One thing to check ahead for though is the park hours, and that they are for sure open, as sometimes they will close here and there during the week, or close earlier than you would expect.
Water rides and splash areas
Be prepared for your kids to get wet. Yes, it's Florida, so most of the year you would want this, as it will cool you off, but if you are unprepared for it, it can be a drag if you aren't wearing the right clothing or have a backup.
Right, when you walk into the park there is a really neat display of legos with a rainbow and dragons that is very welcoming, but it does have water built in that people can spray you with. If it's not crowded, chances are you won't get wet, but just be aware. There are also a few rides that will get you soaking wet! One is the Chima ride – and if you are standing anywhere close, the riders can actually spray you from the ride and it's a serious soaking.
They do have the dryer machines of course, nearby, but they cost money to use.
Related: 7 Little-Known Legoland Secrets
Slushies
If your family likes to drink the slushy type drinks, buy a Legoland cup at the slushy stand, and then you can refill it for a couple of dollars, instead of the full price you pay the first time. We take our cups back with us every time and it's well worth it. They have lots of flavors and the cups are tall.
Video Game Room
In the imagination area, there is an indoor room where you can all play video games. There are comfy seats and it is a very nice respite from the heat, especially in the summertime. They have the latest Lego games on more than one type of device and the kids love it.
It is a great way to let them try out the games also, before you buy them for your kids, plus sometimes you all just need a break away from the heat and the people. Plus, you can let the kids go and know right where they are and you can take a break and just sit for a bit while they enjoy themselves.
The Gardens
Legoland was once a park called Cypress Gardens. People who are local would know about this, but if you aren't from the area or the state, you may not. The park was famous for the water skiing on the lake there and for its gardens. They had lovely ladies in beautiful dresses around the park and it was a trademark for them.
Related: Top 10 Tips to Make Your Visit to Legoland Resort Smoother
In the back of the park, there is a ski show that features Brickbeard the pirate and ski stunts and it's very fun, but right past that to the right, is the garden area and it is so pretty and worth the visit. There are huge, old Banyan trees there, manicured gardens, huge lovely oak trees, among others, and a gazebo that has been there for many years. It's a great place to get good family photos too and to get away from the noise of the park and take a walk with your family.
Trade Mini figurines
Every model citizen in the park wears a nametag with a mini figurine on it. Generally, they are happy to trade with you. There are also trade boards in every gift shop, at hotels, and around the park.
So there you have it – our top can't miss things to see at Legoland Florida! We hope this list helped you decide what to add to your itinerary for your next trip. Do you have any other must-see attractions at Legoland Florida that we didn't mention? If so, be sure to let us know in the comments below!