This post may contain affiliate or referral links. Read more about this in our disclosure policy.
When I decided to give away everything I owned and set out on road tripping the US, I did not have a lot of money saved up. I had kept saying I would start traveling once this or that happened or when I had saved up a certain amount of money. Years went by, over 10 years to be exact, and I hadn't really been traveling. One day I realized that I work on the computer all day long and that I can do that anywhere in the world as long as I had electricity and WiFi.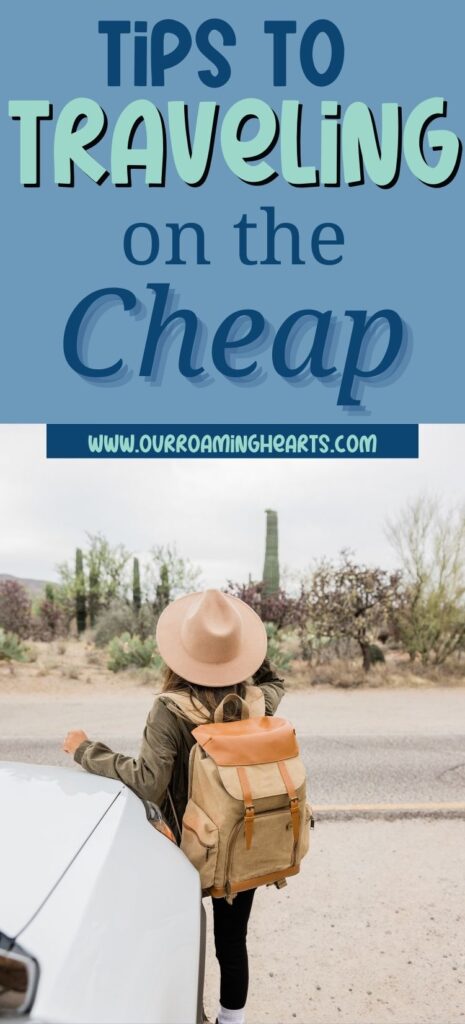 How can I travel on a budget for cheap?
Traveling on a budget doesn't have to mean missing out on the experience of a lifetime! With careful planning and creative thinking, you can take your trip without breaking the bank. Here are some tips to help you travel for cheap:
First, do your research ahead of time. Second, Pack lightly and plan wisely. Third, Take advantage of seasonal promotions or discounts offered by travel companies whenever they surface – airlines often offer special fares which can come with great savings if arranged correctly! Additionally, signing up for loyalty programs such as frequent flyer programs through certain airlines may get you discounts that wouldn't necessarily be available otherwise. Fourth, Don't forget about local transportation options either; public transport systems like buses and trains can provide much cheaper alternatives. And lastly, don't forget about walking and sightseeing tours too – most large cities offer guided tours that go beyond just "checking off sights" – use them as an opportunity not only to gain first-hand information about places that would normally require additional research but also enjoy socializing opportunities.
Related: The Best Free Things to do in Each State
How can I travel if I'm poor?
Traveling doesn't have to be expensive! With some creativity and planning, you can see the world even on a tight budget. Here are a few tips for traveling when you're short on cash: Get creative with your destination – Instead of booking an expensive plane ticket overseas, opt instead for a staycation or look into other nearby cities that may not have the same price tag attached to them. Travel lightly – If possible, pack only carry-on luggage in order to save money. Also, bring snacks with you so that you don't need to buy food at pricey airport restaurants or cafes once inside security— this way all of your money goes towards exploring your destination! Utilize public transportation and take advantage of free activities – Many cities offer free cultural experiences such as outdoor concerts or art festivals which can increase engagement with locals while also cutting costs significantly overpaid attractions like museums or theme parks––both equally rewarding experiences!
Where is it cheap to travel right now?
One great place to start is Southeast Asia. Countries like Thailand and Malaysia offer a wealth of opportunities for budget-friendly exploration, with accommodation costs being particularly low compared to Western countries. You can hop around this region relatively cheaply if you embrace local transport methods (like buses or trains) instead of taking flights everywhere. There are also tons of beautiful beaches and gorgeous cultural sites to explore – from Angkor Wat in Cambodia to the iconic Phi Phi Islands in Thailand – without having to blow your budget by splurging on high-class tourist resorts.
Related: 5 Lowkey Travel Destinations
Where is the cheapest and safest place to travel?
Southeast Asia is an amazing destination for travelers looking for a safe, affordable, and enriching experience. While each country varies in terms of cost, some of the most budget-friendly places to visit include Thailand, Malaysia, Indonesia, and the Philippines.
Saving on Gas while traveling
When road-tripping, you should have Gas Buddy downloaded. It will show you on a map or list what the current gas prices are closest to your location. You can easily see if you wait for 10 miles you can save $0.10/gallon, which when you are traveling every little bit helps. Do this especially before crossing state lines as some states can be up to $0.25/gal more than the state you are currently driving in! Grocery Fuel Reward Points are also essential to the budget traveler. When either Safeway or Kroger has their 4x Fuel Point specials, use them and stack up those gas points.
Related: Check out 3 Ways to Save Big at the Pump
How you can Save Money on Food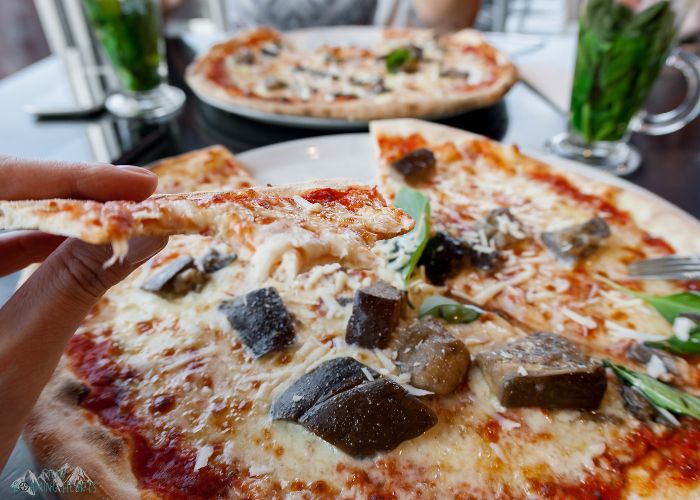 Just like at home, use coupons and store specials to buy groceries. Definitely hit up warehouses and grocery stores instead of eating every meal out (I love Costco!). If you do want to eat out while traveling, do it at lunchtime. Most hotels give you free breakfast, and dinner costs twice as much as lunch. If there is a half or full portion available, buy the full so you have leftovers for your next meal. Pack snacks that your family loves and resist buying them at convenience stores when they are marked up. You could also look out for deals and discounts on food. Many hotels or attractions offer discounts or packages related to dining, so keep an eye out for those when planning your trip.
Ways to Save Money on Lodging
I personally camped over 100 days of my 200 days on the road. I loved sleeping outside and invested in a great tent, sleeping bag, and mattress, plus a camp kitchen that I used quite a bit.
More Camping Posts
I also used both CouchSurfing.com and AirBnb.com (this link gives you a $25 AirBnB credit) to secure lodging around the US. As a blogger, I reached out to hotels to do travel reviews. For those travelers that are not bloggers, use TripAdvisor to show you the cheapest lodging for that night. HotelTonight is also awesome as it gets deals loaded up by noon every day.
Related: 20 Ways to Save on a Road Trip that Save Us $900!
With rentals available all over the world, you're sure to find the perfect place to stay. Airbnb has something for everyone. Plus, with prices that are often much cheaper than traditional hotels, you'll be able to stretch your vacation budget even further.
If you can not find an Airbnb that fits your needs a second option is VRBO. Find an amazing vacation home for your family.
Make sure to check out our travel deals page for any deals or sales on your next trip no matter where it is!
While traveling be sure you bring change so you can take advantage of any pressed penny machines you come across. These make great souvenirs.
These are just a few of the ways I save money while traveling. How do you pinch pennies so you can travel more?
With some creativity and resourcefulness, you can travel without breaking the bank. By utilizing money-saving tips such as packing snacks from home, eating at local restaurants, and taking advantage of discounts and deals for attractions, you can explore new places without having to worry about your budget. So go ahead and plan a trip – just make sure to do it the smart way!