This post may contain affiliate or referral links. Read more about this in our disclosure policy.
When traveling with kids, there are plenty of remarkable national monuments that should not be missed. From soaring canyon walls to ancient dwellings, these monuments offer a wide array of attractions and activities that will keep the whole family entertained. From the awe-inspiring Grand Canyon in Arizona to Kasha-Katuwe Tent Rocks National Monument in New Mexico, there is something for every traveler's tastes. Whether it's exploring nature, learning about history and culture, or just having a great time outdoors, these national monuments have something for everyone.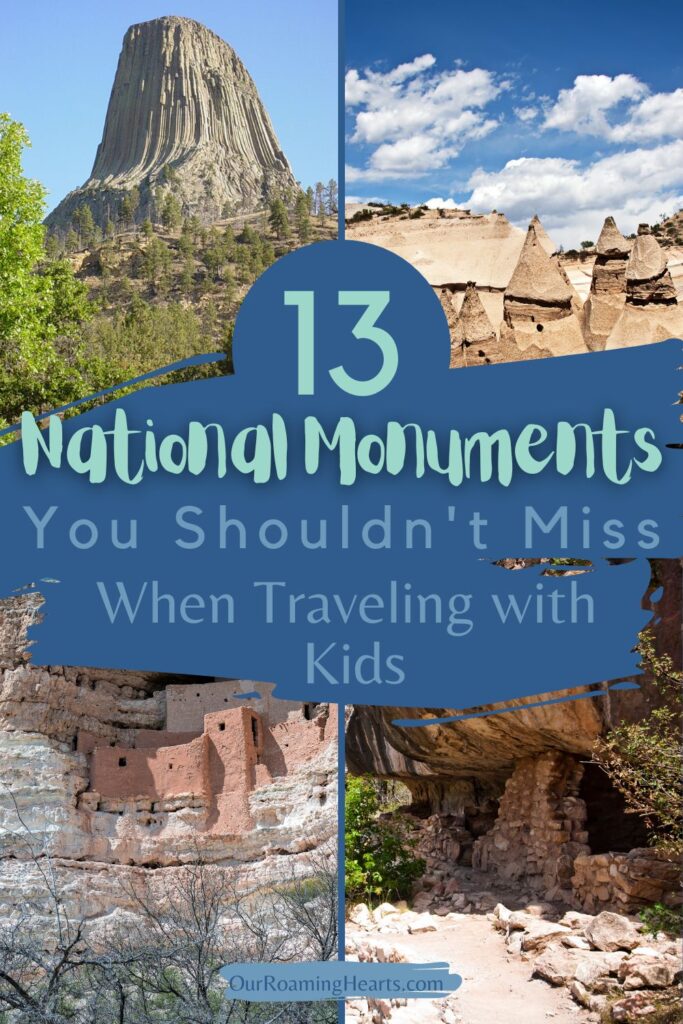 What is a national Monument?
A national monument is a protected area of historical or cultural importance, typically created and maintained by the government. These monuments can range from natural areas such as rivers, mountains, forests, and deserts to man-made structures like statues, obelisks, and buildings. The idea behind a national monument is to recognize the past culture and history of a nation while also preserving it for future generations.
Related: 48 National Monuments & National Park Virtual Tours
National Park Adventure Books

Find the National Parks you are visiting and get yourself these National Park Adventure Books. Plan your trip and jot down memories to keep forever. Add a few photos and you have yourself a keepsake for years to come!
What is the oldest Monument?
The oldest monument in the United States is the Cahokia Mounds State Historic Site, located near Collinsville, Illinois. This large archaeological site contains a collection of more than 80 prehistoric Native American mounds, built between 800 and 1200 CE. The largest of these is Monk's Mound, which stands 100 feet high and covers 14 acres.
What states have the most monuments to see?
One of the most well-known states when it comes to monuments is none other than California. With iconic landmarks such as the Golden Gate Bridge, San Francisco Bay Bridge; Yosemite National Park; Alcatraz Island; and Hearst Castle, California has no shortage of incredible monuments that can be enjoyed by everyone who visits.
What is the least visited national monument?
While all of the national monuments in the United States are unique and special, there is one that you may not have heard of—the Fort Scott National Historic Site. Located in Kansas near the Oklahoma border, this site commemorates an important era in American history.
Related: Ultimate Guide to Hot Springs National Park Arkansas
What is the most underrated national park?
The most underrated national park in the United States is definitely Hawaii Volcanoes National Park. As an island located in the Pacific Ocean, it offers a unique combination of breathtaking beauty, geological intrigue, and cultural opportunity that can't be found anywhere else.
US National Bucket Lists
The US National Bucket Lists is a three-page PDF document that lists some of the most iconic and remarkable places to visit in the United States. From majestic national parks to vibrant urban destinations, this bucket list will keep you busy for a long time to come, ensuring you have the opportunity to appreciate this amazing country from coast-to-coast. Whether you're looking for outdoor adventure, cultural exploration or just to relax, this bucket list has something for everyone.
Bandelier National Monument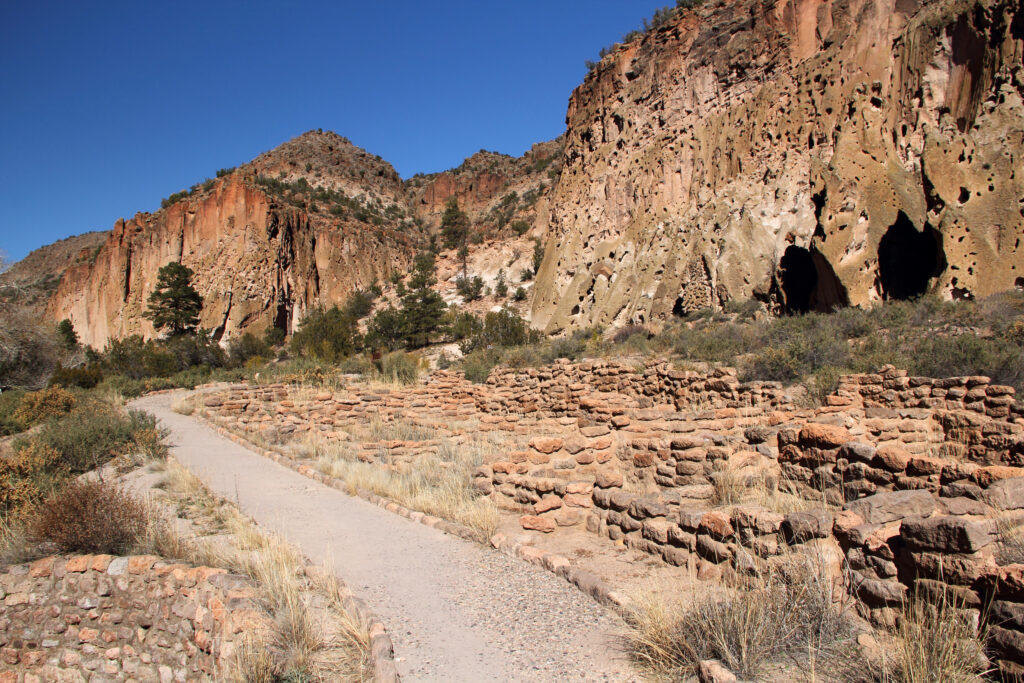 Bandelier National Monument is a unique landscape nestled in New Mexico's high desert. It is home to ancient pueblos, caves carved into the cliffs, and stunning natural formations. The park's many trails offer excellent opportunities for hiking and mule rides, while the town of Frijoles offers visitors a glimpse into the area's vibrant culture and history. From its awe-inspiring views of the Rio Grande Valley to its ruins that date back to the Ancestral Puebloans, Bandelier National Monument truly is a sight to behold.
Craters of the Moon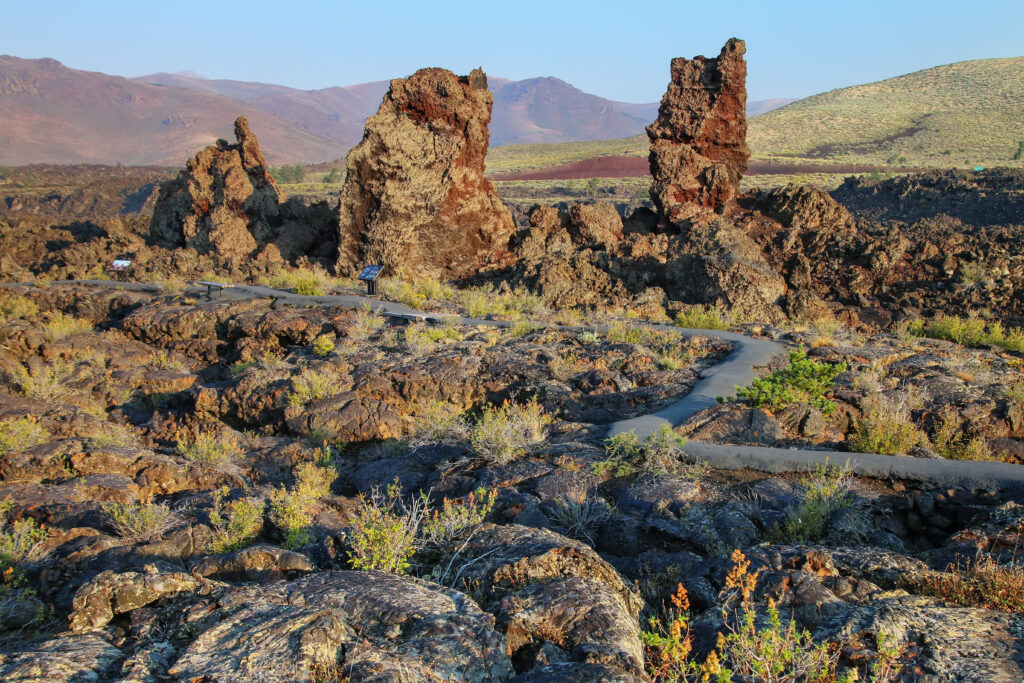 Craters of the Moon National Monument in Idaho is a truly surreal sight. Spread across 618 square miles, the area is full of lava fields, cinder cones, and other kinds of volcanic features. As you walk among these strange and otherworldly formations, it's easy to imagine that you've stepped into an alien landscape. The monument also provides excellent opportunities for hiking, bird watching, and stargazing – making it an unforgettable destination for any nature lover.
Devils Tower
The first national monument was Devils Tower in Wyoming, proclaimed by President Theodore Roosevelt. It is a massive piece of volcanic rock that juts straight up 1,267 feet. Devil's Tower is rich in Native American culture and they believe the ridges are from bears' claws as the bear tried to climb the rock as it was chasing two little girls. It is a site to see and an easy 1.5 walk around the base. Don't be surprised to see quite a few rock climbers trying to make the ascent!
I stayed at the KOA that was at the base and it had facilities and the best WiFi around. It was also walking distance to a closed-off field where there were thousands of prairie dogs – I had so much fun watching those little guys with Devil's Tower in the background.
Related: Free Things to do in Jackson Hole, Wyoming
The Gettysburg Battlefield
Most kids learn about the Civil War in 5th grade and that is a great time to take them on a trip to Pennsylvania. The Gettysburg Battlefield has monuments and statues showing where the battle occurred between the North and South. This is hallowed ground, remember to only walk on paths and sidewalks, and be respectful of others while there. To make the most out of your time at Gettysburg, take a Battlefield Bus Tour or go out with a Licensed Battlefield Guide. There are often reenactments throughout the summer months and even a full battlefield base camp set up as well.
A Field Guide to Gettysburg: Experiencing the Battlefield through Its History, Places, and People
Grand Canyon Parashant Monument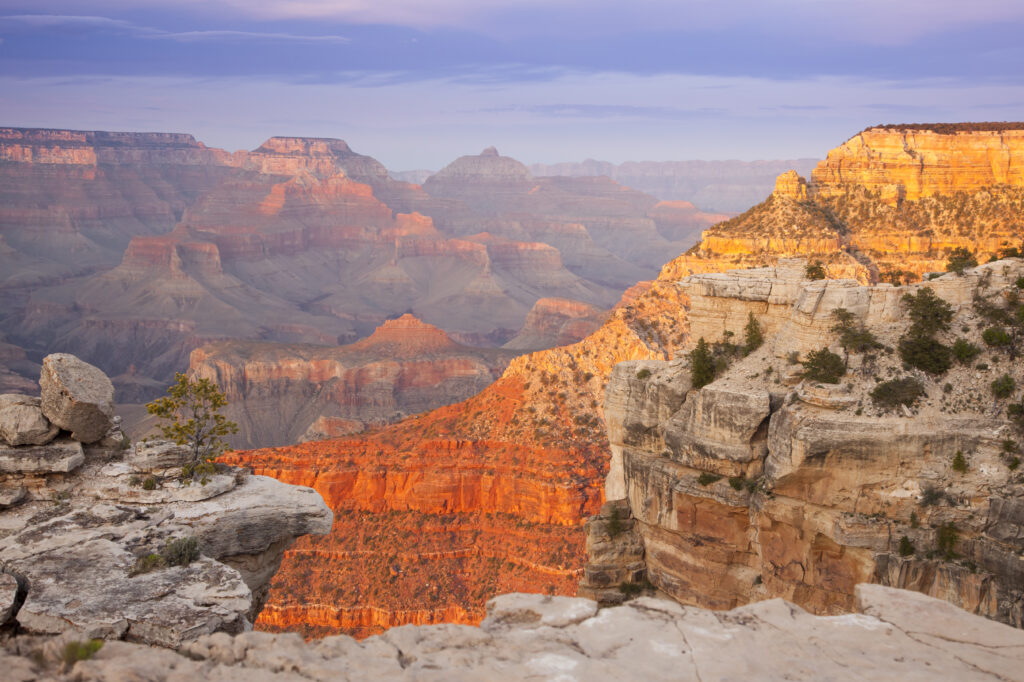 The Grand Canyon Parashant Monument is an awe-inspiring landscape of colorful canyons, mesas, and mountains located in Arizona. Its vast expanse stretches for over a million acres and can be explored by hiking its numerous trails, kayaking or canoeing along its rivers, or simply taking in the views from one of the lookouts. Home to an abundance of wildlife, the area features various species such as Desert Bighorn Sheep, Mule deer, and endangered California Condors. Whether you are looking to take in magnificent geological formations or simply soak up some sun, Grand Canyon Parashant is a place you will never forget.
Kasha-Katuwe Tent Rocks National Monument
Kasha-Katuwe Tent Rocks National Monument is an unforgettable outdoor destination located in the Sandia Mountains of New Mexico. It features a mesmerizing landscape of cone-shaped tent rocks, formed by volcanic eruptions millions of years ago. Winding trails meander through canyons and over mesas, offering hikers breathtaking views and the chance to explore ancient Puebloan dwellings carved into the rock walls. With its otherworldly beauty and unique geological wonders, Kasha-Katuwe Tent Rocks National Monument is sure to leave visitors in awe.
Natural Bridges National Monument
Natural Bridges National Monument is a stunning sandstone canyon in the heart of the Utah desert. It features three massive natural bridges that soar over 200 feet above the canyon floor, providing spectacular views of their unique formations and the surrounding landscape. A network of trails allows visitors to explore this rugged terrain while soaking up the beauty of wildflower-filled meadows and panoramic vistas from high atop rocky overlooks. From its sheer majesty to its diverse array of wildlife, Natural Bridges National Monument has something for everyone to enjoy.
Related: 31 Free Things To Do in St George Utah
Newberry Volcanic National Monument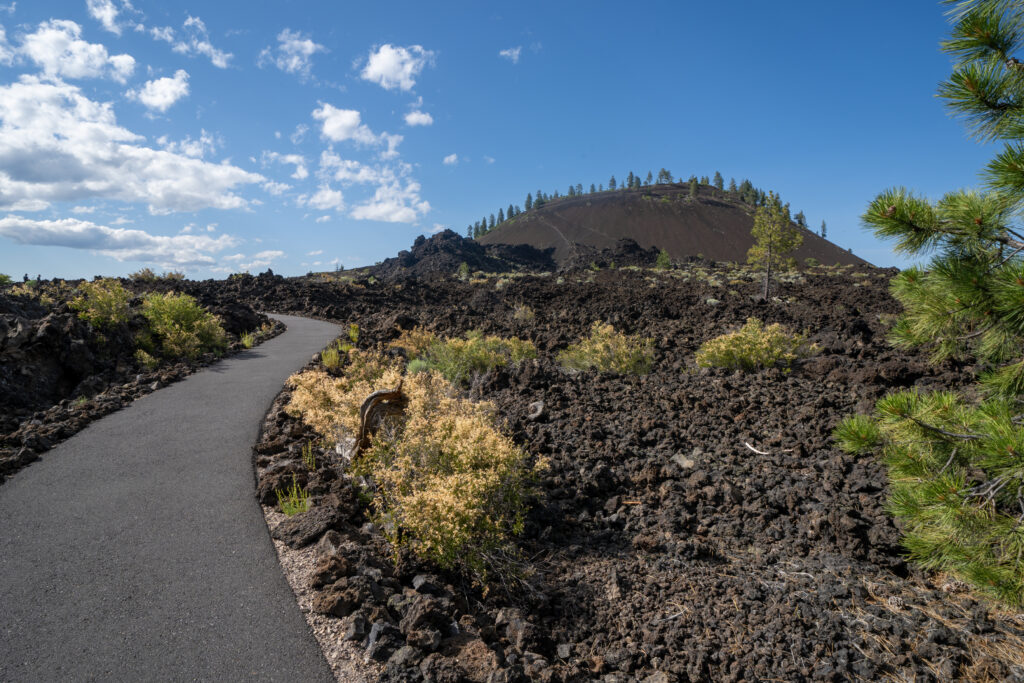 Newberry Volcanic National Monument is an otherworldly landscape in Oregon's Cascade Mountains. It features a diverse array of geological wonders such as lava flows, volcanic cones, and over 400 steaming hot springs. The area boasts miles of unspoiled wilderness ripe for exploration, with hiking trails to suit all levels and plenty of spots to go fishing or rafting. From its awe-inspiring views from the peak of Paulina Mountain to its serene meadows and rock formations, Newberry Volcanic National Monument offers something for everyone.
Montezuma Castle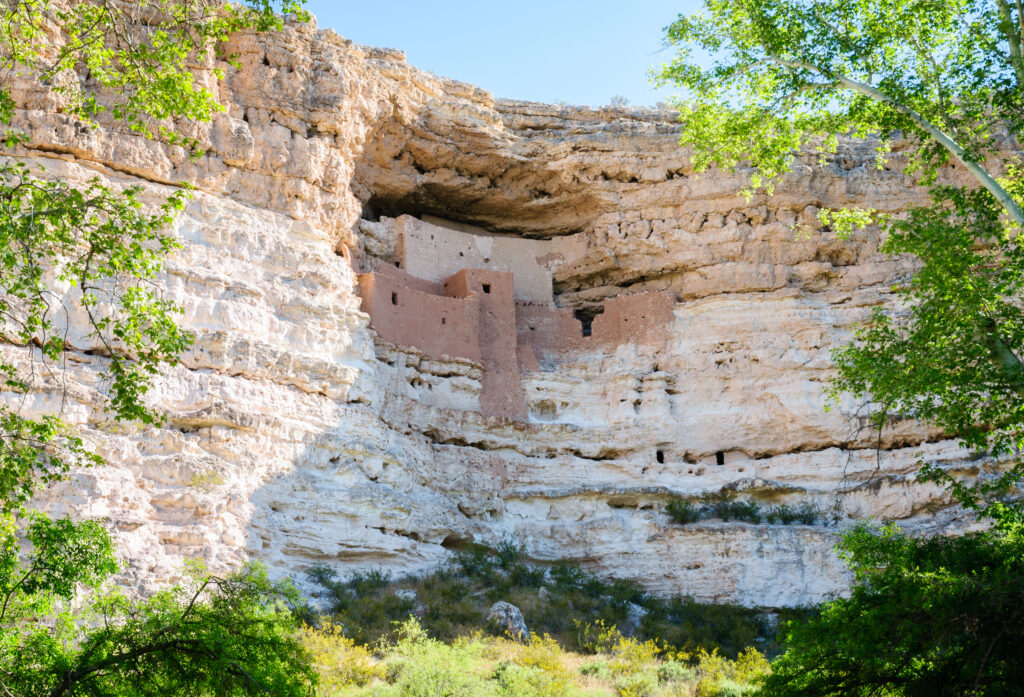 I grew up in Arizona and took for granted the many national monuments that are there. One of my faves is the fascinating Montezuma Castle. This cliff dwelling was built around 1400 A.D. It is about two hours north of Phoenix and a short hike takes you back to this impressive site. There is also the Montezuma Well that has been bringing water to the surface since the 8th century!
While you are in Arizona, don't forget to check out the Sonoran Desert, the Navajo Nation in Northern Arizona, the Organ Pipe Cactus, Pipe Spring, Hohokam Pima, the Casa Grande Ruins, and the Grand Canyon. All of these are National Monuments found in Arizona!
Mount St Helens National Volcanic Monument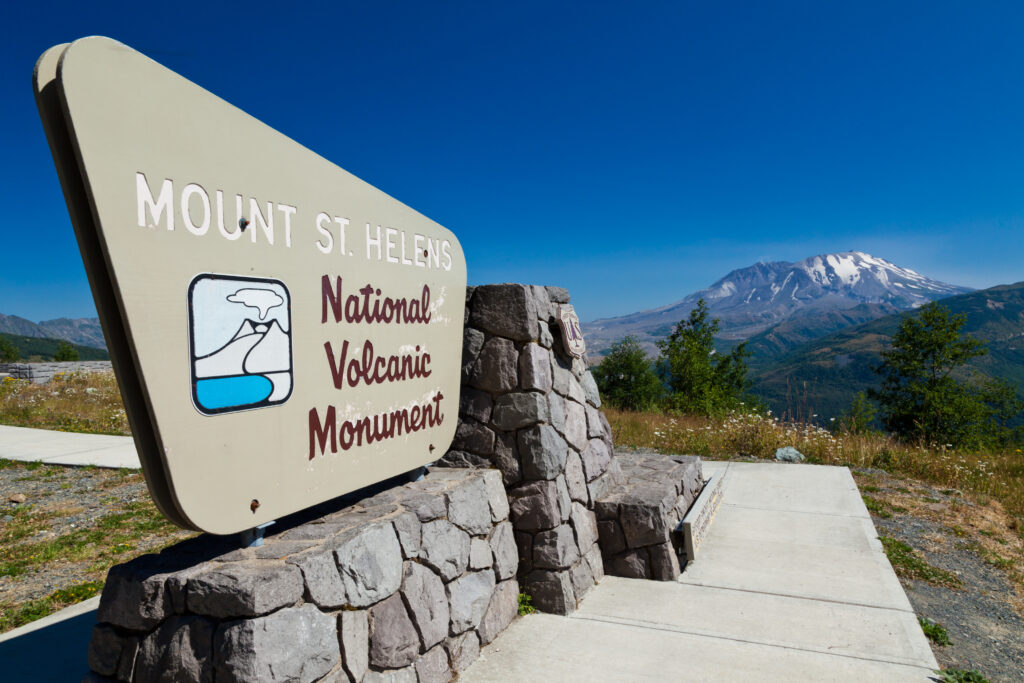 Mount St Helens National Volcanic Monument is a stunning and awe-inspiring reminder of the power of nature. Situated in the Cascade Range of Washington State, this monument plays host to beautiful mountain lakes, expansive meadows, and snowcapped peaks – as well as a selection of rare species that have made this unique environment their home. Visitors can experience the sights and sounds of the area from its summit, or take a guided tour to explore its many trails, lava tubes, waterfalls, and other natural wonders. Whether you're looking for outdoor adventure or simply want to marvel at Mother Nature's beauty, Mount St Helens is sure to leave an unforgettable impression.
Muir Woods National Monument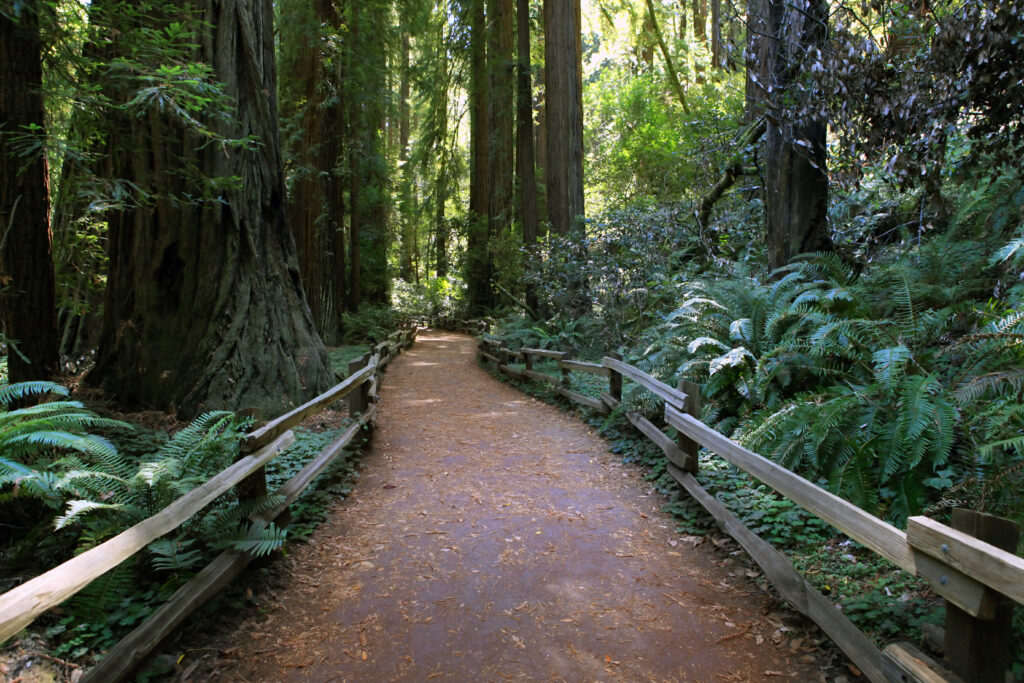 Muir Woods National Monument, located in Northern California, is an expansive forest of towering redwood trees. These magnificent ancient giants have been standing for hundreds and even thousands of years, offering visitors a glimpse into the past. The deep green and brown hues provide a sense of tranquility and peace, while the sheer size and grandeur of the trees are sure to take your breath away. Whether you choose to hike among the trees or simply relax in their majestic presence, Muir Woods is an unforgettable experience that will stay with you long after you leave.
Related: What Should be in Your Hiking Pack
Tuzigoot National Monument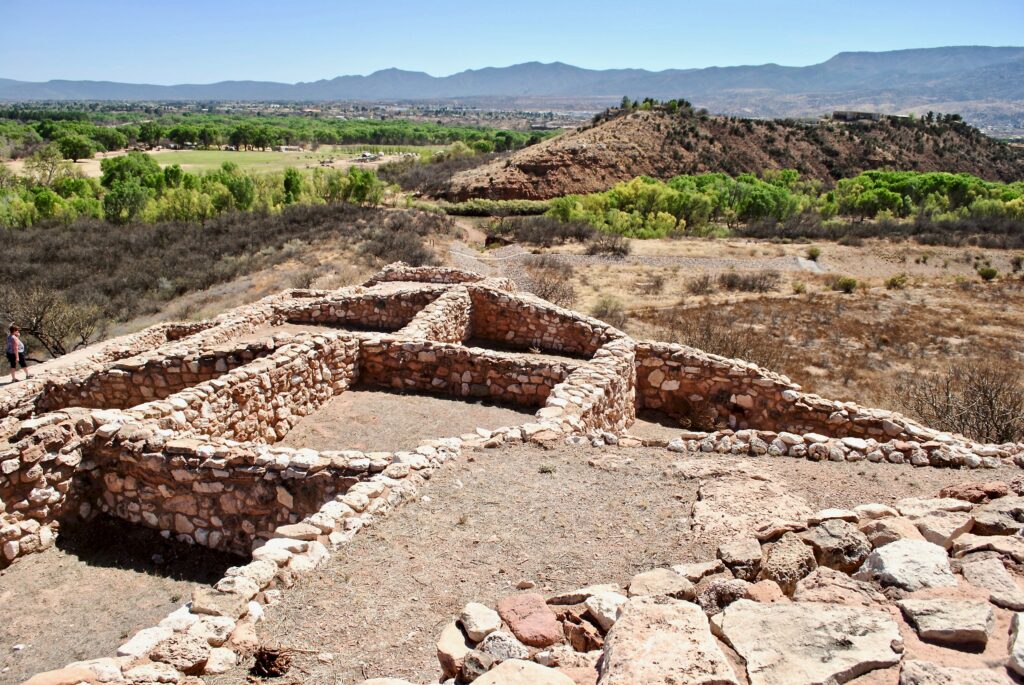 Tuzigoot National Monument, located in Arizona's Verde Valley, is a breathtaking reminder of an ancient civilization. The site itself consists of a series of stone structures built by the Sinagua people over 1,000 years ago. Structures include terraces, storage units, and small rooms which offer visitors a unique insight into the lifestyle and history of this mysterious culture. From atop Tuzigoot Hill, one can see panoramic views of the surrounding countryside, making it a perfect spot for taking photos or simply enjoying the natural beauty that surrounds this historical monument.
Walnut Canyon National Monument
Walnut Canyon National Monument is a unique landscape situated in the heart of Arizona. With its steep canyon walls and sweeping views, it's easy to see why the Ancestral Puebloans chose this area as their home. Visitors can explore the ancient dwellings left behind by these people, wandering through well-preserved cliff dwellings carved into the canyon's sandstone walls. Walnut Canyon also offers many opportunities for hikers and climbers, with winding trails leading up and down the canyon walls. From its breathtaking views to its rich cultural history, Walnut Canyon National Monument is truly a sight to behold.
National Geographic Kids National Parks Guide U.S.A.:
The Most Amazing Sights, Scenes, and Cool Activities from Coast to Coast!
There's nothing quite like experiencing the beauty and history of a national monument with your family. With a wide variety of monuments to choose from, there's sure to be one that will make your trip truly special. We'd love to see pictures from your trips to any National Monuments, you can comment below to share them with us. We can't wait to see them!