This post may contain affiliate or referral links. Read more about this in our disclosure policy.
The Legoland Hotel in Winter Haven Florida is among the best my family has ever stayed in, hands down. It is located right on the property and is literally next door to the Legoland theme park. You don't even have to move your car to go from one to the other. Let me share my reasons why I think you should spend the money to stay at the Legoland Resort!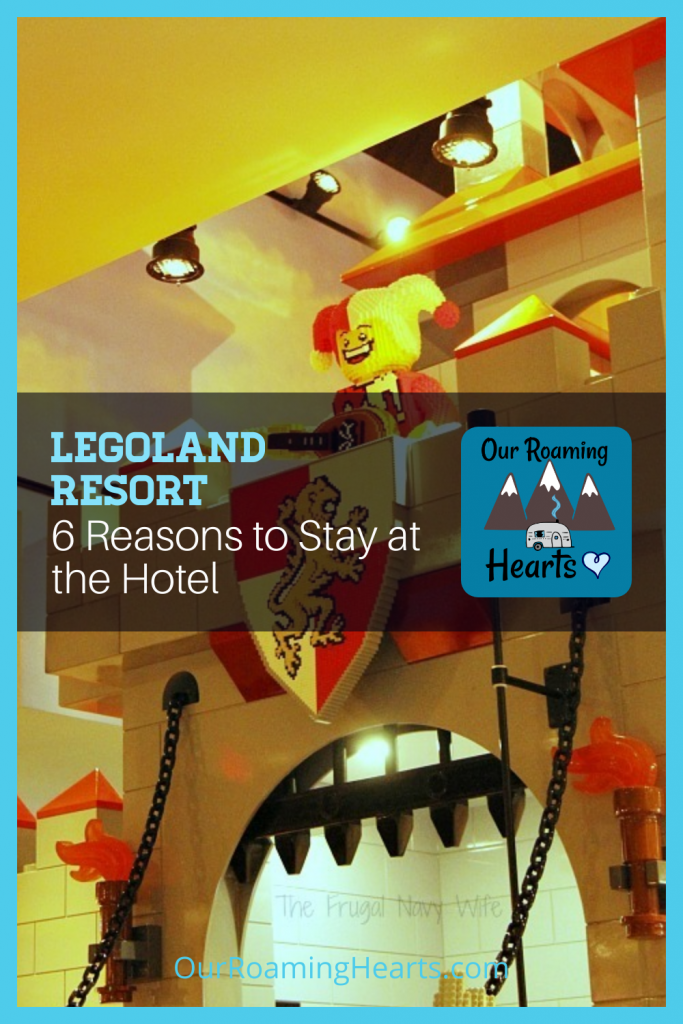 Legoland Resort – 6 Reasons Why the Legoland Hotel is Totally Worth Your Stay
When you check out the pricing, it is a little steep and can be compared to that of other nearby theme park hotels, like Universal Studios, Disney, and Islands of Adventure, but when you break down all of its perks, it is well worth the stay.
Related: 7 Little-Known Legoland Secrets
They do offer discounts at different times of the year, and the best of them is in the fall when you can get 30% off your stay at certain times. This is their slowest time of the year and the best time to visit the park as well. The lines are minimal, and it is not as sweltering hot out either.
Now let me tell you the top reasons you will love the hotel and feel it is worth it.
1. The Legoland Hotel Entrance & Lobby
The entrance to the hotel is the coolest. If you are a Lego fan, to begin with, & can appreciate the builds they do on their displays you will be in heaven here. The dragon on the front of the hotel even breathes out steam.
The Legoland hotel lobby itself is a spot you will most likely spend much of your stay in. They have awesome displays everywhere, from a wall of mini-figures behind the front desk, the flower arrangements being made of bricks, to the huge pit of bricks to play in that is right in the center of the room. The staff is the friendliest we have ever met at any hotel & they make you feel so welcome and at home that you don't want to leave. They encourage play and want you in the bricks, instead of feeling like you are in the way you can at other places.
They display the best and favorite builds that guests make from the days prior, and they will interact with you a lot.
There is a play area right in the lobby for kids that is a super cool castle theme with a pirate ship and all. It has sounds that activate, really awesome details all over it, and a few rooms in it. Then the "water" it sits on and that goes around the ship is a sea of bricks to play with.
At night, the Legoland Resort has an entire show for the kids ( and the parents, too) where they involve the kids a ton and have them do a build contest where they get to come up and show their creations, and then everyone votes for the best. There is comfy seating around this area for parents, and it is beside the bar, and one of the restaurants, and they will come out and serve you drinks as you sit there and enjoy the experience. They even have kid versions of the fancy drinks as well, and they are tasty.
2. The Legoland Hotel Characters
In the lobby and dining areas there are characters out and about and at times, several of them at once. They have a few who help host the nighttime show that stays in full character and is a riot to talk to. They really go above and beyond, and they take their time with you also, and don't make you feel like they are "just doing their job." There are some of the girl characters from the Friends theme, and Max for the boys. They also come around during meal times and will take photos and visit with you then as well.
3. Legoland Resort Dining
There are two options for dining. One is buffet-style, and it is fantastic. The breakfast alone is so well done, with lots of options and if you have anyone in your family with food allergy issues or Celiac, they are great about taking good care of you and making sure you feel like you have plenty of options, too. Then the other is the one beside the play area that has a bar section with lots of seating and then some other seats that are back further from the main area. The food is really good, and there are a lot of options. It is a regular sit-down type where you are served, as opposed to the buffet style.
The restaurants, of course, are totally awesome inside with all kinds of cool detailing and cute displays that include tons of bricks and awesome characters. It really makes it a fun experience.
4. Legoland Resort Rooms
They have a few different themes in their rooms and depending on which you choose, from Pirates to adventure, to Kingdom or more, the entire floor you stay on is in that theme. As soon as you get off the elevator, you are in the middle of it. All the carpets, wall décor, and everything fit really well, and they have placed all kinds of neat builds around. You will be noticing them the whole time you are there. For example, the desk in our room had a snail going across the back of it right near the Keurig machine. It is like a treasure hunt the whole time if you enjoy seeing the builds.
They have a few levels of room types, and even the cheapest one is awesome. There are bunk beds for the kids, and each room has a literal treasure hunt where they have to solve a riddle to open the chest, and then they get a prize pack that does include a brick set in it, along with a lanyard that has games and things on it. It is really an extra bonus that your kids won't expect and they will love it.
5. Legoland Hotel Hands-on Builds
They have scheduled brick-building sessions that your kids can sign up for. Be sure when you get there to sign up for them in case they fill up. It is a really fun experience that takes place away from the rest of the activities in the hotel, and the room is set up just for this reason, so they have everything they need to enjoy it, and get to see some really neat things they wouldn't have otherwise. They get to keep the item they build also, so that is one of the best parts! It is a perfect souvenir of their time there.
6. Legoland Resort Extras
There are so many little things that add up to being a big deal when you stay there. Let me give you a few examples: When you come out of your room in the morning, you will find a Legoland newspaper at your door. It is the cutest.
The elevator is a disco dance theme, complete with a disco ball that lights up and music that plays while you are going to your floor. You kind of want to stay in it instead of getting out, and the pool is really awesome, complete with floating Lego bricks to play with. Make sure to leave time to swim if you can.
These are just a few of the extras, and I hope it gives you some idea of what to expect when you go and why it is truly worth it. You don't need to leave, and you won't even want to. You would easily spend the same amount of money going to other places to fill in the time and eat, so for us, the Legoland hotel has been the perfect solution.