This post may contain affiliate or referral links. Read more about this in our disclosure policy.
Southern California is a region consisting of ten counties and several major cities, giving travelers plenty of reasons to visit. Its beaches alone receive 150 million visitors each year, and its other attractions draw in people of all ages. No matter how often you visit SoCal, you'll never run out of things to see and do – after all, California is huge!
Things to do in Southern California
These fun things to do in Southern California are already on many people's bucket lists. Now, it's time to add them to yours! Whether you dream of national parks or amusement parks, there are dozens of attractions worth seeing, some of which are free or low-cost.
Now with all the things to do here, I suggest checking out Airbnb for a place to stay you can find lots of only homes and historic locations to stay in. If you sign up for Airbnb using my link you get a free $40 travel credit!
Before you get started you need to know a few handy tips that can save you a lot of money. There are quite a few passes you can get that offer multiple attractions for one low, low price. These are THE BEST ways to save HUGE on your vacation or getaway. They are all worth mentioning as they all offer different attractions for different areas of Southern California.
When you get a SoCal CityPASS you can get entry to up to 5 attractions for one low fee. This will save you money versus paying admission fees at the door. You can pick and choose your attractions to customize your SoCal vacation.
If you venture into Los Angeles you will want to snag a Los Angeles Sightseeing Pass. This will save you a ton of money on multiple attractions. We have a few of these attractions on the list below so it makes a great little bundle to save you big money. This pass also gives you discounts at local retail outlets and other attractions.
So, How many of these spots can you visit in one trip?
Related: Saving Money on Attractions While Traveling
Sunset on the Pier
Throughout Southern California, you'll find several beach piers that offer beautiful views of the sunset. Some of them (like Crystal Pier in San Diego) offer lodging on the water, so you'll be able to watch the sunrise, too. If you're just looking to spend a couple of hours at the beach, head to the Newport Beach or Venice Beach piers. Both are situated close to dining establishments and sports rental shops, so you'll have plenty to do before the sun begins to set – try catching some waves!
State Street in Santa Barbara
Visit the shops on State Street in Santa Barbara. It's the premier location for all your shopping needs. You can find dozens of great stores selling items to buy and bring back home with you. Some of the best spots on State Street include La Arcada Plaza, India House Bazaar, The Closet Trading Company, and Paseo Nuevo Shopping Center.
Joshua Tree National Park
This desert park in California sees almost three million visitors each year, and with good reason – it's teeming with incredible plant life, animals, and landscape features to explore. Some of the mountains at Joshua Tree don't have trails, but you can still hike them. One of the best times to visit is at "golden hour," so plan to arrive in the late afternoon to experience the sunset and less light pollution.
When visiting Joshua Tree National Park, always carry plenty of water and a sturdy pair of pliers in case of stray cacti spikes. Be aware of your surroundings, too – this park is less developed than others you may be used to. Since the most popular sections of this park are deeper within it, bring a car with you to reach these areas.
Ask the rangers at the desk for their Junior Ranger program book for any kids traveling with you. You can also ask them about any must-see locations at the park! The Ranger Station is also where you can get your National Park Passport stamped.
Related: Top Lighthouses to Visit on the West Coast
Los Angeles County Museum of Art
Get tickets to explore stunning collections at the Los Angeles County Museum of Art. You'll find pieces from amazing artists, including Pablo Picasso and Michelangelo, along with dozens of others. Each piece tells a story that you can interpret in your own way while checking out the different exhibits around you.
Disneyland
It would be hard to visit Anaheim without spending a day at the Happiest Place on Earth! In addition to rides, characters, and other attractions from classic Disney movies, Disneyland Resort also has an entire Star Wars section. Whether you're visiting California with kids or you're just a kid at heart, there's something for everyone at this bucket list-worthy theme park.
Tickets to Disneyland Resort are sold at different price points depending on when you visit. However, you should expect each single-day ticket to cost at least $100/person. Multi-day tickets cost $235-$360/person for adults and $220-$340/person for children, depending on how many days you'll be visiting.
There are a few ways to get the most bang for your buck when it comes to visiting Disney. If you are planning to be in the area for any extended amount of time you may want to consider a Travel Package. These generally include tickets and hotels at one set price. SoCal CityPass offers a bundle of attractions for a low discounted rate. Disney is included in the attractions you can choose from.
Universal Studios Hollywood
Check out the one-of-a-kind theme park and film studio in University City, California. This is one of our go-to things to do in Southern California. You can get on all kinds of rides, including family-friendly rides and thrillers that are sure to make you scream. If you'd love to learn more about the film industry, Universal Studios Hollywood is the ideal spot to visit.
San Diego Zoo
Over 3,500 animals belonging to 800 species live at the San Diego Zoo, one of the area's most popular attractions. The zoo offers upgrades to their general admission tickets, like the Animals in Action experience and the Early Morning Cheetah cart tour. Even without these add-ons, you're in for a wild time when you visit – don't forget to bring your camera!
Single-day tickets to the San Diego Zoo cost $50 for children ages 3-11 and $60 for guests who are 12 or older. These tickets include admission to the zoo, a ride on the Skyfari Aerial Tram, Kangaroo Express Bus, a guided bus tour, and all of the zoo's animal shows. The zoo is open daily regardless of the weather, and the hours vary by season.
Save even more when you bundle your Zoo trip with other attractions like Trolley Tours and City Cruises with the San Diego CityPass. The zoo is also available with a Family Vacation Package and depending on how long you plan to visit this option may be cheaper.
Crystal Cove State Park
Explore the large and beautiful Crystal Cove State Park. While you're visiting the park, you'll have the perfect view of the Pacific Ocean. Spend time soaking up the sand, and even get your feet wet in the ocean for a relaxing day on the beach. It's a great spot to have a picnic with the family.
Related: Make the Most of Your Family Trip to Universal Studios Theme Park
Death Valley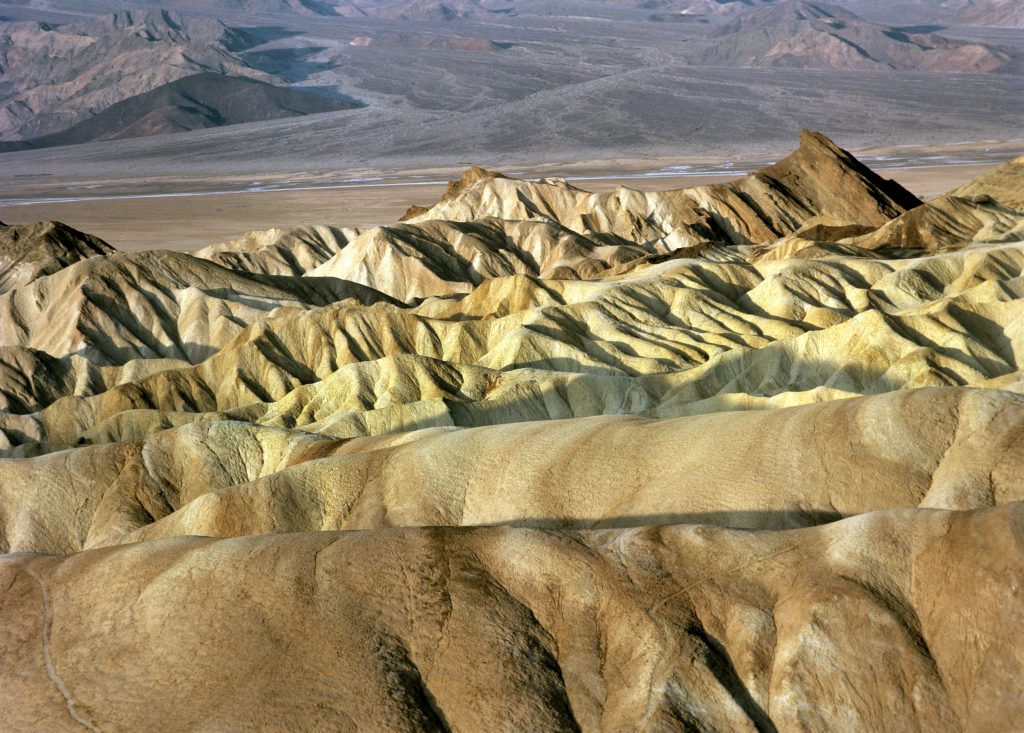 Death Valley is known for its record heat, but it's still a great place to go for a hike. Despite being in the desert, this national park is filled with diverse wildlife, from wildflowers to tortoises. While expert hikers have plenty of options here, there are also many easy trails at the park, including one that's ADA accessible. If you're looking to beat the heat, arrive at night – you'll get a breathtaking view of the stars!
A 7-day parking permit for Death Valley costs $30 for non-commercial cars, trucks, and vans. Regardless of whether you visit during the summer or winter, bring plenty of water and prepare for hot temperatures. Before visiting, be sure to check the National Park Service's website for information on trail closures.
Don't forget to visit the Ranger Station so any kids traveling can get their National Park Passport stamped.
Related: Beginners Guide to Hiking for Full-Time (and Part-Time) Travelers
Rodeo Drive
When you're a fashionista looking for some of the latest high-quality clothing to wear, be sure to head over to Rodeo Drive. It's got a reputation for being the fashion district of Beverly Hills in California. You never know what you'll find, but you can expect to get fashionable clothes and accessories while you're there.
Belmont Park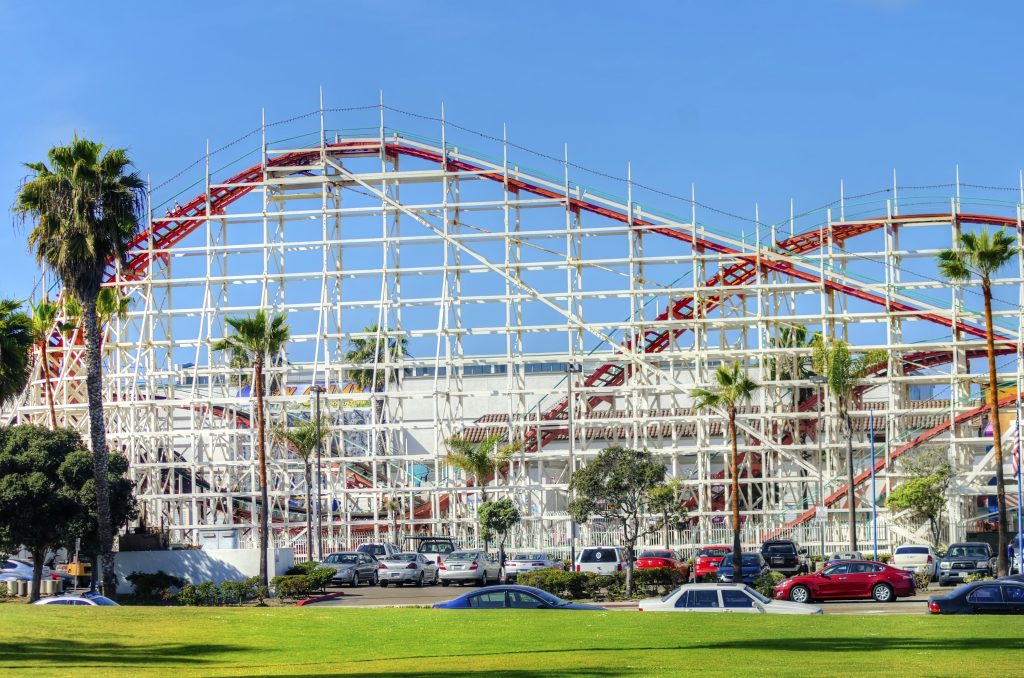 If a trip to Disneyland Resort is out of your budget, consider spending a day at Belmont Park instead. This San Diego amusement park has roller coasters, gentle rides, go-karts, and mini-golf, so there's something for everyone to enjoy. After a day at the park, spend an evening on the beach – chances are, it won't be too cold to do so!
An unlimited day pass to Belmont Park costs $30/person, and it grants visitors access to every attraction that's operating. Alternatively, you can enter for free and pay for each attraction separately. Parking is free, leaving you with more cash for food and drinks at the park. Since Belmont Park is so close to the beach, don't forget to bring bathing suits, beach towels, and other items you would normally pack for a trip to the beach.
In-N-Out Burger
California's favorite burger joint serves higher-quality food than other fast-food restaurants, and it's worth trying at least once during your trip. With locations all over the state, you're bound to be close to one no matter where you're staying in SoCal. Their menu is simple, so you won't be overwhelmed with options. If you're craving something different, though, check out the Not So Secret Menu for variations on their burgers.
Related: Best Scenic Drives for Fall on the West Coast
Salvation Mountain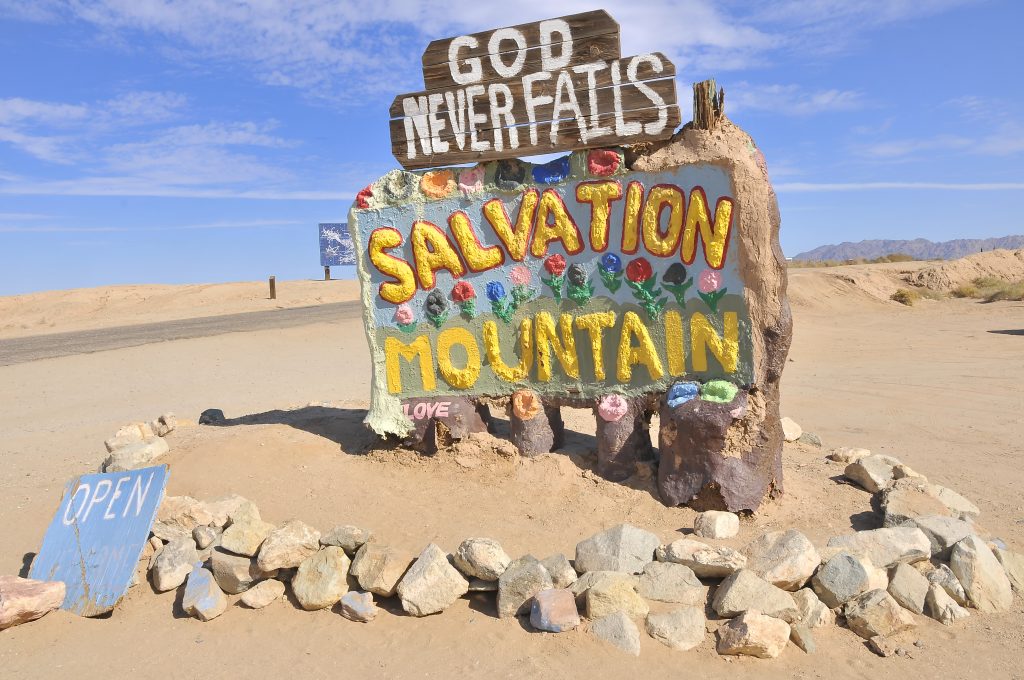 Visit the beautiful art sculpture known as Salvation Mountain. It's a cute, colorful, and unique spot to visit, providing you with plenty of opportunities to take stunning photos. It contains interesting artwork, bible verses, and even a large cross. Whether you're religious or not, you can enjoy stopping by this peaceful spot to catch a glimpse of the amazing artwork around you.
Malibu Wine Safari
Stop by a fantastic vineyard situated on 1000 acres of beautiful land. While taking a tour of the area and sipping on different wine beverages, you'll get to see beautiful wild animals in person. The Malibu Wine Safari takes you on a stroll through the vineyard consisting of beautiful plants, trees, and animals, including zebras and giraffes. You can even pet the giraffes if you'd like!
Related: 21 Free Things to do in Hollywood CA
Knott's Berry Farm
Head on over to Buena Park, California, to visit the popular Knotts Berry Farm in person. You can grab some funnel cake and then get on all kinds of fun and enjoyable rides. If you're a fan of thrill rides, this is the perfect amusement park to visit because of its wide variety of roller coasters. Of course, there are plenty of kid-friendly options available, including an adorable carousel that you can ride with the little ones. You can get a trolley to take you to Knotts Berry Farm with the Los Angeles Sightseeing Pass as well!
Legoland California
This is also one of our favorite things to do in Southern California! If you're a LEGO lover, you need to stop by Legoland California Resort. You'll get to see incredible exhibits, enjoy delicious food, and take advantage of the theme park with at least 60 different rides available for children and adults of all ages. It's a place to go when you want to feel like a kid again. Remember to get a SoCal CityPass before you book to save the most money here.
Related: Free Things to Do in San Diego
Los Angeles Zoo
Stop by the Los Angeles Zoo to see the many animal exhibits and botanical gardens. The zoo consists of 133 acres of land with plenty to do and see there. Expect to see beautiful giraffes, elephants, turtles, zebras, and plenty of other wildlife during your visit.
Grand Central Market
Found in Downtown Los Angeles, the Grand Central Market is an excellent spot to visit when you'd like to grab a bite of local cuisine. You'll come across numerous vendors, including florists and t-shirt shops. Whether you're in the mood for ice cream, carnitas, or some of the most delicious donuts you've ever tasted, you certainly don't want to miss this place.
Hollywood Walk of Fame
Take a walk through the Hollywood Walk of Fame and look for the names of some of your favorite celebrities. You'll find stars for famous people throughout the years, including Michael Jackson, Marilyn Monroe, Walt Disney, and dozens of other actors, singers, and well-known celebs.
Even though Southern California is just one part of the state, it's arguably the best part. Each of the region's counties is filled with fun things to do, so you'll likely need to visit more than once to see everything that excites you. Relax, take everything in, and don't worry about hitting every landmark during your first trip – there will always be a reason to return.