This post may contain affiliate or referral links. Read more about this in our disclosure policy.
Are you looking for an exciting introduction to the best lighthouses on the West Coast? Look no further! From rocky cliffsides to sweeping ocean views, each of these lighthouses has something special that makes it worth a visit. We'll take you through some of the top lighthouses and give you a glimpse into their fascinating histories. Get ready for an adventure filled with unique sights, breathtaking scenery, and stunning photographs. Let's explore the best lighthouses on the West Coast!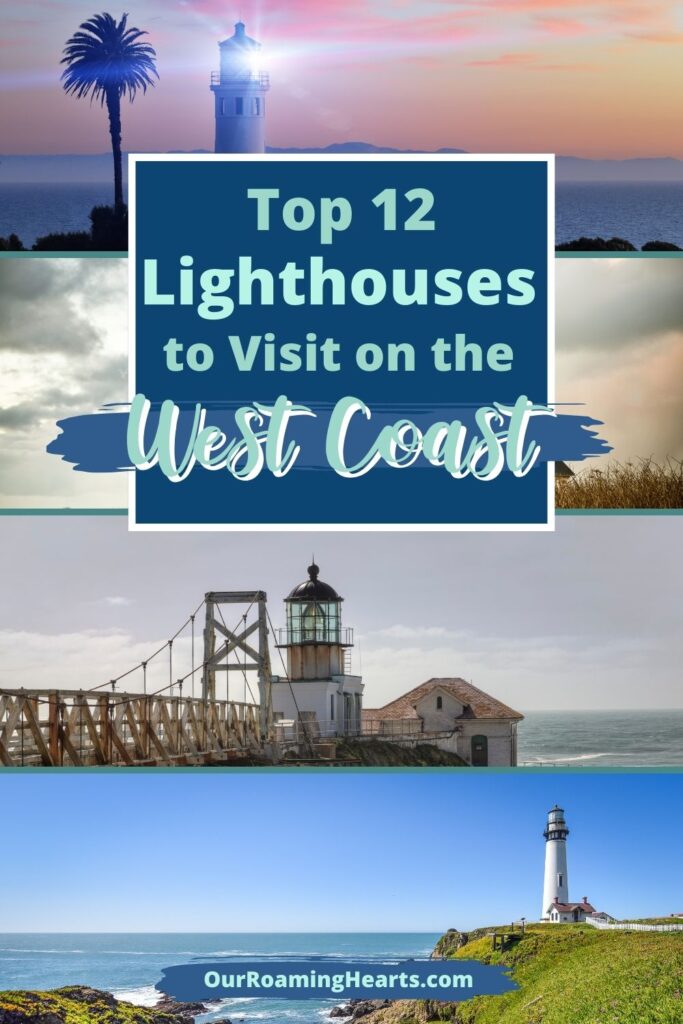 How many lighthouses are on the West Coast?
The exact number of lighthouses on the West Coast is unclear, but estimates range from around 400-500. Some of the most well-known lighthouses include Cape Blanco in Oregon, Point Sur Lightstation in California, Yaquina Head Lighthouse in Oregon, and Alki Point Lighthouse in Washington.
Related: Top Family Friendly Beaches on the West Coast
What is the oldest lighthouse on the West Coast?
The oldest lighthouse on the West Coast is the Alki Point Lighthouse in Washington, which was built in 1881.
Which U.S. state has the most lighthouses?
Michigan has the most lighthouses with over 100 spread along its shoreline.
What is the tallest lighthouse on the West Coast?
The tallest lighthouse on the West Coast is Point Pinos Lighthouse in California, which stands at 80 feet tall.
Are lighthouses obsolete?
Lighthouses are still in use today and serve a variety of purposes. However, many lighthouses have become automated or converted to solar power and no longer require a keeper. Therefore, while some lighthouses are considered obsolete, they still have an important role in maritime safety.
Related: Best Scenic Drives for Fall on the West Coast
Travel Tips
With rentals available all over the world, you're sure to find the perfect place to stay. Airbnb has something for everyone. Plus, with prices that are often much cheaper than traditional hotels, you'll be able to stretch your vacation budget even further.
If you can not find an Airbnb that fits your needs a second option is VRBO. Find an amazing vacation home for your family.
Make sure to check out our travel deals page for any deals or sales on your next trip no matter where it is!
While traveling be sure you bring change so you can take advantage of any pressed penny machines you come across. These make great souvenirs.
Point Arena Lighthouse, California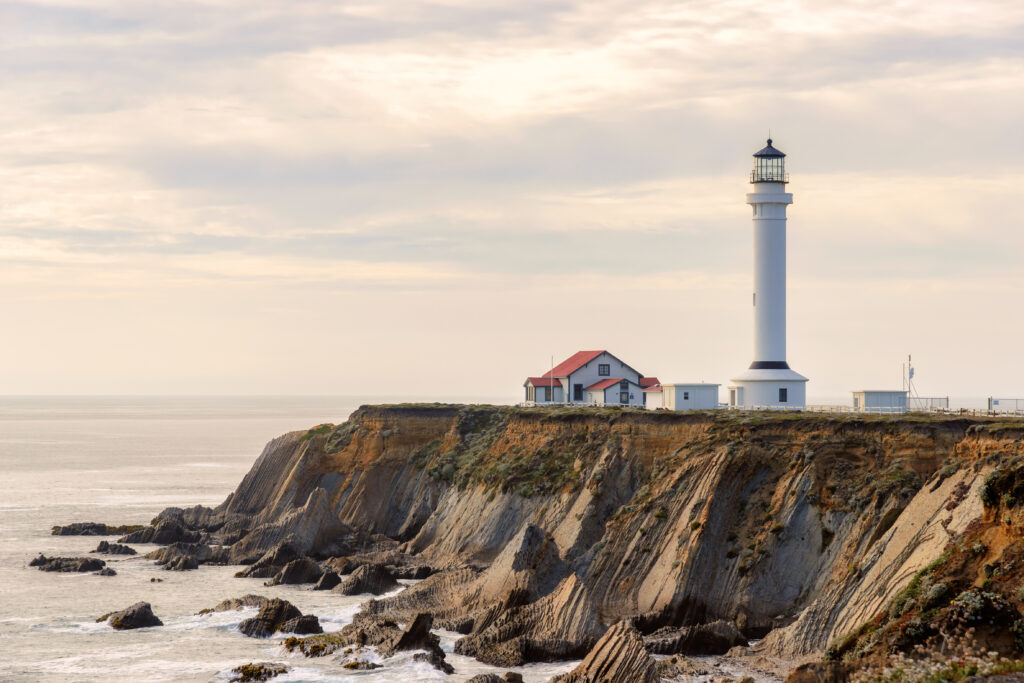 Three houses north of San Francisco are the Point Arena Lighthouse (1870 and 1908). It is the tallest lighthouse on the West Coast, standing 115 feet tall. You can climb to the top of the lantern room and see panoramic views of the beautiful California coast. The Point Arena Lighthouse is just four miles from the San Andreas Fault and was destroyed in the 1906 Great Quake of San Francisco and was rebuilt in 1908. It then became the first-ever lighthouse reinforced with concrete. You can also stay here too for a nice romantic weekend.
Related: 13 National Monuments You Shouldn't Miss When Traveling with Kids
Battery Park Lighthouse, California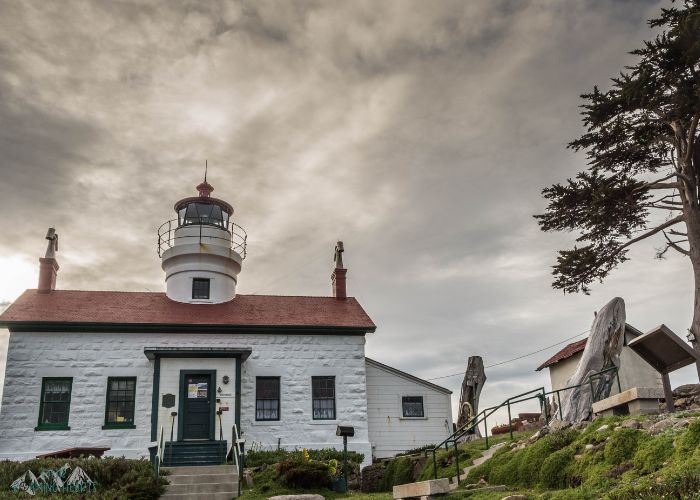 Battery Park Lighthouse in California is a stunning sight to behold. Situated on the northern coast of California, it stands as a proud and majestic beacon for ships that pass by in the night. With its deep blue skies, crystal clear waters, and classic red-and-white striped tower, Battery Park Lighthouse offers breathtaking views of the Pacific Ocean. It's an impressive structure and a must-see destination for anyone visiting the area.
Alcatraz Island Lighthouse, California
The first lighthouse on the Pacific Coast was the Alcatraz Island Lighthouse built in 1854. It too was destroyed in the massive earthquake and was rebuilt with reinforced concrete to a height of 84 feet tall. This was tall enough to be above the military prison and helped with navigating ships in the San Francisco Bay Harbor. You can only get to the lighthouse by boat, and there are daily tours that leave The Ferry Building to take you out to this iconic lighthouse.
Point Bonita Lighthouse, California
Point Bonita Lighthouse is one of the most iconic landmarks of California's northern coast. Sitting atop a majestic cliff overlooking the Pacific Ocean, this lighthouse has served as a beacon for mariners since 1855. With its dramatic location and breathtaking views, it's a popular tourist destination and an important part of the region's history.
Related: The Best Free Things to do in Each State
Pointe Vicente, California
Pointe Vicente Lighthouse stands as a proud testament to California's maritime legacy. Located on the rugged Palos Verdes coastline, this lighthouse has been guiding ships since 1926. With its unique Mediterranean-style architecture and unobstructed views of the ocean, it offers a stunning backdrop for visitors and photographers alike.
Cape Meares, Oregon
Cape Meares Lighthouse is an iconic beacon that has been guiding sailors since 1890. Situated atop a rugged cliff overlooking the Pacific Ocean, this lighthouse has captivated visitors with its dramatic views for centuries. With its distinct black and white checkered paint scheme and picturesque surroundings, it offers a unique experience for all who visit.
Tillamook Rock (Cannon Beach), Oregon
View the Tillamook Rock Lighthouse from Ecola State Park as it is now privately owned and only accessible by boat. This was one of the costliest lighthouses to maintain as it was in such a treacherous area that took the lives of many seamen. The light was turned off in 1957 and it is now a cemetery at sea, designed to hold more than 500,000 urns of human ashes.
Related: 11 Free Things to do in Portland OR
Heceta Head, Oregon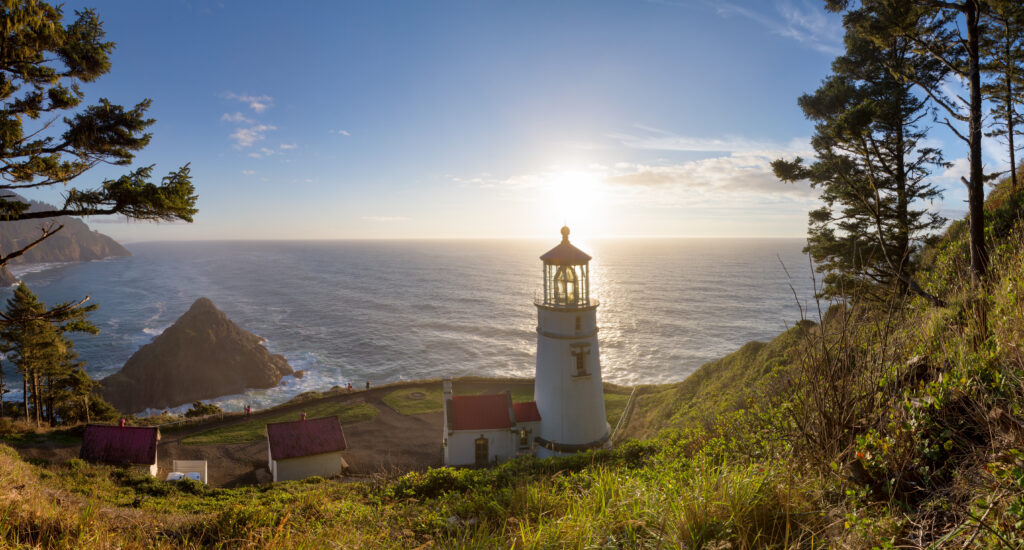 Heceta Head Lighthouse is one of the most beautiful and well-known lighthouses in the world. Built in 1894, this breathtaking beacon sits atop a formidable cliff and looks out over the Pacific Ocean. From its distinctive black and white stripes to stunning views of the sea, it offers an experience like no other.
Yaquina Bay Lighthouse, Oregon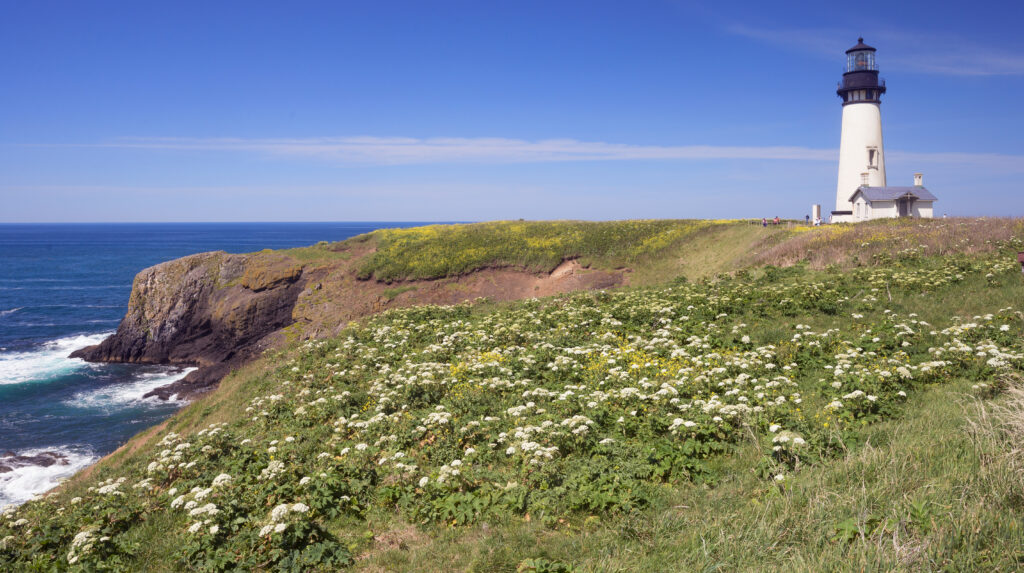 The Yaquina Bay Lighthouse stands as a shining beacon at the entrance to Newport, Oregon. Built in 1871, this stunning black and white structure overlook the bay to warn vessels of the rocky shores below. With its stunning panoramic views and historical significance, Yaquina Bay is worth a visit for anyone looking to experience a piece of maritime history.
Cape Disappointment Lighthouse, Washington
The Cape Disappointment Lighthouse is located at the mouth of the Columbia River in Astoria, Oregon. It was built in 1956 to help guide the sailors from the south into the river from the south. The North Head Lighthouse (1898) guides them from the north. Both of these lighthouses are run by the U.S. Coast Guard as this is one of the most treacherous waterways in the world.
New Dungeness Lighthouse, Washington
New Dungeness Lighthouse is the longest-operating lighthouse in Washington State. Situated on the sand spit of Dungeness Bay, this majestic structure has been guiding ships since 1857. With its iconic red and white stripes and breathtaking views of the coastline, it's an awe-inspiring sight and a must-see for anyone exploring the Olympic Peninsula.
Cape Flattery, Washington
Cape Flattery Lighthouse is an impressive structure located on the northwest tip of the Olympic Peninsula in Washington State. Its tall, white tower stands proudly atop a cliff overlooking the Pacific Ocean, providing stunning views of both land and sea. The whitewashed building, with its red roof and quiet surroundings, makes it a pleasant destination for visitors seeking to experience a bit of peaceful beauty.
From the classic stripes of Battery Park Lighthouse in California, to the tranquil beauty of Cape Flattery in Washington, there are plenty of amazing lighthouses to explore on the West Coast. Whether you're looking for a romantic spot or just seeking a connection to nature, these picturesque lighthouses will be sure to put you in awe of their beauty and grandeur.