This post may contain affiliate or referral links. Read more about this in our disclosure policy.
Have you decided to travel to San Diego with family or friends? You may look forward to visiting the popular city sandwiched between Chula Vista and Escondido. When you're in the city, you're close to the water and dozens of top attractions that tourists visit from different places each day. Not only that but you'll also have access to a lot of great places to visit for free. If you're concerned about spending too much money while in San Diego, check out this list of the best free things to do in the city. You won't run out of free ways to have fun and stay entertained!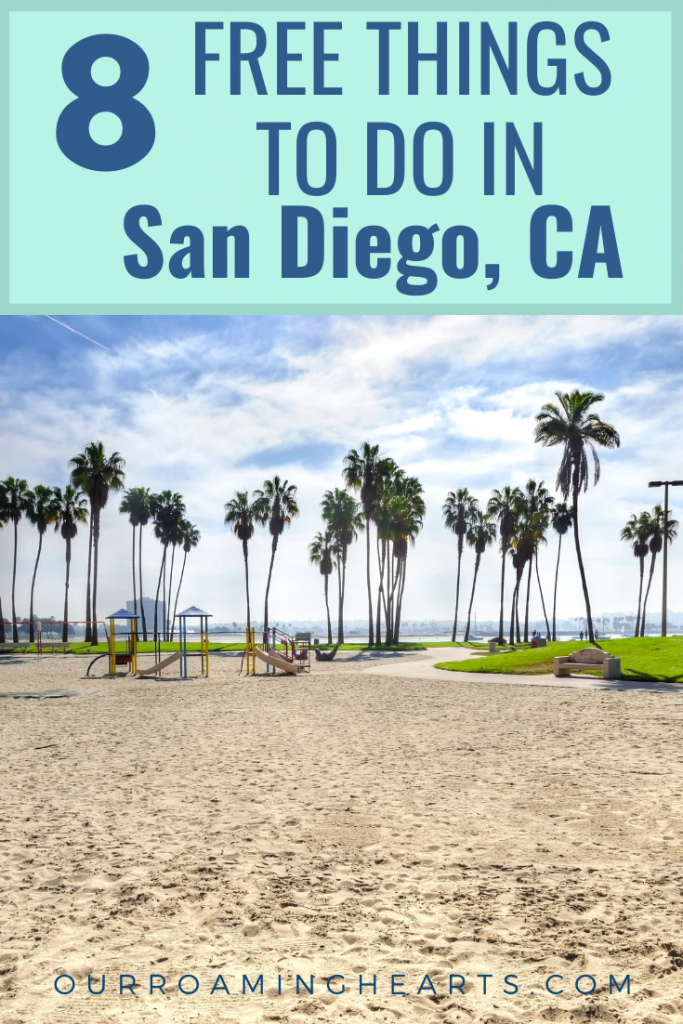 Free Things to Do in San Diego
Before we get into these amazing things to do in San Diego for virtually nothing out of pocket I need to mention that you have a few options to enjoy the attractions that are not free. This option is getting a CityPass! There are two options depending on where you are traveling to or from.
San Diego Specific City Pass: You have many options here to choose from.
The pass for SoCal is amazing. Although it's a bit more expensive, you do get a lot of attractions for your money.
Disneyland Park & Disney California Adventure –

3-DAY PARK HOPPER TICKET WITH MAGIC MORNING
Balboa Park
The beautiful and cultural Balboa Park is one of several free spots to visit in San Diego. It's free to access the park, and you can walk around the park at any time you'd like, whether you prefer to get there early in the morning, in the middle of the day, or at the end of the night while watching the sunset. While walking around Balboa Park, you'll get to see beautiful, lush gardens while walking around on carved paths available for guests. It's a relaxing experience worth visiting if you love flowers and other types of plants, including vegetables!
Embarcadero
Stop by the Embarcadero, a roadway in San Diego situated right on the shoreline, to enjoy a scenic walk or drive through the area. While you're passing by, you can see the famous Clock Tower and take a picture of yourself standing in front of it. Besides the tower, you can check out some of the shops and food spots. While you'd need to spend some money to buy items from these shops and food spots, it's optional, so you don't need to feel pressured to do so. Taking a stroll on the Embarcadero is worth it when you want to experience San Diego's culture firsthand while having a relaxing experience.
Related: Top Family Friendly Beaches on the West Coast
Mission Bay Park
When you're interested in spending more time outdoors, Mission Bay Park is an excellent spot to visit. It consists of over 4000 acres of land for you to walk through. People often come here for the trails. If you'd like to get some exercise and explore the area even further, you can walk along the trails. If you don't feel like walking, you can always ride a bike or go for a jog! Mission Bay Park is a dog-friendly area, but make sure to keep your four-legged friend on a leash when bringing the animal to the park with you.
La Jolla Underwater Park
Stop by La Jolla Underwater Park for a stunning view of La Jolla Shores. You can go snorkeling in the water for free if you have your own equipment to use. If you don't have snorkeling equipment and want to get in the water, you can rent it, but you don't have to. Many people like to stop by the La Jolla Underwater Park to catch a glimpse of it and take assorted photos of themselves standing by the water. Whether you decide to get in the water or not, you'll likely notice many other people are in the area for snorkeling and scuba diving!
La Jolla Cove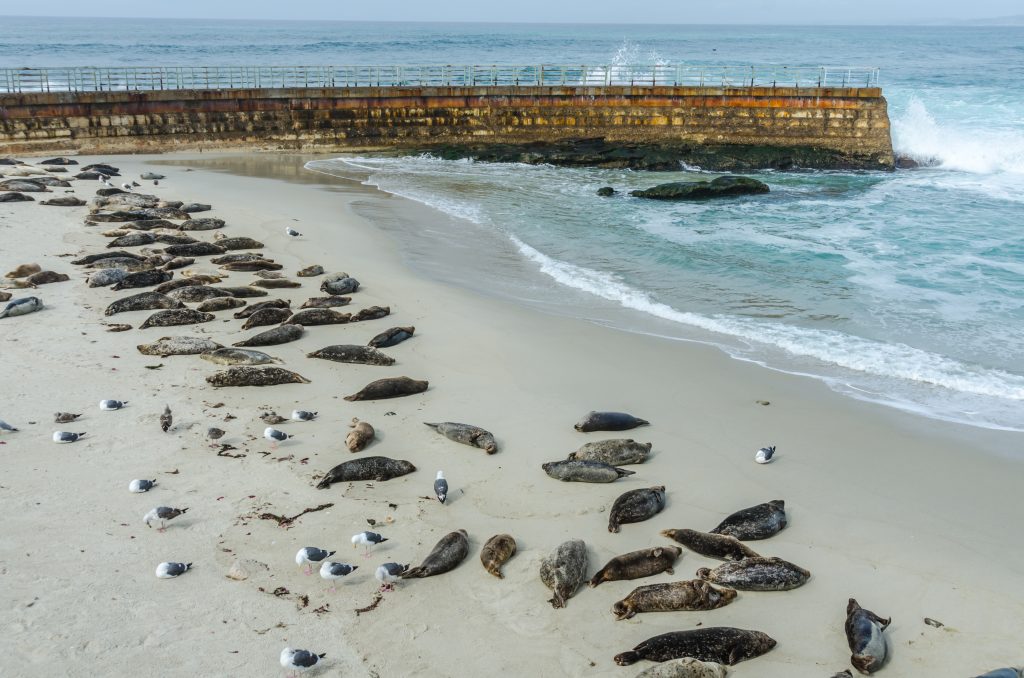 Spend time on the beach by visiting La Jolla Cove, a local hot spot for tourists and residents of the city. People seem to love the area because the beach sand is clean, the water is refreshing, and it's easy to spend an entire day having fun without spending money. You can go swimming, scuba diving, or snorkeling while you're there. If you get hungry, you'll have access to a few different restaurants. However, if you want to avoid spending any money at all, you can feel free to pack a lunch in a picnic basket or bag and enjoy it while sitting on the sand with loved ones.
Sixth Avenue Playground
If you're traveling with children, don't forget to check out the Sixth Avenue Playground. It's a large, free playground in Balboa Park, and it's accessible to children of all ages. The playground consists of several age-appropriate play areas. It has a giant slide, swings, mini bridge, and more. You can expect to see your children climbing and running around everywhere while spending time at this playground. If you're already planning to visit Balboa Park, make sure you take the time to check out this playground.
Related: Top Lighthouses to Visit on the West Coast
Mission Beach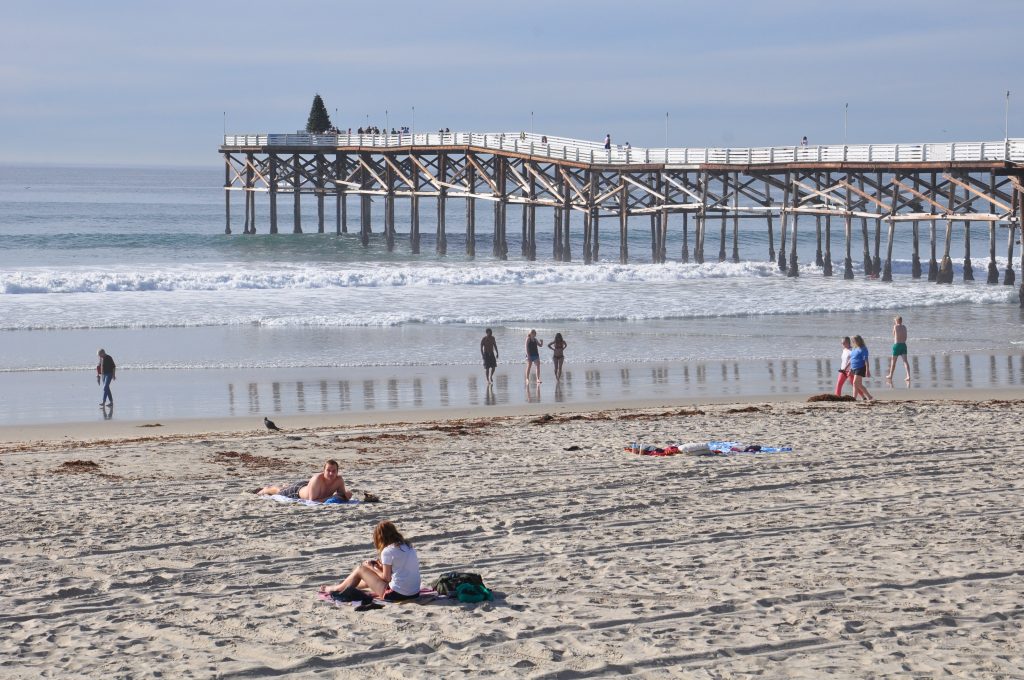 Have a beach day with family friends at Mission Beach. It's a clean spot to visit when you'd like to spend the day outside in the sun. You can go sunbathing, surfing, or swimming. You can even play a game of volleyball at the beach. It's a family-friendly spot that will keep everyone occupied for hours. There are also a few free parking lots in the area. Drive around to find a good spot and avoid paying a hefty price to park your car.
Mission Bay Playground
Mission Bay Playground is another fantastic spot to visit when you're traveling in San Diego with children. There are barbecue pits available, so you can make hot dogs, burgers, and other delicious grilled food while you're there instead of feeling tempted to spend money at any of the restaurants. The playground is spacious and right by the water, providing guests with a stunning view. It also consists of various playground equipment to encourage children to climb, slide, and more. If you want to tire the children out after a day outdoors, this is the spot to visit because it can keep them entertained.
Have Free Fun in San Diego
If you're in the San Diego area and you'd like to have fun without spending money, these are some of the fun and free things you can do to stay busy. These options are great for people of all ages, including small children who aren't as easy to keep entertained for lengthy periods. While you'll find dozens of costly attractions in the city, there are more than enough opportunities to make memories and have fun without breaking the bank.