This post may contain affiliate or referral links. Read more about this in our disclosure policy.
Would you like to have a memorable time with your loved ones during the holiday season? If so, you need to make it a priority to attend Christmas at Schnepf Farms. It is located in Queen Creek, Arizona, and it is a highly-rated attraction that people love to visit as Christmas starts to approach.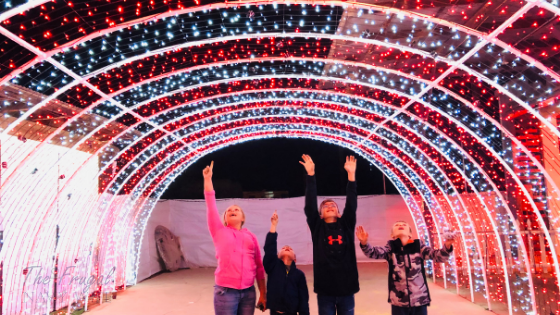 You will get to see a stunning display of holiday lights while participating in various holiday-themed activities. It is truly a winter wonderland that will leave you speechless and provide you with some of the best memories.
Related: Top 12 Best Christmas Towns in USA
The Location of Christmas at Schnepf Farms
Christmas at Schnepf Farms takes place at the Schnepf Farms theme park in Queen Creek, Arizona. The exact location for this famous destination is 24610 E. Rittenhouse Rd. It is slightly less than an hour away from Scottsdale and other major cities, including Phoenix and Mesa. It is not too far from the San Tan Valley and the Gold Canyon in Arizona.
Related: 23 Top Things to do in Phoenix Arizona
What Christmas at Schnepf Farms Has to Offer
Christmas at Schnepf Farms is like nothing you will have ever experienced before. There are numerous things to do while visiting this theme park during the holiday season for an exciting and enjoyable time with loved ones.
You can ride together on a beautiful train that offers a one-of-a-kind experience, hop on a hayride and check out some stunning reindeer, sit with the family by a bonfire while enjoying great conversation, and play mini-golf with snow globes.
There is a Christmas-themed obstacle course, Santa's toy shop, a spot for decorating cookies, and a movie area where you can watch classic holiday films.
You can even ride the Christmas Carousel and meet Santa Claus during your visit.
When you purchase a ticket, it gives you access to most of these great attractions. Your ticket will also allow you to park your vehicle in the parking lot for free. If you are ready to have the best holiday experience ever, you can visit the website for Christmas at Schnepf Farms to purchase your tickets in advance.
Related: Top 7 Best Arizona State Parks
Hours of Operation For Christmas at Schnepf Farms
The hours for the season start on November 24th and come to an end on December 31st, 2020. Christmas at Schnepf Farms is open daily from 5:00 PM until 10:00 PM.
Related: 19 Free Things to do in Phoenix Arizona
How to Save Some Cash While Visiting Christmas at Schnepf Farms
You can save a few dollars per person by purchasing your tickets online instead of buying them at the door. When you buy online, the price for tickets is just $15, while the price for tickets at the door is $17. The savings will add up, especially if you plan to visit the theme park with multiple family members.
Schnepf Farms is known to run special deals and discounts throughout the weeks. If you want to stay up-to-date on any specials they may be offering to save some extra cash when you plan to visit, you should follow Schnepf Farms on both Facebook and Instagram. It is the best way for you to stay in the know!