This post may contain affiliate or referral links. Read more about this in our disclosure policy.
While visiting Omaha you will want to stop by these places of interest that will cost you nothing, but still have a lot to offer that the whole family can enjoy. Here is a small list of places and activities to check out.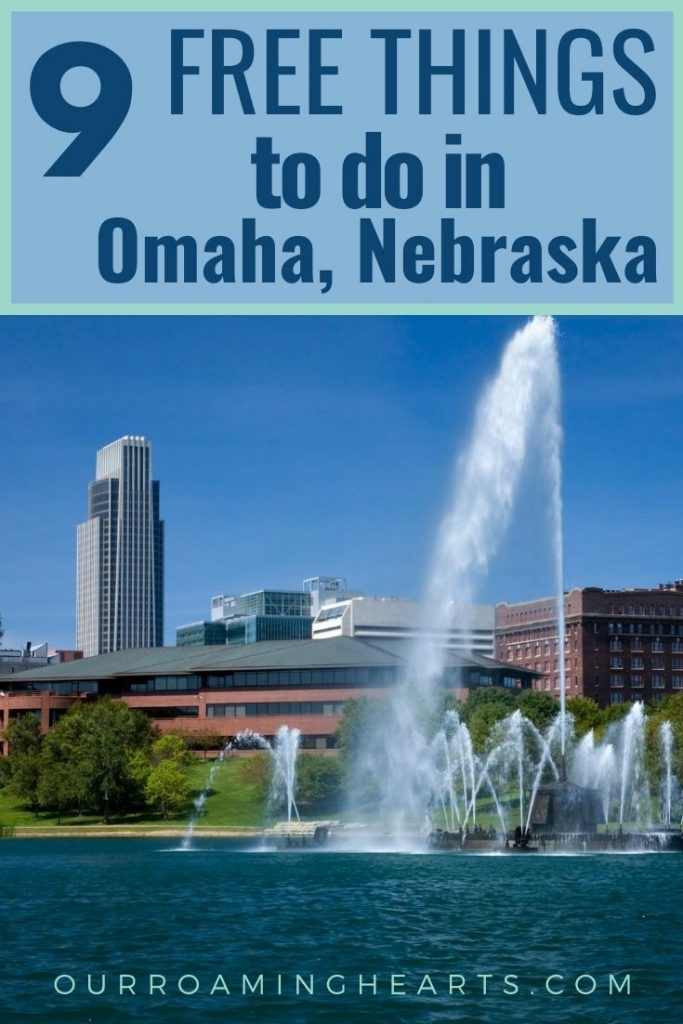 Free Things to do in Omaha Nebraska
Going to be in Omaha for a bit? I suggest checking out Airbnb for a place to stay you can find lots of only homes and historic locations to stay in. If you sign up for Airbnb using my link you get a free $40 travel credit!
Joslyn Art Museum
This art museum located in Omaha has many different types of art. You can see paintings, sculptures, and glasswork, done by artists, all coming from different time periods around the world. Joslyn boasts of holding paintings by Monet, Pissarro, Rembrandt, and other well-known artists. This Museum is a work of art on its own, with its pink marble architectural design. Joslyn Art Museum is a great budget savor as admission is free, however, certain exhibits might cost an additional fee. Museum hours run from 10 a.m to 4 p.m.
Related: Where to Find Pressed Penny Machines Across the U.S.
St. Cecilia's Cathedral
Located in downtown Omaha on 4oth street, is the beautiful St Cecilia's Cathedral. The church has a Spanish Renaissance style with stained glass windows dating back to the 16th century. The acoustics are impressive along with the organ that is one of the largest in the country. This cathedral throws a flower show every year that is very beautiful that hundreds of people come to see. Guided tours are available for anyone hoping to see this gem.
Omaha's Old Market
The Old Market downtown has a collection of little shops, restaurants, bars, and cafes that are along cobblestone streets. Many of the brick historic buildings have been restored to bring back the time period from which they originated. Some say this is the "coolest place in town" and could easily spend the entire day visiting the shops on 11th Street and Howard. If you are lucky you can catch a carriage ride from time to time. This is one of my all-time favorite free things to do in Omaha, be careful, you can lose track of time!
Pioneer Courage Park
This park located in the middle of the city has very impressive sculptures and bronze statues telling the story of early pioneer life. You will learn quickly the struggles and obstacles these settlers faced seeking opportunity while traveling westward. At night Pioneer Courage Park is stunning, lit up along with the water fountains.
Related: 48 National Monuments & National Park Virtual Tours
Kenefick Park
If you enjoy old trains and steam locomotives, then you won't want to miss this stop. Even the view surrounding the area is beautiful and a great place to walk around. The largest and most powerful steam locomotive in the world resides here, named "The Big Boy", a huge and impressive engine to say the least. You will learn about the history of construction, different styles of locomotives, and life on the Pacific Railroad. Kenefick Park is open to the public Sunday through Saturday from 9 a.m to 5 p.m.
Mormon Trail Center
The Mormon Trail Center is a popular free attraction in Omaha that allows visitors to experience the history of the area through unique exhibits. You'll get to check out maps that Mormons used many years ago while on their journey to Utah. Besides checking out those dated maps, you'll also get to look at some of the different toys and costumes from decades ago. Tour guides are available to provide useful information to visitors, making a trip to this place an excellent learning experience. If you want to explore and learn new things, this is the place to go. The museum is open from 10 a.m to 4 p.m Monday through Sunday.
Zorinsky Lake and Recreation Area
This lake features an 8-mile loop perfect for runners and bikers. Set up for the evening enjoy great fishing and watch the sunset over the water. Zorinsky Lake also offers picnic tables so bring your meals and have lunch or dinner while the kids visit the playground.
Related: 32 Free Camp Sites in the Midwest USA
Hummel Park
Hummel Park is the ideal spot to visit when you'd like to go for a hike. You can spend hours outdoors while visiting this beautiful park with its large trees and foliage. You'll find a playground on the premises that is perfect for children of all ages who'd like to run around and have fun. You can even have fun on the disc golf course. It's a great spot to go when you want to explore and spend hours outdoors making memories with the family. The preserved forest is, by far, the best part about taking a trip to this area because of its natural beauty.
Heartland of America Park
You can find the Heartland of America Park in downtown Omaha. The park consists of 31 acres full of greenery with stunning sights to see. It's right by the river, giving you the opportunity to head out on a boat to explore even further if you'd like to do so. If you don't want to hop on a boat, you can still walk over the river on the man-made bridge. You'll notice a beautiful water fountain and other stunning sights during your visit to the park. While it's a great spot to visit at any time of the day, it's the perfect place to go to watch the sunset. Bring the family or spend some one-on-one time with your partner for a romantic experience.
You don't need to spend a lot of money to enjoy yourself while visiting. If you're in the area, these are some of the many free things to do in Omaha to have fun and make memories. Whether you're visiting one or more of the parks, going on hiking adventures, or even stopping at one of the free museums, you'll have the time of your life in such a wonderful, well-maintained area.