This post may contain affiliate or referral links. Read more about this in our disclosure policy.
Step back in time and explore the history of Route 66 in Missouri! From the Deep Roots Music Festival in Rolla to Rock & Cream Soda Stop in Lebanon, this historic highway has something for everyone. Discover ten must-see attractions that capture the spirit and beauty of America's most iconic road.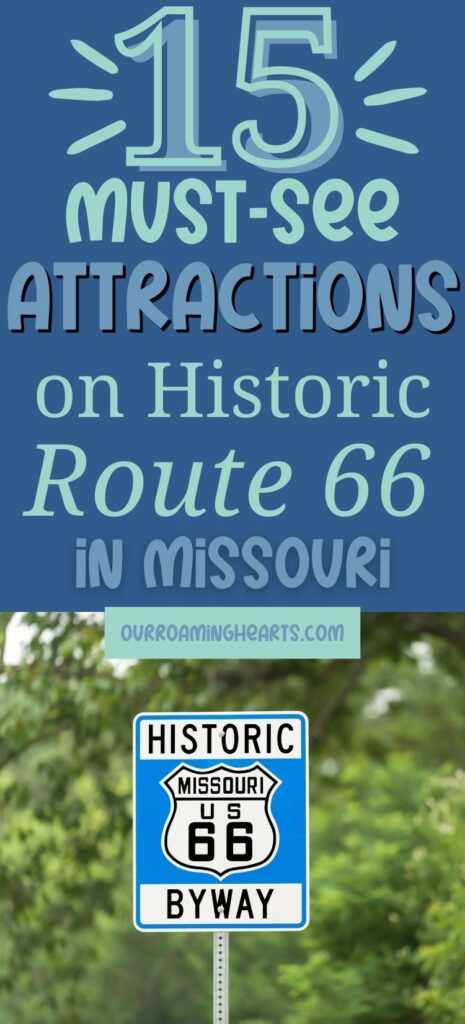 Where is Route 66 State Park located?
Route 66 State Park is located in Eureka near St. Louis.
What type of event takes place in Rolla every year?
The Deep Roots Music Festival celebrates its 10th year in Rolla and brings together diverse musical artists from all over the world.
Related: 15 Route 66 Attractions in Oklahoma: A Must-See Adventure
What can you find at Hubble Trading Post?
Hubble Trading Post offers a large selection of crafted jewelry and Native American artworks from local artists.
Route 66 Postcards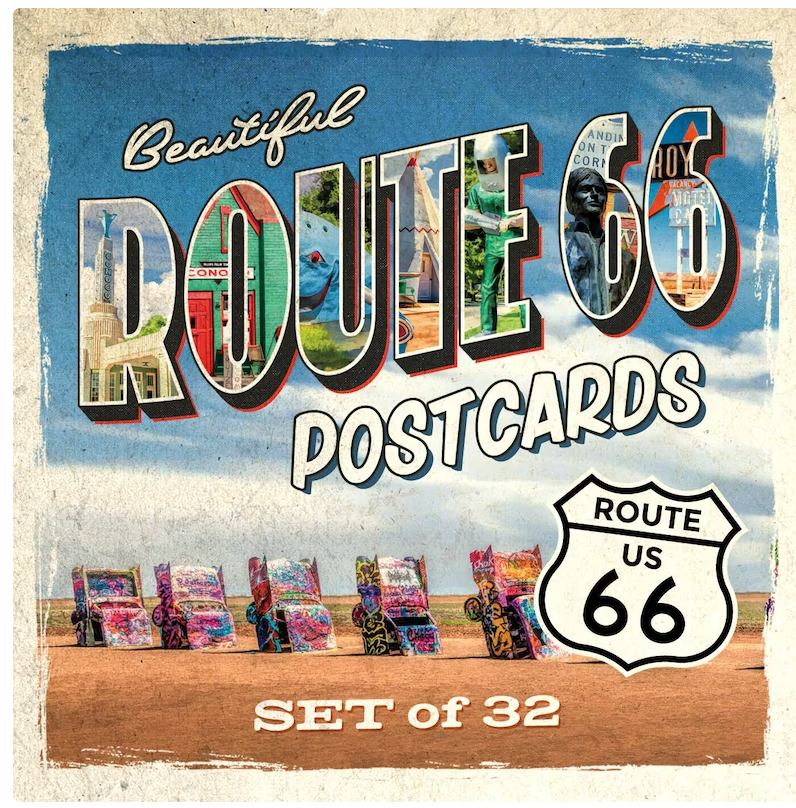 Hit the refreshed, open road with Route 66 postcards! These amazing postcards are a perfect way to add a touch of nostalgia and beauty to your collection. Each postcard creates an eye-catching combination of realism and texture combining photography with digital oil painting for a fresh look at some of the most iconic stops on the route. Featuring 32 unique designs, these cards act as more than just memorable mementos – they are full of wonderful visuals that are both classic and new. The back design sports a special area where you can proudly write your name and address, while 4″ x 6″ card stock promises a lovely finish. So whenever you're looking for that dose of highway history or want to send joy from the Mother Road to someone distant or close, Route 66 postcards will have it all covered.
Related: 10 Must-See Attractions Along Route 66 in Texas
Route 66 State Park
Located in Eureka near St. Louis, the Route 66 State Park features a museum and visitor center that offers an interactive look into the history of the "Mother Road"
Deep Roots Music Festival
Celebrating its 10th year in Rolla, this musical event brings together diverse musical artists from all over the world
Lebanon I-44 Speedway
An adrenaline-filled weekend awaits guests at Lebanon I-44 Speedway which is a 1/3 mile high banked clay oval track
Devil's Elbow Route 66 Bar & Grill
Find out what draws locals to this watering hole located just outside of St. Robert
66 Drive-In Theatre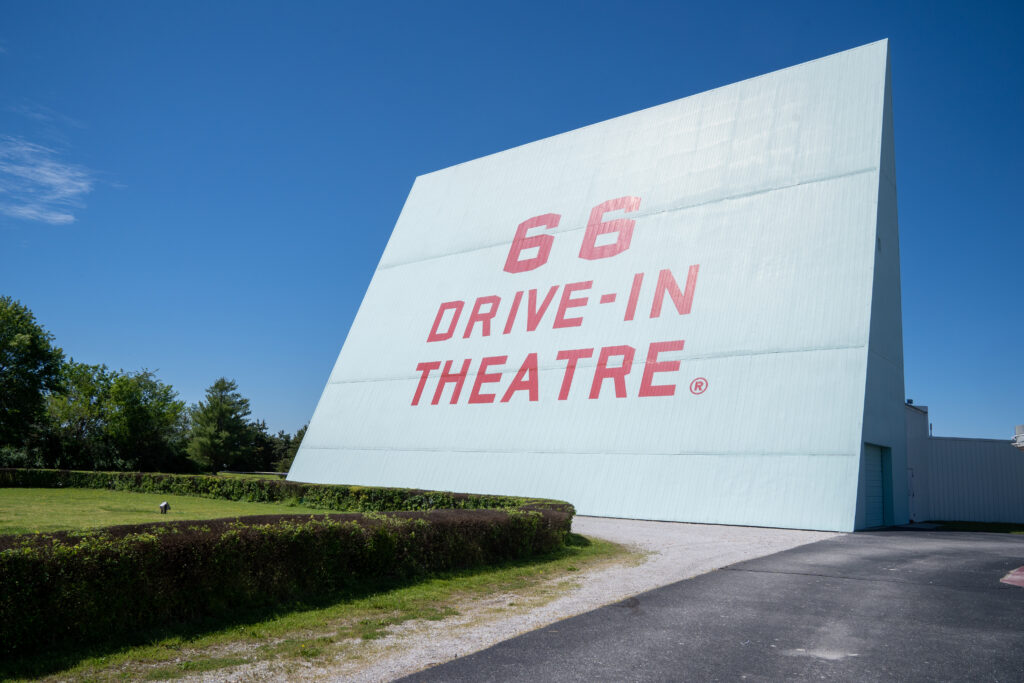 Spend an evening at the 66 Drive-In Theatre watching feature films and classic movies under the stars at this iconic Route 66 in Missouri drive-in theatre
Related: 7 Route 66 Attractions in New Mexico
Rock & Cream Soda Stop
Cool off and enjoy soda flavors like Catawba Grape or Crabapple served up at Lebanon's legendary ice cream stop
Stuckey's Old General Store Museum
This novelty store can be found in Fanning, where you'll find retro items like penny candy, old postcards, souvenirs, and more!
Happy's Flea Market & Antique Mall
Shop for antiques or gift items galore every Saturday at Happy's Flea Market located north of Cuba
Frisella Nursery & Gift Shop in Bourbon
An attraction that has been around since Joseph Frisella opened it in 1919; take home some seasonal plants or gifts while enjoying beautiful views of rolling hillsides
Vintage Iron Motorcycle Museum
Marvel at one of America's largest collections of vintage motorcycles located right off historic Route 66 in Missouri near Webb City
Hubble Trading Post
Interested in trading some goods? Head over to Carthage to peruse the large selection of crafted jewelry and Native American artworks from local artists
Related: 7 Route 66 Attractions In Kansas
Uranus Fudge Factory & General Store
Get a laugh and purchase delightful homemade fudge treats from this roadside curiosity shop called Uranus Fudge Factory
Delux Inn Sign
A timeless symbol of yesteryear, take a picture with the Delux Inn Sign located in Baxter Springs as a memory for your trip down history lane
Riverton Outlet Mall
Shop for great deals on designer brands like Coach or DKNY at Riverton's outlet mall, conveniently situated on Route 66 between Joplin and Baxter Springs
Gallery Alley
Take a stroll through Gallery Alley located next to Hollywood Cinema 6 theater in Carthage; admire the art galleries featuring works from local painters and sculptors
Related: 11 Must See Stops on Route 66 Arizona Stops
There is no doubt that the historic Route 66 in Missouri offers an incredible opportunity to explore the past. From rock & cream soda stops to flea markets and antique malls, take the time to immerse yourself in the rich history of this iconic American roadside. So grab a map and your walking shoes, and make sure to add these fifteen must-see Route 66 in Missouri attractions to your list of places to experience on your journey down Route 66!