This post may contain affiliate or referral links. Read more about this in our disclosure policy.
Are you looking for an unforgettable adventure? With its unparalleled scenery, attractions, and activities, Oklahoma is the perfect spot to take your Route 66 journey. Whether you're a road-tripper or just a sightseer, there are plenty of unique experiences to explore in this great state. Here is our list of some Route 66 attractions in Oklahoma that must-see (and must-do!) stops along your Route 66 journey in Oklahoma.
What major cities do Route 66 go through in Oklahoma?
Route 66 passes through many towns and cities in Oklahoma, including Tulsa, El Reno, Weatherford, Clinton, Elk City, and Texola.
Related: 10 Must-See Attractions Along Route 66 in Texas
What attractions can I find along Route 66 in Oklahoma?
Along your journey on Route 66, you'll find a number of renowned attractions such as the National Cowboy & Western Heritage Museum in Oklahoma City, Totem Pole Park near Chelsea, and Pops restaurant near Arcadia. You'll also be able to stop off at some of the lesser-known sites such as Stone Garden near Chandler and Lucille's Roadhouse.
How long does it take to drive the full length of Route 66 in Oklahoma?
The total distance of east-to-west driving is approximately 450 miles (724 km). If you drive straight through with no stops it will take around 8 hours but many travelers prefer to break up the journey so they have time to explore more of the sights along the road – which can add several days or even weeks onto your route if you wish to experience more of all that Oklahoma has to offer!
Related: 7 Route 66 Attractions In Kansas
Route 66 Postcards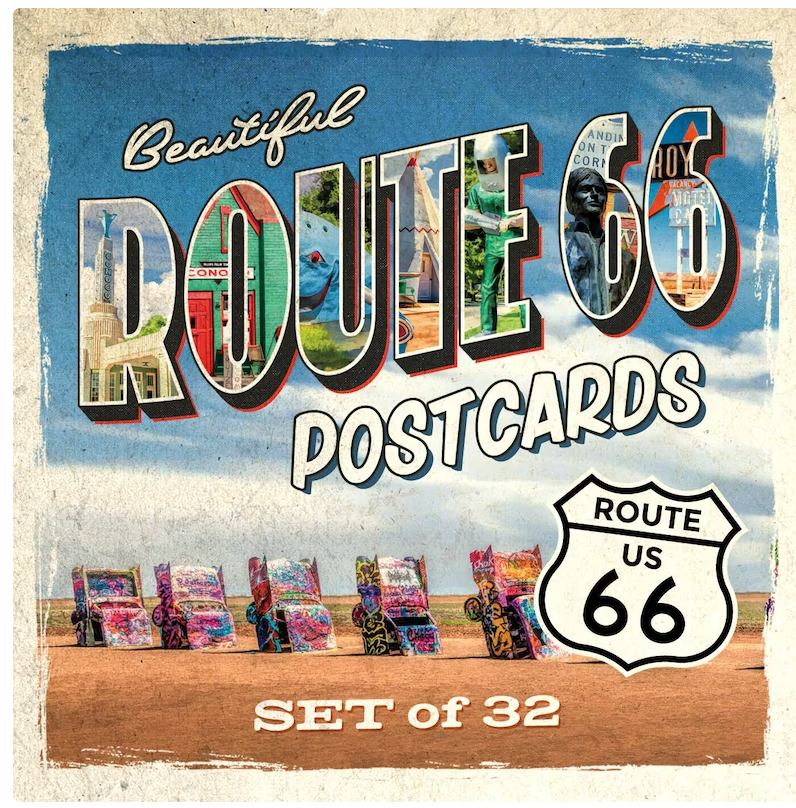 Hit the refreshed, open road with Route 66 postcards! These amazing postcards are a perfect way to add a touch of nostalgia and beauty to your collection. Each postcard creates an eye-catching combination of realism and texture combining photography with digital oil painting for a fresh look at some of the most iconic stops on the route. Featuring 32 unique designs, these cards act as more than just memorable mementos – they are full of wonderful visuals that are both classic and new. The back design sports a special area where you can proudly write your name and address, while 4″ x 6″ card stock promises a lovely finish. So whenever you're looking for that dose of highway history or want to send joy from the Mother Road to someone distant or close, Route 66 postcards will have it all covered.
National Cowboy & Western Heritage Museum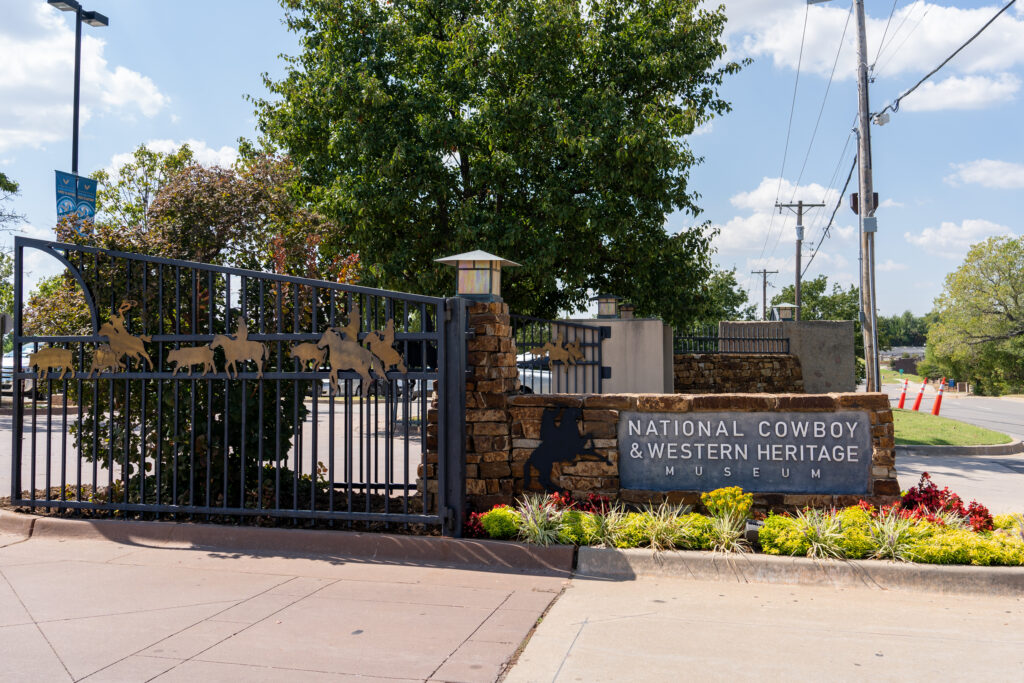 Founded in 1965, the National Cowboy & Western Heritage Museum is the premier institution of Western art, history, and culture. It houses one of the world's largest collections of 'Western' artifacts, including Native American ceremonial objects and historic firearms
Related: 11 Must See Stops on Route 66 Arizona Stops
Totem Pole Park
This park displays over 50 totem poles from around the world that were gifted to Chelsea by local artists. Totem Pole Park also offers a variety of recreational activities such as hiking trails and wildlife viewing opportunities.
Pops Restaurant
A roadside attraction with a 66-foot tall 'pop bottle' serving up delicious shakes, burgers, fries, and more! Pops has become a popular pit stop for travelers along Route 66 since opening in 2007
Stone Garden
Located near Chandler on old US Highway 66 is this creative garden made out of large stone sculptures. There are many interesting pieces on display that range from traditional figures to abstract designs created by local artist Joe Roberts
Lucille's Roadhouse
This nostalgic roadhouse gives visitors an authentic feel of what traveling along Route 66 was like back in the day! At Lucille's Roadhouse, you can enjoy classic diner food such as burgers and shakes along with plenty of memorabilia showcasing the attraction's history
Related: 30 Must Stop at Route 66 Attractions
Oklahoma Route 66 Museum and Ode to the Mother Road Memorial Fountain
The Oklahoma Route 66 Museum showcases the rich history of Route 66 with interactive exhibits featuring vintage photographs and artifacts from days gone by as well as unique artwork paying homage to this iconic highway
The U-Drop Inn Tower and Café
Built in 1936 by J.B Kildare this building served as both a gas station/convenience store and café before being restored to its original grandeur in 1997
Grand Lake of the Cherokees
A popular destination spot for outdoor enthusiasts boasting numerous marinas, campgrounds, hiking trails, swimming areas, and fishing spots
Related: Camping 101: Everything You Need To Know
Related: 7 Route 66 Attractions in New Mexico
The Round Barn & Red Fork Pottery Shop
Family-run operation offering handmade pottery items such as mugs plates bowls coasters etc., all crafted right onsite at their barn shop
Oklahoma Route 66 State Park Visitor Center & Museum
One of two state parks dedicated solely to preserving Oklahoma's connection to Route 66 featuring interpretive signs that outline its significance for travelers past present and future
Bates' Hitchin' Post Western Store & Saddlery
Offers saddles, boots, hats, western apparel, gifts, souvenirs, horse tack, and much more
Stroud's Diner "Barbecue Capital of Oklahoma"
Since 1947 Stroud's has been serving tasty barbecue dishes such as ribs pulled pork sandwiches etc., earning it the moniker 'Barbecue Capital of Oklahoma'
Standing Bear Park and Museum
The Standing Bear Park and Museum features live animals native plants educational programs interactive exhibits plus dioramas depicting Native American tribes associated with Ponca City
Related: Where to Find Pressed Penny Machines Across the U.S.
Seaba Station Motorcycle Museum
Seaba Station Motorcycle Museum houses an extensive collection of rare vintage motorcycles all owned by Steve Simon who started collecting over 40 years ago
Blue Whale of Catoosa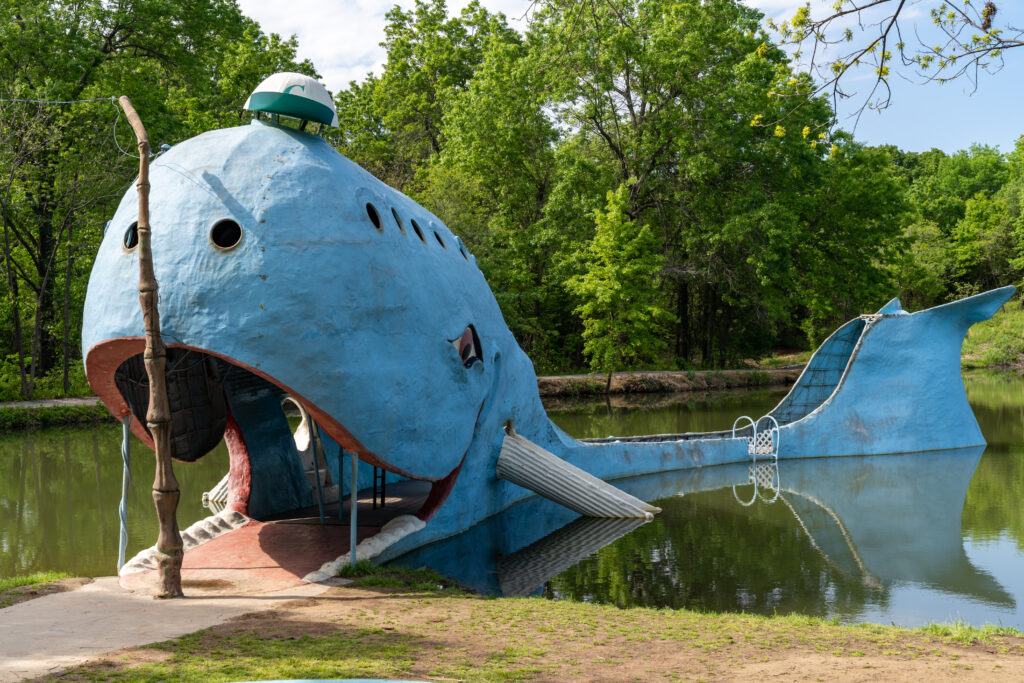 Blue Whales of Catoosa is a famous roadside attraction built in 1972 located near Tulsa that consists of an 80-foot-long blue whale sculpture situated atop a pond
Route 66 has something for everyone, whether you're a history buff, outdoor enthusiast, or lover of all things nostalgic. From stone gardens and roadside attractions to museums and marinas, travelers on the Mother Road are sure to find plenty of interesting sites along their journey through Oklahoma.