This post may contain affiliate or referral links. Read more about this in our disclosure policy.
What's stopping you from heading to Texas? Did you know that there are a ton of free things to do in Texas, it's just a matter of finding those free things. Of course, you know I've done the hard work for you!
Travel Tips
With rentals available all over the world, you're sure to find the perfect place to stay. Airbnb has something for everyone. Plus, with prices that are often much cheaper than traditional hotels, you'll be able to stretch your vacation budget even further.
If you can not find an Airbnb that fits your needs a second option is VRBO. Find an amazing vacation home for your family.
Make sure to check out our travel deals page for any deals or sales on your next trip no matter where it is!
When you're traveling, finding the free stuff is always the best. The less money you spend on attractions, the more money you have to do other stuff.
Depending on what you are planning to do it could be very beneficial for you to purchase a pass that bundles attraction for one low price. Here are the best ones for Texas:
Each one has its own perks and rates for attractions so be sure to check each one for the best possible bundle for your vacation.
145+ Top Free Things to do in Texas
While traveling be sure you bring change so you can take advantage of any pressed penny machines you come across. These make great souvenirs.
If you are planning a trip to Texas also make sure to check out our Top 51 Things to do in Texas & Other Tips for Your Texas Vacation. It's full of things to do money saving tips, where to stay, eat, shop, and more!
San Antonio Riverwalk – If you love to walk and love San Antonio, then you're going to love the San Antonio Riverwalk. There are plenty of walkways to wind up and down and around. The best part is that it's free!
19 Must-See Free Things to do in San Antonio Texas
While you are in the San Antonio area make sure to check out the South Central Texas Pogo Pass to save on local attractions in San Antonio, Austin, and Waco!
Related: Pogo Pass: Year Round Benefits
Little Elm Park – When you can't get to the beach, Little Elm Park is the next best thing. It's right close to Lake Lewisville. Camp, marinas, boating, and anything else you can imagine can be done at Little Elm Park. This is located close to Dallas.
Dallas Museum of Art – Raise your hand if you love art. What's even better is the Dallas Museum of Art is free.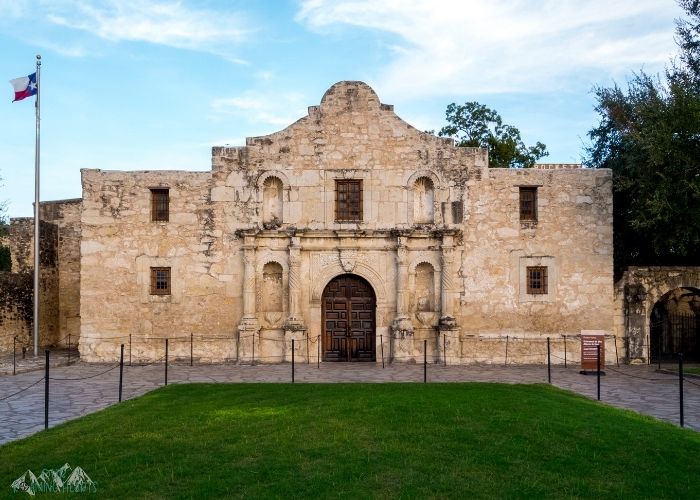 The Alamo – Get a little history in during your trip to Texas. Check out The Alamo. It's free for families and it's open all year round. The Alamo is an important part of Texas history. People fought here to help give birth to Texas. This is truly an amazing free thing to do while in Texas, but also very educational.
Related: The 6 Best San Antonio Riverwalk Restaurants
Free Museums in Austin – Austin, Texas is one of the most amazing places to visit in Texas. Another reason is that they have a plethora of museums to visit for FREE. Just keep in mind that each museum has different hours and times for "free."
Texas State Capitol – Wanting to get a little more education in, while visiting Texas? Make sure you check out the Texas State Capitol.
11 Free Things to do in Amarillo TX
Boca Chica – A tourist-free location to enjoy the beach is called Boca Chica. It's a remote area but a great place to enjoy Texas for FREE!
Related: Our 2nd Experience with Amazon Camperforce in Haslet Texas
Space Center Houston – While getting into the Space Center in Houston isn't always free, you can check for discount tickets and low-cost days. You can even use the CityPass to come and visit Space Center Houston.
Fort Worth Stockyard – Spend some time in Fort Worth's historic district. You can walk along the original brick walkways and wooden corrals.
15 Free Things to do in El Paso Texas
Fort Worth Botanic Gardens – Texas isn't given enough credit for how beautiful it is. The Fort Worth Botanic Gardens, which is free, gives you a wonderful idea of the hidden beauty of Texas. Keep in mind the general garden is free, but it may cost extra to do the other gardens.
While you are in the Dallas Metro area make sure to check out the Dallas / Fort Worth Pogo Pass to save on local attractions!
Related: Fun Facts About Traveling Through The State of Texas
Rockport Beach – Known as Texas' first blue wave beach it is one you should have on your radar when visiting the state. There are many animal sightings here.
54 Free Things to do In Houston TX
50 Amazing and Free Things to do in Fort Worth Texas
Cadillac Ranch – Yup, driving alongside this attraction, in Texas, will leave you wondering where they found all these Cadillacs at.
Tour the Governor's Mansion in Austin
Related: 19 of the Best Free Things to Do in Dallas Texas
29 Free Things to Do in Austin Texas for the Whole Family
Mission San Jose National Park
Texas Oddities – Going alongside the roads in Texas, you never know what you're going to see.