This post may contain affiliate or referral links. Read more about this in our disclosure policy.
While visiting Billings, Montana there are several places of interest that you and your party can enjoy. If you are running low on cash, check out these places that everyone can enjoy without reaching into your wallet. These 14 free things to do in Billings MT should be on your list for sure!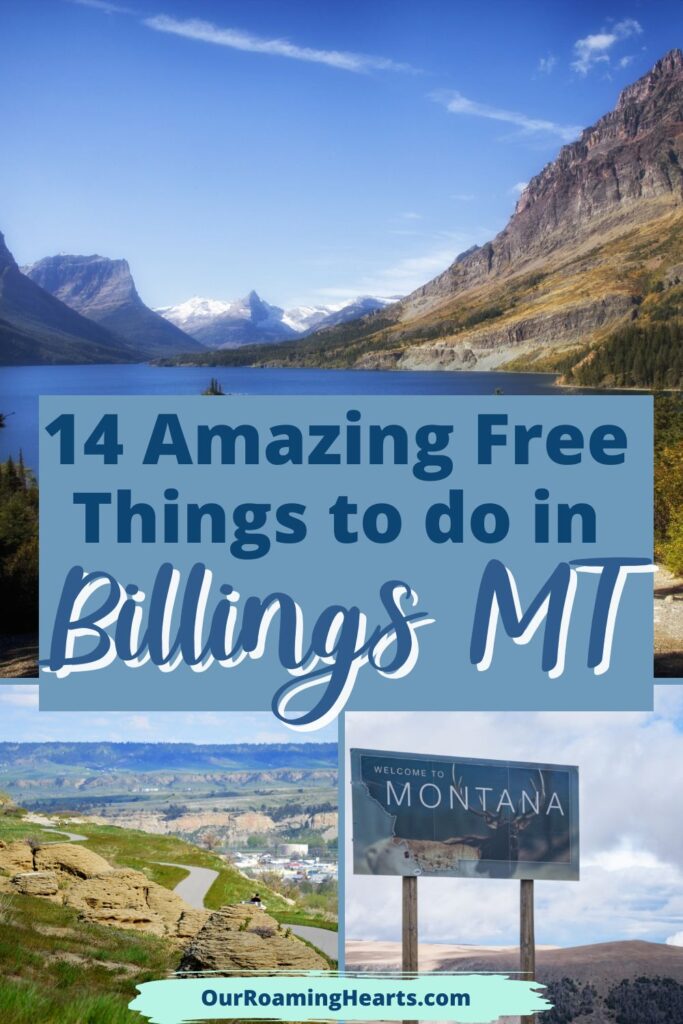 14 Amazing Free Things to do in Billings MT

I loved visiting Billings Montana. It was my first trip to the Big Sky state and I loved it. Billings is the biggest city in the state and there is plenty to do. The free things to do in Billings MT hold so much history in the area I wish I had more time to explore!
While you are in Billings consider stepping outside the area as well. Bozeman is about a 2 hours drive and is a good day trip to visit the Museum of the Rockies.
Another good drive is heading south to drive the Beartooth Highway. The views on that road took my breath away. I drove it in September and when I hit the top I ran into a snowstorm!
Related: Breathtaking Yellowstone Scenic Drives -Yellowstone National Park
Yellowstone National Park is just on the other end of the Beartooth Highway. There you will find so much wildlife and the famous Old Faithful Geyser.
Just south of Yellowstone is the Grand Teton National Park and I fell in love with this part. It's such a vast difference between Yellowstone and Montana you would never know you were right next door!
Where to Stay in Billings
When I was in Billings I used Airbnb and got an amazing room right in the middle of the action. You can save a lot of money by getting someplace with a kitchen and cooking your own food. Plus if you sign up for Airbnb using my link you will get a free $40 credit. Depending on the size of the place you are looking for that is pretty much one night free!
Now on to all the fun free things to do in Billings Montana.
The Rimrocks is a beautifully elevated rock formation that offers breathtaking views and peaceful surroundings. From the top looking down, you can see the Yellowstone River and a panoramic view of the city of Billings. Viewing the city's lights at night from these heights is neat as well. Surrounding the Rimrocks, are some easy hiking trails, that you can also find people jogging on.
Related: Top 10 Things to See at Big Horn County Museum – Hardin Montana
Yellowstone Cellars and Winery
This winery offers great staff and several free tastings to try before committing to a glass. They often have a variety of local bands playing to enhance the socializing atmosphere. Along with the wine they have cheeses, crackers, deli meats, and flatbread pizzas that go well with their highly-rated wines.
Swords Park & Yellowstone Kelly Interpretive Site
This park is famous to watch the sunsets. It's right near the airport so if you are lucky you can always watch a plane or two coming in. You can look out and see views of downtown and watch beautiful sunset colors take over the city. There is also the site of Yellowstone Kelly's grave and lots of interesting information about exploring in the area.
Related: Ultimate Guide to Chief Plenty Coups State Park in Pryor, Montana
Located on 30th Street in Billings, is Angry Hank's Microbrewery, which is worth the visit for all-you craft beer enthusiasts. They offer several samples of their delicious brews and have a very knowledgeable and friendly staff. Their pints start at a great price of $3. The brewery is open from 4 to 8 p.m on weekdays, and 3-8 p.m on Saturdays. All ages are welcome here.
Many parts of the Montana landscape can be majestic. The Pryor Mountains lives up to those expectations and then some. There are rolling grass prairies, caves, and beautiful mountainous landscapes that are gorgeous to anyone that can appreciate beauty.
There are great places to hike, ride on horseback, as well as picnicking. Anyone wishing to visit this area, it would be wise to travel in a 4 wheel drive vehicle, as some of the roads are not smaller car friendly. Wild horses roam this area as well, which is a neat sight to see.
Related: Top Things to do in Billings MT
Pioneer Park has something to offer everyone. The view is pretty and has a small creek that runs through the park. There are tennis courts, a golf course, disc golf, a nice playground for children, swimming areas, and beautiful trails. Symphony Orchestras play here during the summer as well. Park hours are from 5 a.m to 10 p.m.
If you have the National Park Pass you can get into the Battlefield free any day but if not then make sure to mark your calendar for one of their fee-free days. There are normally about 5 of them a year.
The battlefield is where General Custer took his last stand against the Native Americans and where he died in battle. The whole battle can be recounted here.
Related: Breathtaking Yellowstone Scenic Drives – Yellowstone National Park
Riverfront Park is located by the Yellowstone River in downtown Billings, Montana. There are a lot of natural areas providing many trails and teeming with wildlife in the park. There are three park shelters that can be rented out to the public for an outing.
The park also has volleyball courts, picnic areas, bbq grills, and jogging trails. The park is open to the public from 5 a.m to 10 p.m. This is a great place to ket kids stretch their legs and run off some energy which is why we love it on our free things to do in Billings MT list.
Custer Battlefield Trading Post
Across the street from the Little Bighorn Battlefield is the Custer Battlefield trading post. It is part shop, part restaurant, and art museum. I loved walking around and seeing all the hand made Native American items. They were also named in Oprah Magazine for their Indian Tacos which if you can budget for it, you have to try!
There is a wall in the shop that is a museum as well. They have the only known picture of the Native American called Crazy Horse who fought in the Little Bighorn Battle and it's great to see!
Related: Must-See Grand Tetons National Park Scenic Drives
This is a lake park right in Billings. They have a playground for children, a dog park and dog beach and good fishing. They have some hiking trails, you can kayak and it would make a great spot for some family photos.
Drive the Crow Reservation
The Crow reservation is a large area to the east and south of Billings. The Little Bighorn Battlefield and the trading post mentioned above are on the eastern portion. I loved driving the southern portion around Chief Plenty Coups State Park. At one point the road turns to gravel and you can see the mountains in the distance and really see why Montana is named Big Sky Country.
Those into Old West history will love this one. The cemetery got its name because so many died here and were buried with their boots on. Simple for naming, right? This was the burying ground for the tiny town of Coulson that existed along the Yellowstone River from 1877-1885.
People buried here include H.M. (Muggings) Taylor, the scout who carried the news of the Custer massacre on June 25, 1876, to the deputy in Bozeman Montana.
A beautiful spot with a sad story. A case of smallpox hit the local Native Americans killing quite a few. Two teenagers had lost their whole family so they got dressed in their best clothes and rode a horse over the cliff killing themselves. There are several signs in the area describing the story and some fo the history of the area.
The city of Billings had commissioned many local artists to put up art around town. They include a map of where each piece is. There is everything from murals on the side of buildings to statues to painted electrical boxes.
Do you know of any free things to do in Billings MT that I missed? Let me know in the comments below!