This post may contain affiliate or referral links. Read more about this in our disclosure policy.
When you are visiting Albuquerque, New Mexico, you need to celebrate! It's such an awesome city to visit. I think one of the reasons I love the city of Albuquerque so much is because it's diverse and has a very rich history. Follow along to discover some of the best free things to do in Albuquerque.
Free Things to do in Albuquerque
Looking for a unique vacation experience? Look no further than Airbnb! With rentals available all over the world, you're sure to find the perfect place to stay. Plus, with prices that are often much cheaper than traditional hotels, you'll be able to stretch your vacation budget even further. So what are you waiting for? If you sign up for Airbnb using my link you get a free $40 travel credit!
Related: Where to Find Pressed Penny Machines Across the U.S.
National Hispanic Cultural Center
It's only natural that you visit a cultural center if you're going to be in Albuquerque, New Mexico. National Hispanic Cultural Center is amazing because it showcases the culture and history of this great city. While it's not always free, it's worth checking to see if you can catch a free show!
Museum of Art and History
What did I tell you? This city is full of so much history, it's amazing! Check out the Albuquerque Museum and get acquainted with the history of this amazing town. You can check out this museum for free on Sundays from 9 AM until 1 PM.
Head Down Route 66
If you've heard of Route 66, then you know there are some awesome places to see on the route. Albuquerque, New Mexico falls on that list, so you'll be able to see some things along the way. You can check out what is offered on Route 66 right here.
Related: 30 Must Stop at Route 66 Attractions
Tingley Beach
When you love to be out enjoying the sunshine, you will want to hit up Tingley Beach. This beach is a place where you can literally do everything. Whether it's boating, fishing, or having a picnic, there is always something to do at Tingley Beach.
Check Out Nob Hill
Don't worry, you don't have to spend a dime to walk around Nob Hill. This is the place to shop in Albuquerque. This is a historical place in the city to visit and walk around and enjoy. If you have the money to spend at the shops, great – otherwise, you can just walk around and enjoy the city.
Walk Around Old Town
When you want to enjoy this great city, but don't want to deal with the hustle and bustle, you need to check out Old Town Albuquerque. This part was established in 1706, so you can imagine there are some amazing things to see! Make sure you take the time to walk around this historical part of town.
Related: Fun Things to do on Vacation in Every State in America
Visit the Cibola National Forest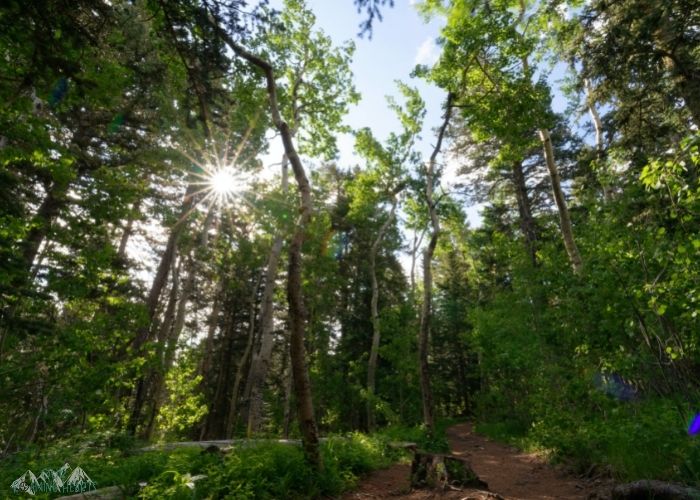 The Cibola National Forest consists of over one million acres of land. It's a great free spot to visit with the family when you're looking forward to spending extra time outdoors. You can take a hike up to Timber Peak, enjoying the stunning scenery surrounding you while you're on your way. You'll get to see the clouds and sun shining brightly over the large trees and grass-covered mountains. During your stroll through the forest, you can see some amazing wildlife, beautiful trees, and even large boulders in various sizes and shapes.
Check Out the ABQ All Ages Playground
The ABQ All Ages Playground is an excellent spot to visit for free fun with the kids. Whether you have younger children, older children, or a combination of both, they can have a great time at this playground. Inside the zoo, you will find an enclosed playground with tons of equipment for children, including slides and swings. It's the perfect way to let the children get some exercise and use their imagination outdoors.
Take a Stroll Through Roosevelt Park
Stop by the historic Roosevelt Park in Albuquerque. It consists of 14 acres of land for you to walk around, enjoy the nice weather, and take photos of some of your favorite sights. There's a playground on the premises, making it the ideal spot for children to come and play. You can participate in several fun activities while at the park, including Frisbee Golf.
Related: 48 National Monuments & National Park Virtual Tours
It's a great spot to ride bikes, have a picnic, or even watch a live concert. Local performers often come to the park to host free concerts for the locals who'd like to have an enjoyable time outside without spending money.
La Luz Trail
One of the most popular hiking trails in the city of Albuquerque is La Luz Trail. It stretches out for eight miles. If you think you've got what it takes to walk eight miles with the family, this is a great free spot to visit. You won't have to pay a dime to go on your hiking adventure, where you'll see stunning panoramic views the entire time. If you're heading out on the trail, be sure to bring plenty of water with you to stay hydrated on your journey! We highly recommend some camelbak's for this one.
Duck Pond at University of New Mexico
Do you want to see the ducks at the University of New Mexico Duck Pond? It's a calm and enjoyable place to visit when you'd like to have a relaxing time with your family. You can set up a picnic to sit by the water while enjoying sandwiches and beverages. The pond is beautiful and provides you with a chance to see both ducks and geese. If you're looking for a calm, free place to hang out, this is it.
Related: How to Find the Best Free Camping Sites & Free RV Camping
Petroglyph National Monument
The Petroglyph National Monument is a large landscape along the Western Trail in Albuquerque. The monument stretches for more than 7000 acres, making it truly one of a kind! You can take a stroll through the desert to see it and explore the area for everything it offers. If you'd like to see the monument, be sure to wear comfortable shoes and bring plenty of water with you (again camelbaks are your friend here). There isn't a spot to buy water while you're there, but it tends to get hot, humid, and dry, which is why it's best to come prepared!
Albuquerque is one of those towns that you can get lost in all day. Go ahead and check out all these free things to do in Albuquerque and let us know what else you find in this amazing city! You never know what you may stumble across while exploring the area.