This post may contain affiliate or referral links. Read more about this in our disclosure policy.
Are you looking for fun and affordable things to do in Chattanooga, TN? Whether you're a lone traveler or taking a family vacation, this city is teeming with plenty of attractions that let the whole gang explore without spending too much money! From outdoor activities to cultural experiences, there are numerous ways to experience Tennessee's majestic beauty while also having lots of fun. Check out our Tennessee Travel Guide for more! Ready to get started? Read on for our top picks of free things to do in Chattanooga TN!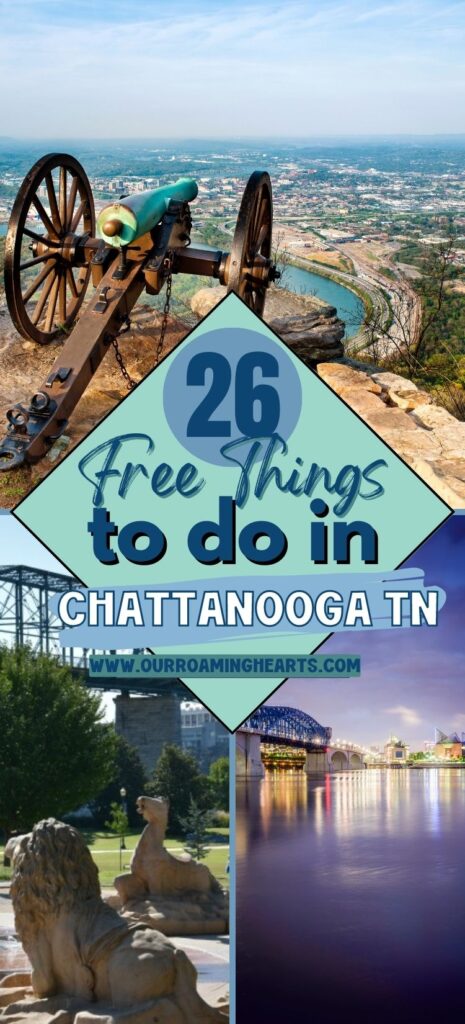 What are some free things to do in Chattanooga, Tennessee?
There are many free activities to enjoy in Chattanooga, including walking through the Tennessee Aquarium, visiting the Hunter Museum of American Art, or exploring the many trails and parks throughout the city.
Is there a way to experience Chattanooga's natural beauty without spending money?
Absolutely! From kayaking on Lake Chickamauga to exploring Lookout Mountain and Rock City Gardens, there are plenty of fantastic outdoor activities you can do for free.
Related: 22 Must See Free Things to do in Gatlinburg Tennessee
Are there any family-friendly activities that don't cost a lot?
Yes! Take a ride on the downtown carousel or spend an afternoon at Coolidge Park's water playground. You can explore the nearby Civil War battlefields or take a stroll along one of Chattanooga's scenic riverwalks.
What kinds of events take place in Chattanooga year-round?
The city is host to an array of musical performances, festivals, art shows, food truck rallies, and other special events throughout the year – many of which don't require admission fees. Make sure to check out annual favorites like Riverbend Festival or Nightfall Music Series for great entertainment options that won't break your budget.
What about cultural attractions? Are there any free ones in Chattanooga?
Yes! The Bluff View Art District offers beautiful galleries and sculpture gardens as well as access to stunning views of the Tennessee River. You can also visit the International Towing & Recovery Hall of Fame & Museum or explore Bluff View Historic District's historic homes without paying admission fees.
Travel Tips
With rentals available all over the world, you're sure to find the perfect place to stay. Airbnb has something for everyone. Plus, with prices that are often much cheaper than traditional hotels, you'll be able to stretch your vacation budget even further.
If you can not find an Airbnb that fits your needs a second option is VRBO. Find an amazing vacation home for your family.
Make sure to check out our travel deals page for any deals or sales on your next trip no matter where it is!
While traveling be sure you bring change so you can take advantage of any pressed penny machines you come across. These make great souvenirs.
Related: 37 of the Best Books About Tennessee
26 Free Things to do in Chattanooga TN
Here are my top picks for free things to do in Chattanooga TN.
Chattanooga Farmers Market – I always love visiting local Farmer's Markets because you can talk with locals, take in food and recipes local to the area and even see some great locally-made items. Chatting with the vendors is how we have found some of our favorite off-the-beaten-path places!
Lookout Mountain – From here you can see 3 states and some amazing sites for free!
Walnut Street Bridge– This is the longest bridge for pedestrians in the United States. It crosses the Tennessee River and is near all sorts of restaurants and shops.
The Blue Hole – A great afternoon hike that leads to an amazing swimming hole that is off the beaten path!
Brainerd Mission Cemetary – This is a relatively small graveyard of 60 graves. But they are graves of Cherokee Indians that once lived in Chattanooga. This is an official stop on the Trail of Tears.
Related: 25 Can't Miss Free Things to do in Knoxville TN
Chattanooga Choo Choo Holiday Inn – This hotel was originally a train station and they have kept much the station integrity! Stop by and take a walk around the main levels!
Chickamauga National Battlefield – Checking out the battlefield and learning the history is free, the views it offers of the city are breathtaking! This is a National Park site so make sure to get your National Park Passport stamped and take your kids to get their Junior Ranger badges as well!
Point Park Battlefield – Part of the above Chickamauga Battlefield was the site of what is now known as "The Battle Above the Clouds". The visitors center with the history is free but the battlefield tour costs $3 for adults.
The City of Chickamauga – This city is located just outside Chattanooga and has been called one of the prettiest towns in Georgia. I highly recommend taking a walk around the downtown area!
Related: 33 Amazing Free Things to Do in Nashville TN
Debarge Winery – take a break and head Chattanooga's first urban winery!
Enterprise South Nature Park – so much outdoor fun can be had here including loads of animal sightings!
The National Medal of Honor Museum – this free museum is a must for any history or military buff!
Tennessee River Park – A 10-mile stretch of walkway along the river that is perfect for a nice stroll to take in restaurants and shops along with the view of the water.
Nightfall Concert – A free concert every Friday night in the summer!
Explore the local Caves – Being in and near the mountains also means there are a lot of caves to explore! Contact the Chattanooga Grotto for more info!
Watch the Southern Belle Riverboat – while I do suggest riding the boat if your budget allows kids and adults alike will love watching this old fashion riverboat on the river!
The Passage – Part of the trail of tears and permanent outdoor exhibit. Lots of history to take in.
Covenant College – A drive around this campus is a must! It has some of the best scenic views of lookout mountain.
Related: 15 Free Things to do in Gatlinburg Tennessee
Bluff Art District – One of the neighborhoods in Chattanooga and worth walking through. You can play bocce ball and walk through the sculpture park.
Chickamauga Reservoir – A great swimming hole, with a place for picnics and a park for the kids.
Hunter Museum of Art – This museum is free on the first Thursday evening of every month.
Coolidge Park – While not far from the Walnut Street Bridge. This park is on the river and is perfect for a picnic. There is even a carousel you can ride if you choose.
Chattanooga Festivals – Make sure to check the city calendars and take in one of the city's many festivals.
Related: 189 Free Things to do in Tennessee
Free Summer Movies – Grab a blanket and ever summer night catch a free movie in Coolidge Park.
Go Dancing on Frazier Avenue – Learn the dance steps to the waltz, the twist, the mambo, and the hokey pokey all by following the footsteps on the sidewalk.
Chester Frost Park – This park is 280 acres with a boat ramp, beach, picnic area, and more.
What are your favorite free things to do in Chattanooga TN? Let us know in the comments below!