This post may contain affiliate or referral links. Read more about this in our disclosure policy.
We spent some time in San Antonio, Texas this past December. It had been on my bucket list for years, mostly the Riverwalk and the Alamo. I remember seeing pictures of a trip my grandparents took there many years ago, and it's been on my wishlist ever since! The best part? Both places are on this list of free things to do in San Antonio Texas.
When visiting San Antonio Texas make sure to also check out our Texas Resource page with 51 of the best things to do all over the state. tips on finding the best places to stay, and how to save money on the top attractions!
Travel Tips
With rentals available all over the world, you're sure to find the perfect place to stay. Airbnb has something for everyone. Plus, with prices that are often much cheaper than traditional hotels, you'll be able to stretch your vacation budget even further.
If you can not find an Airbnb that fits your needs a second option is VRBO. Find an amazing vacation home for your family.
Make sure to check out our travel deals page for any deals or sales on your next trip no matter where it is!
Depending on what you are planning to do it could be very beneficial for you to purchase a pass that bundles attraction for one low price. Here are the best ones for Texas:
Each one has its own perks and rates for attractions so be sure to check each one for the best possible bundle for your vacation.
19 Must See Free Things to do in San Antonio Texas
While traveling be sure you bring change so you can take advantage of any pressed penny machines you come across. These make great souvenirs.
San Pedro Park Pool – Free Pool. Enough said right? It's Texas and summer weather ten out 12 months (so I've been told), and boy do Texans do it right when it comes to cooling down. Take a dip in the pool and beat the heat!
Martinez Park – This is a great park to try out your skateboarding skills. No skills? It's fun to head out and just watch the difference in talent at the park.
San Antonio Missions National Historical Park – The missions were built way back in the 1700s. There are 4 of these in the National Park system. They are still used as Catholic Parishes today and are a sight to see!
Ask the rangers at the desk for their Junior Ranger program book for any kids traveling with you. You can also ask them about any must-see locations at the park! Don't forget to visit the Ranger Station so any kids traveling can get their National Park Passport stamped.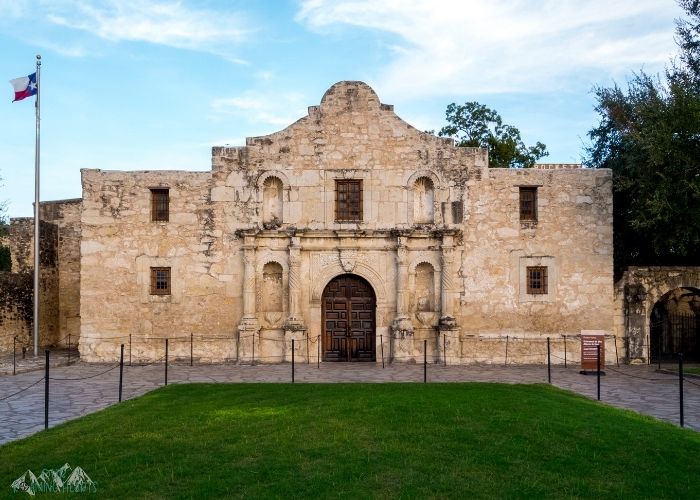 The Alamo – The Alamo was the 5th of the mission built mentioned above. Due to the battle fought here, the history has taken on its own story, and if you only have time to visit only one of the missions, this is the one to see. If you do the self-guided tour, it is 100% free to tour. They do offer an audio tour for a fee but the signs at each room over all you need to know! To teach your kids about the Alamo, I highly recommend the book What Was the Alamo?
El Mercado Market Square – This is where you will get the true San Antonios experience you see in all the pictures. They have a ton of events down here, shops, places to eat and more you can experience all the fun of 'old Mexico.' Make sure to check out their event calendar and see what fun will be going on while you are in town!
Related: 29 Free Things to Do in Austin Texas for the Whole Family
Camanche Lookout Park – This is a 96-acre public park with a hiking trail. You can climb the to the top of the lookout which is 1,340 feet above sea level. This lookout point is where Native Americans used to come to see the land around them for hunting and even when an enemy would attack.
Witte Museum – Take in the museum for free every Tuesday from 3 pm – 8 pm. Explore everything from the human body to the dinosaurs!
San Antonio River Walk – The river walk has so much to see and do. To walk the sidewalk and take it all in is free. Though if you have some extra room in your budget, I highly recommend one of the Riverboat tours. You learn so much history and see all part of the riverwalk without killing your feet!
Southtown – This is San Antonios Art district and one of the most historic neighborhoods. Just take a few hours and walk the streets there is so much to see and experience.
Mercado O'liva – Located in a courtyard at the Plaza de Armas and Spanish Governor's Palace in San Antonio. Lots of famous chefs seem to hold events here, along with a great market and events to take in.
Pearl Brewery – Have you ever heard of Pabst beer? Well, it is brewed here. That's not all! While it's still a great brewery but has live events, vendors, and more.
Japanese Tea Garden – This beautiful Japanese tea garden is like stepping out of the United States and into Japan. From the tone bridges tot he 60-foot waterfall, it's just so relaxing.
McNay Art Museum in San Antonio – Another beautiful place to discover art in San Antonio. You can get in free on the 2nd Thursday of every month. It's their art, music, food, and drinks promotion.
Related: The 6 Best San Antonio Riverwalk Restaurants
Downtown San Antonio – Get free parking every Tuesday night from 5 pm – 2 am. So head down and take in all the sights of downtown.
Artpace– Is only free at certain times, but there is also free parking and a fun place for kids to explore. This is known at the laboratory of dreams and is a great place for more modern art.
Check out the historical neighborhoods – A lot of people are in love with the historical neighborhoods in San Antonio, and it is easy to see why. The city offers several self-guided tours of some of the more famous areas.
Have a Drink at Ranger Creek – Generally, on Friday and Saturday you can enter the tasting room and try out their rotating menu and even grab a tour.
Cibolo Nature Center – Is just outside San Antonio but is a don't miss attraction as well. Included in this nature center are four ecosystems, 3 miles of walking trails, and even preserved dinosaur footprints.
San Antonio Fire Museum – While not always free they have many free days throughout the year, and it's well worth it to check them out. You kids can get hands on with climbing and putting on gear.
Also check out our Texas Resource page with 51 of the best things to do all over the state. tips on finding the best places to stay, and how to save money on the top attractions!
Aren't these some awesome things to do in San Antonio, Texas? Did I miss any free thing to do in San Antonio Texas? Let me know and let me know what you had fun doing while visiting!