This post may contain affiliate or referral links. Read more about this in our disclosure policy.
When you go camping in the south, you are most likely looking for water and beaches, a place to do some fishing, and take some nature hikes. So for my free camping in this post, I target some free beaches, some free parks, and many with waterfalls within hiking distance. Many have excellent fishing and wildlife and in some others, the views aren't great, but they have free hookups!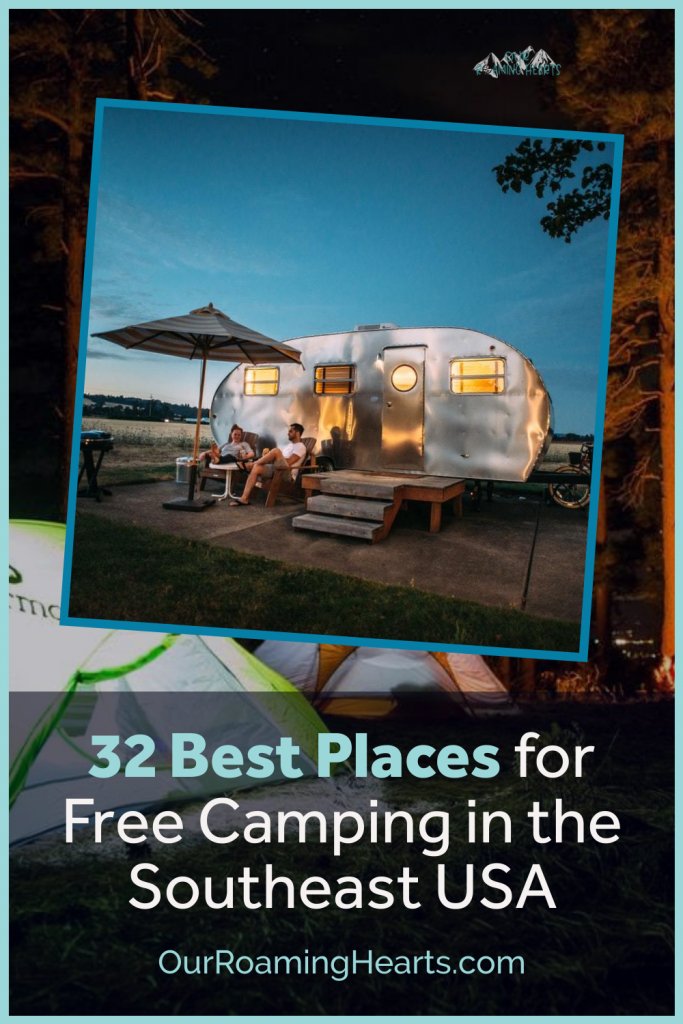 32 of the Best Places for Free Camping in the Southeast USA
Please note that at the time of posting all these sites were free, please verify before staying. Some require permits (like those in National Parks).
Also, make sure to check out our travel deals page for any deals or sales on your next trip no matter where it is!
Ok, let's face it even out in nature you want a bit of elbow room to sleep right? This Montana 8-person tent from Coleman is perfect for that! Of course, our family of 6 (7 with the dog!) loves this 10 Person tent from CORE it has a divider so you can have 2 rooms or keep it wide open. Then there is my dream tent I am trying to talk hubby into! It has 3 rooms and sleeps 10 *drool*!
Related: Camping Memory Match Game
Free Camping in Florida
1. Osceola National Forest in Northern Florida – With several free camping sites, the views here of the water and lakes are what makes the top of the list for Florida!
2. Dupuis WMA – If you are looking to experience some great wildlife near Lake Okeechobee This is the place for you!
3. Lake Door – Located in the Ocala National Forest this site a swimming hole and the views are unbeatable.
Related: 11 of the Absolute Best Places to View Manatees in Florida
Free Camping in Georgia
4. Rood Creek Campground – This makes the list for one of the top spots in Georgia. This spot is right on the river and is maintained by the US Army Corps of Engineers.
5. Hickey Gap – Located in the Cohutta Wildlife Management area and right on Mill Creek they have picnic tables, fire rings, and lamp poles among other things.
Free Camping in Alabama
6. Tuskegee National Forest – Camping right in a National Forest has its benefits! The views, the facilities, and the trails for starters.
7. Suncoast RV Dealership – While this one isn't making the list for its views or activities available there is one big perk to this site. You get free full hook-ups. Yes, Free Water, electricity, and sewer hook up here.
Free Camping in Mississippi
8. Airey Lake Campsite – Located to De Soto National Park there is a fully stocked fishing lake to enjoy.
9. Rocky Springs Campground – Lots to see and do here, take a hike to visit a community that was run out by the Civil War and yellow fever, all that remains now is the church and graveyard. Owen Creek Waterfall Trail is nearby as well.
Free Camping in Tennessee
10. Cordell Hull Lake Horse Trail – Lots of room for horse trailers and RVs and right on the river and beautiful setting.
11. Jackson's Island – This is a peninsula that extends into Watts Bar Lake, so all the sites are waterfront. Some of a concrete pad for a patio.
Related: 45 Amazing Free Things to Do in Nashville TN
Free Camping in South Carolina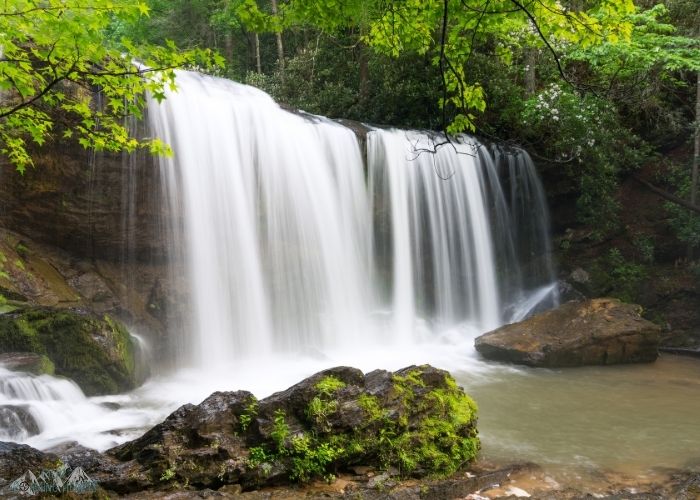 12. Brasstown Falls – Each of the falls has to be viewed separately but what a sight!
13. Halfway Creek Trail Campground – Located in the Frances Marion National Forest and they do provide drinking water! Great place to visit if you want to check out the National Forest.
Free Camping in North Carolina
14. Long point Boat Launch – Located in the Croatan National Forest this is a great spot for anyone who loves fishing. You can camp right where you plan to launch your boat, so, of course, that means it's right on the water!
15. Wine Spring Horse Camp – You do need reservations here, but it is a fenced-in camp area with lots of great trails perfect for any hiker!
Free Camping in Virginia
16. Apple Orchard Falls Area – Lots of quiet spots right along the creek!
17. Little Fort – This area was once a rest stop for a stagecoach line and has a ton of history.
Free Camping in West Virginia
18. Buffalo Lake – Perfect location for fishermen. This lake is 22 acres and perfect for anglers who want some quiet time away from the city noise.
Free Camping in Maryland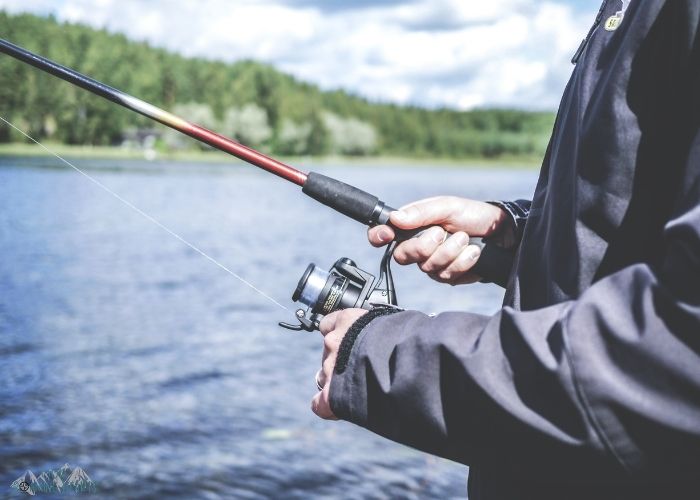 19. E.A. Vaughn WMA – Another great site for fishermen. Know of being able to fish for sea trout, croaker, spot, flounder, bluefish, and possibly Crabbing.
Free Camping in Arkansas
20. Ozark National Forest, Arkansas – Enjoy the setting from 'Where the Red Fern Grows' and many other movies. There are over 400 miles of hiking trails, beaches, mountains, lakes, and streams, and it is just breathtaking. There are many free campsites here and some of the more popular ones are no more than $19 a night.
21. Ashey Creek – Ashley Creek is located on Blue Mountain Lake. The park has boat launching and fishing along with a ton of things to hike and see.
22. Spring Creek Campground – If you are looking for a great place near the water and perfect for wildlife viewing.
Related: Johnny Cash Boyhood Home in the Historic Dyess Colony
Free Camping in Louisiana
23. Crossing Cloud Campground – Right on the banks of the Saline Bayou Wild & Scenic River. This site is perfect for those wanting to connect with nature from fishing to watching wildlife. Go in the Spring and Summer because this area tends to flood in the fall and winter!
24 . Sherburne WMA South – Lots to do here! 2 nature trails, canoeing, and birding are all popular here!
Free Camping in Texas
25. Andrews County Chamber of Commerce – While not very glamorous or scenic you do get free electricity and water, so it makes my list!
26. Boca Chica Beach Camping – You can't beat a free beach camping spot!
Related: 29 Free Things to Do in Austin Texas for the Whole Family
27. Bolivar Flatts free Beach – Another great free beach this one is near Galveston and that means there is a lot to do!
28. Wayne Russell Municipal RV Park – you can camp for free with full hookups for 2 days then each day after that is only $5
29. Lamese RV Parking Area – Again not very pretty but you can get a free hook up for 4 days and after that, it's $20 a night.
Free Camping in Oklahoma
30. Elk City Lake Park – This is a city park on a lake and as a bonus, it has electric hookups!
31. Lucky Star Casino – I don't normally recommend casinos for a campground, but when you can get full hook-ups for free, it makes my list. Enough said.
32. Keystone Lake Project – Camping on the Appalachia Bay you can't get more beautiful than watching the sunrise to set on the water.
Did I miss any really good ones in the southeast? Share your favorite places to camp for free below!