This post may contain affiliate or referral links. Read more about this in our disclosure policy.
To be honest, Arizona has some very awesome and very historic National Park Service sites. Whether you're interested in seeing historical landscaping or you want to see how people used to live, this is the place for you! There are over a dozen NPS sites and every single one of them is worth seeing. The next several listed below are Flagstaff National Park sites. Take the time to visit each one and take in this history!
Flagstaff‌ ‌National Park ‌Sites‌
Sunset Crater Volcano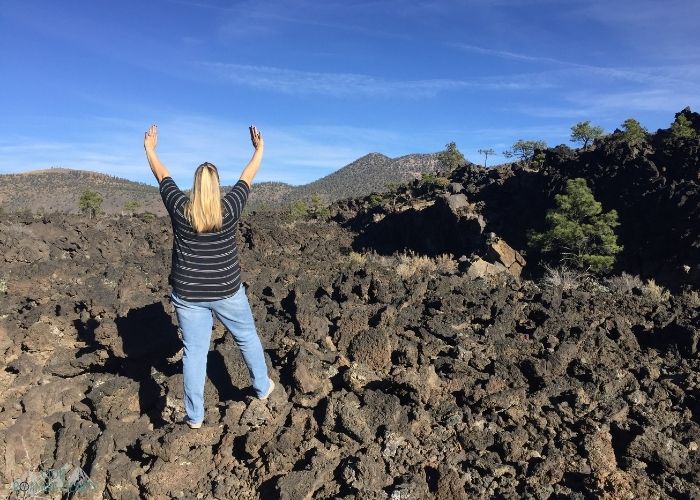 It's not every day you get to experience a volcano. The Sunset Crater Volcano is such a cool place to visit! This crater is awesome in so many ways! In 1095, you would have experienced exploding lava in this very place. The eruption happened and the people and landscaping were never the same again. Entering this area is usually $25 per carload, but there are days you can see it for free.
Walnut Canyon
If you've ever wanted to explore one place in your life, perhaps it was Walnut Canyon. This Flagstaff National Park Service site is one place you will want to visit! These amazing curved canyons walls sure do help put life into perspective. Not only will you find historical evidence of those who lived here a long time ago, but you will also get to see the amazing formations of the canyons themselves. You'll also want to check out the Cliff Dwellings, they are pretty amazing! *BE WARNED – THERE ARE VERY FEW RAILINGS*
Related: 10 Free Things to Do in Flagstaff, AZ
Wupatki
Noted as a National Monument and Flagstaff National Park Site Wupatki is amazing. Some refer to Wupatki as the landscape of legacies. It's nestled between the Painted Desert and the ponderosa highlands. There is also so much history at Wupatki, it's mind-blowing. Food and water are scarce here, but people managed to thrive and survive. They farmed, built pueblos, and much more. If you're in the Flagstaff area soon, make sure you check it out.
Montezuma Castle
Having first been established in the early 1900s, the Montezuma Castle is an astonishing sight to see. It's one of several National Monuments in the area that is dedicated specifically to Native American preservation. The area consists of unique dwellings that were once homes to indigenous people and date back to 1100 AD. It's an amazing sight to see when you think about the many people who lived there and were able to build these beautiful homes from what little tools they had. After all, there were no powered tools and heavy equipment available at that time. While this spot isn't one of the longest or most exciting hikes in the area, it's still a great place for you to visit for an educational experience on culture and the lives of the Native American people.
Meteor Crater
A natural landmark found roughly 37 miles from Flagstaff, the Meteor Crater is quite the sight to see. It was around 50,000 years ago that a meteor flew across the sky, ultimately landing in this area and creating such a massive crater in the ground. Most people like seeing it in person and are simply amazed by the natural beauty left behind by something catastrophic that occurred long ago.
While you're spending time there, feel free to stop by the visitor's center to get more information on the historical site. The staff members who work in the center are available to answer questions and offer more information on this unique landmark. The insight they can provide can help you learn more about how this crater happened in the first place.
Related: 11 Must-See Stops on Route 66 Arizona Stops
Bright Angel Trail
The Bright Angel Trail is a path that stretches on for a little more than 15 miles. It's a commonly visited area that is well-maintained and great for hiking enthusiasts. It's found in the Grand Canyon National Park, and there is a fee to walk on the trail, but the fee helps with maintenance expenses.
When you get to the bottom of the trail, you'll have access to the river, where you can cool down a bit. Hiking down the trail is easier than hiking back up, so be prepared for a challenge. The steepness is what makes it more of an obstacle for less experienced hikers. However, you can still make the most of the journey. Make sure you have plenty of water with you to drink to stay hydrated while you're taking on such an extensive trail.
Coconino National Forest
If you'd like to experience one of the most beautiful forests in the country, look no further than the Coconino National Forest. The forest consists of more than a million acres of land full of amazing scenery. There are clear paths throughout the forest with views of mountains, trees, and all kinds of greenery.
Related: Top 12 Best Things to do in Sedona Arizona
You might even come across some wildlife during your exploration of the area. Despite being close to many amenities, you'll still enjoy that secluded feeling while spending time here. You can even camp for free at the Coconino National Forest for up to 14 days at a time. What more could a visitor ask for? If you're ready to see some amazing sights while spending more time outdoors, be sure to head over to this area.
NPS sites are great to visit because they're historical and usually very pretty! During your trip, you can explore, get some exercise, and learn a lot of new things. My kids can spend hours exploring these sites, which is why we take the opportunity to visit as many as we possibly can.
If you could visit any of these Flagstaff National Park sites first, which one would it be? Also, keep in mind that Arizona has quite a few new NPS sites that you can check out. You can view the whole list, right here. If you're willing to travel outside of the Flagstaff area, you can find even more neat sites to visit during your trip. Make a list of the must-see places you'd like to check out while you're spending time in the area.