This post may contain affiliate or referral links. Read more about this in our disclosure policy.
There is so much history in Gettysburg Pennsylvania. This is a great place to bring kids who are studying the Civil War and especially the Gettysburg Address by President Abraham Lincoln. They can walk the steps Mr. Abe himself walked before and after that speech. You can learn about the war and the reasons behind it. While in Gettysburg, there aren't a whole lot of reasons to spend a ton of money the main attractions are free! Here are free things to do in Gettysburg PA! Our free things to do in every state will also provide more ideas when traveling to other states.
Free Museums In Gettysburg PA
Mister Ed's Elephant Museum – You can view the world's largest collection of elephant figures for free. There are over 10,00 elephants on display and while they have some things like candy that come at a cost the main tour is free.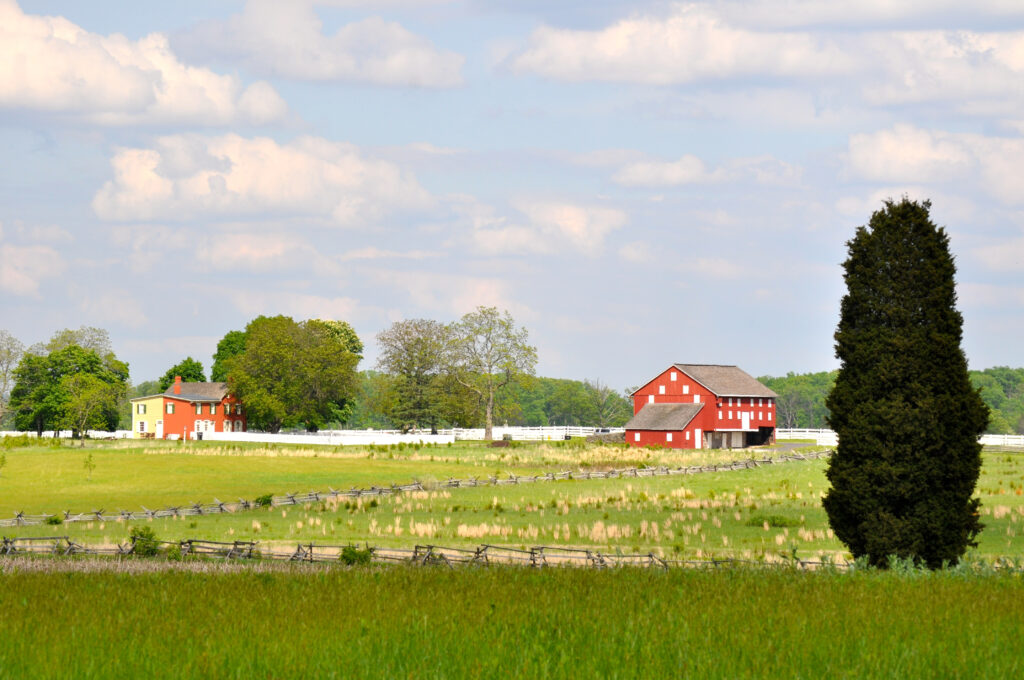 The Gettysburg National Park is probably the biggest attraction in town and is also free! The kids can get their Junior Ranger badges at the visitor center, and you can also get a free driving tour map as well. Then follow the map around the park, there are so many signs to stop and read, and on weekends during the summer there are many re-enactments.
Related: The Ultimate Guide to The National Park Service Junior Ranger Program & Junior Ranger Badges
Gettysburg Museum of History – Welcome to the Gettysburg Museum of History! They are dedicated to preserving and sharing the history of this great city. Their museum is packed with exhibits and artifacts that tell the story of Gettysburg, from its early days as a small town to its pivotal role in the Civil War. Visitors can explore on their own or take one of our guided tours. They also offer a variety of educational programs for all ages. Whether you're a history buff or just looking to learn more about this important place, the Gettysburg Museum of History is the perfect destination.
Looking for something fun and unique to help you keep track of the days? Check out our selection of yearly travel calendars! Amazing scenic views, ocean photos, international landscapes, and even National Parks to choose from. No matter what your taste, there is the perfect scenic calendar for you. Hang it in your office, or home, or give one as a gift – they make perfect stocking stuffers!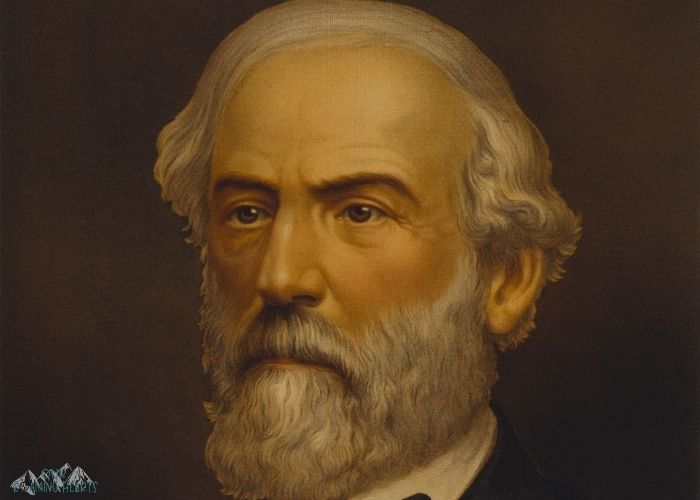 General Lee's Headquarters Museum – Welcome to the General Lee's Headquarters Museum! Here they preserve and commemorate the significant history of the American Civil War. The museum contains a wealth of artifacts and exhibits detailing the important role that Gettysburg played in this momentous conflict. They invite you to come and explore all that they have to offer. Take a step back in time as you stroll through the collection of period buildings. View the vast array of artifacts, including weapons, uniforms, and personal effects. And be sure to visit their beautiful grounds, which include the site of General Lee's original headquarters.
Tours In Gettysburg
Jennie Wade House – This is the site of one of the most famous civilian casualties of the entire Civil War. Jennie Wade was only 20 years old when she was fatally shot while baking bread for the Union soldiers who were occupying her home during the Battle of Gettysburg. The Jennie Wade House has been left exactly as it was on that fateful day, and today it stands as a monument to her sacrifice. Visitors can tour the house and see firsthand what life was like during the Civil War. The Jennie Wade House is a must-see for anyone interested in learning about this crucial time in American history.
Dobbin House Tavern – Dobbin House Tavern, built in 1776, is one of the most historic buildings in Gettysburg, Pennsylvania. This tavern was a stop for stagecoaches and served as a hospital during the Civil War. Today, the Dobbin House Tavern is a restaurant that serves American cuisine. The menu features classic dishes such as pot pie, shrimp and grits, and shepherd's pie. The tavern also has a wide selection of beers, wines, and spirits.
Historic Places to see in Gettysburg PA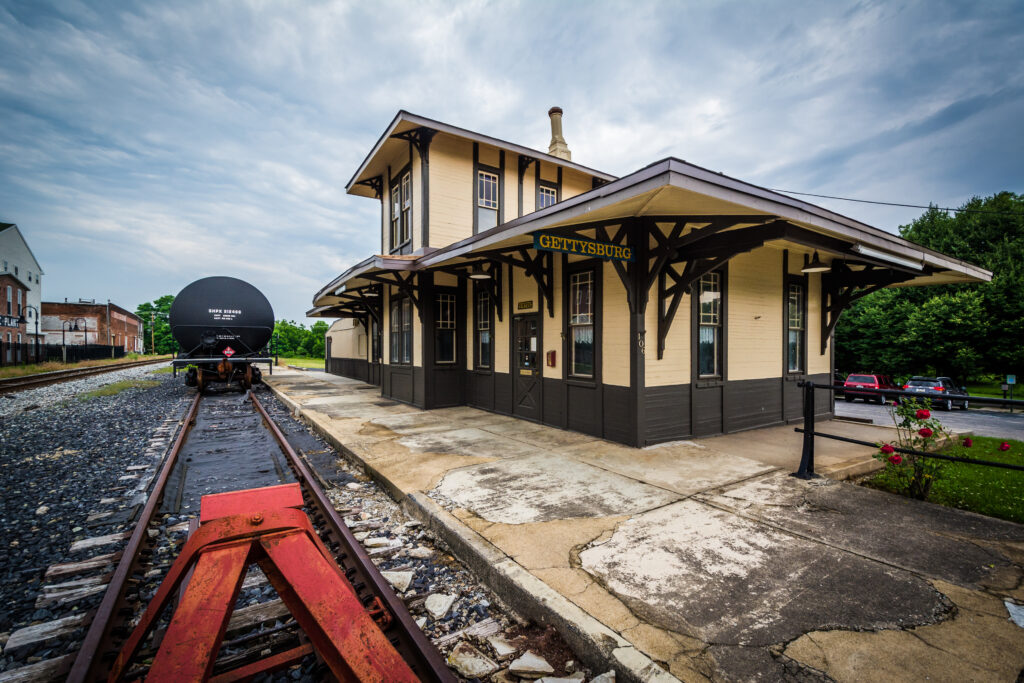 Gettysburg Train Station -This is the train station Abraham Lincoln delivered the famous Gettysburg Address. Gettysburg was in the process of cleaning up from the battle, not a pretty sight, and from what we learned at the Military Park it didn't smell too great either. This train station now takes you back in time and describes what our 16th president would have seen when he arrived.
Soldiers' National Cemetery – Before Arington became, the National Cemetary Gettysburg held the position. The dedication of this graveyard came from President Abraham Lincoln himself and was given at the train station mentioned above.
National Park Adventure Books

Find the National Parks you are visiting and get yourself these National Park Adventure Books. Plan your trip and jot down memories to keep forever. Add a few photos and you have yourself a keepsake for years to come!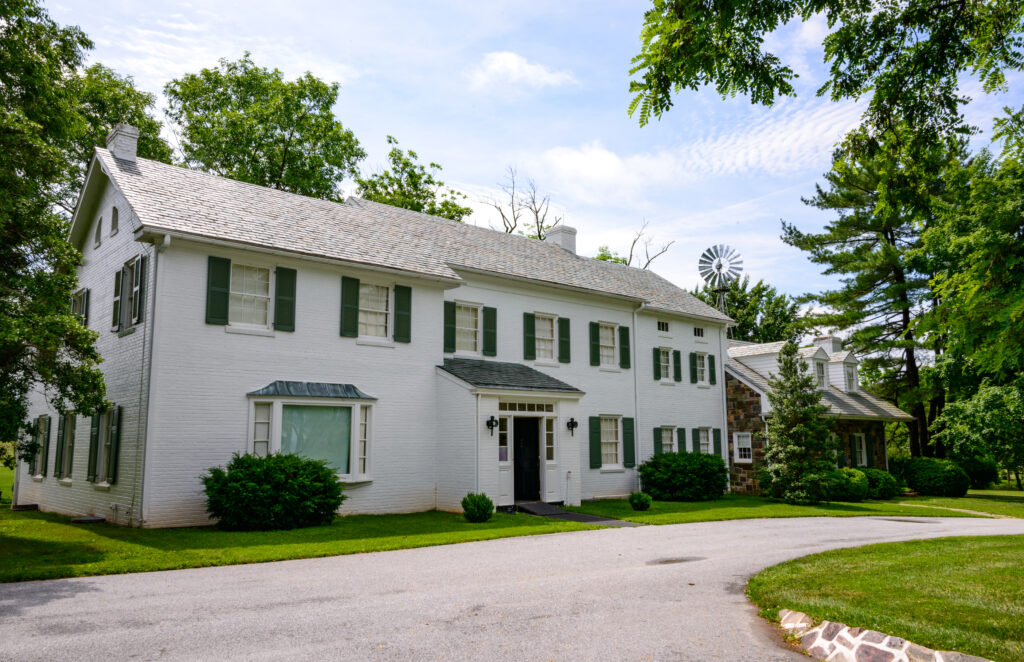 Eisenhower National Historic Site – Eisenhower National Historic Site commemorates the life, legacy, and leadership of President Dwight D. Eisenhower. The site includes his Boyhood Home, the Eisenhower Farm complex, and Gettysburg College campus where he taught military science. Visitors can explore Ike's boyhood home and learn about his Kansas childhood; stroll through the gardens and orchards at the Eisenhower Farm; and visit the Gettysburg College campus to see where he taught military science. The site also features a museum with exhibits on Ike's life and career, as well as a research library with archival collections.
Gettysburg National Cemetary – This cemetery is the final resting place for thousands of Union soldiers who fought and died in the Battle of Gettysburg during the American Civil War. The cemetery is located on 17 acres of land near the Gettysburg Battlefield and features a beautiful monument to the fallen soldiers. The cemetery is open year-round, and they offer a variety of tours and events that help visitors learn more about the history of the Battle of Gettysburg. Their goal is to preserve this sacred ground and ensure that future generations can experience the same sense of connection to the nation's history.
Historic Round barn – This round barn, built in 1914 has been labeled one of the most genius designs of its time, also making it one of the most expensive. This landmark now holds a local farmer's market. The building is a thing of beauty to take in.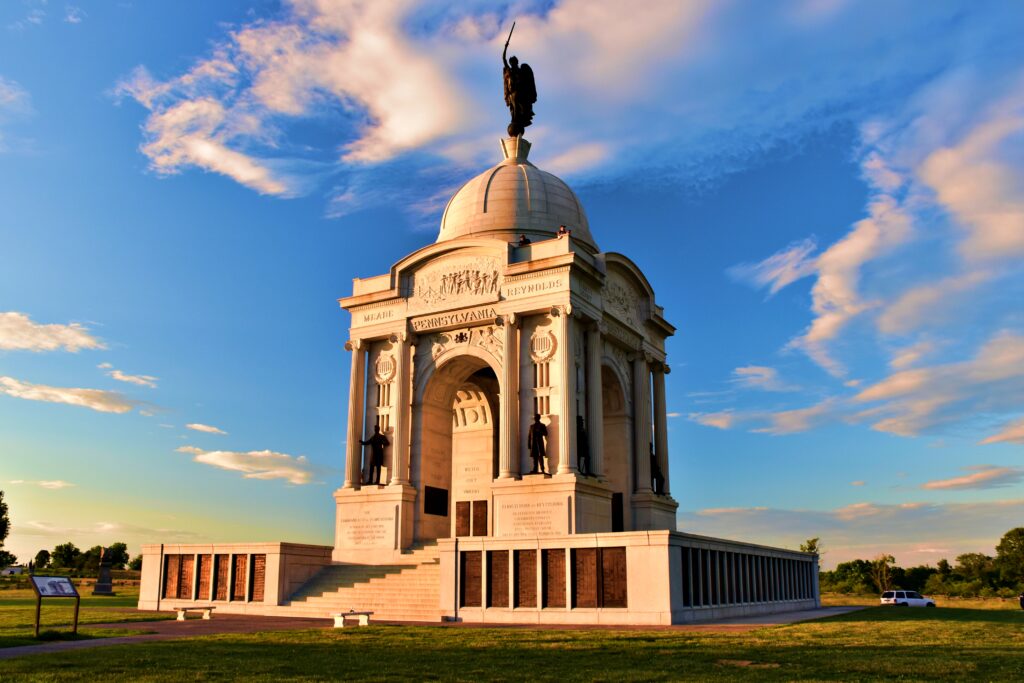 State of Pennsylvania Monument – The State of Pennsylvania Monument is a beautiful and historic monument located in Gettysburg, PA. This monument is a must-see for anyone visiting Gettysburg, as it commemorates the vital role that Pennsylvania played in the Battle of Gettysburg. The monument is made up of several granite columns, each inscribed with the names of the brave Pennsylvania soldiers who fought and died during the battle. The monument also features a statue of General George Gordon Meade, who led the Union Army to victory at Gettysburg. Visitors can learn more about the history of the Battle of Gettysburg at the on-site museum, or take a self-guided tour of the monument.
Even More free things to do in Gettysburg PA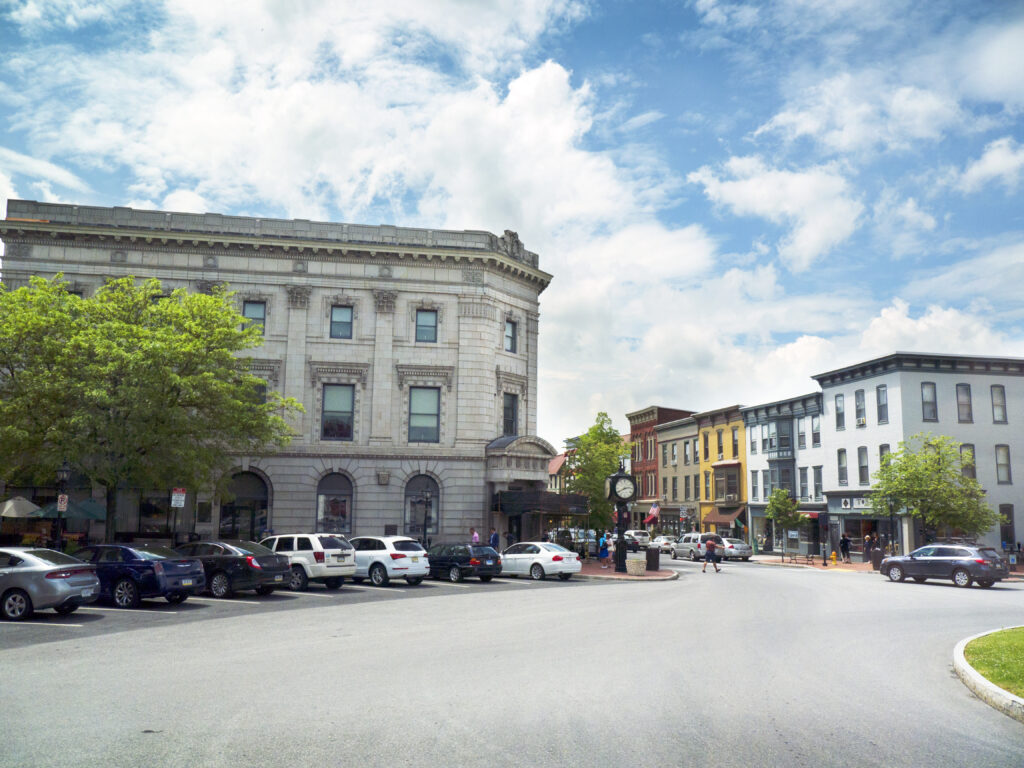 Stroll Downtown -One of the things I love to do in Gettysburg is to walk Gettysburg downtown. The building alone holds so much history plus there are so many great shops to window shop and on weekends it seems there are plenty of free samples to be had as well 😉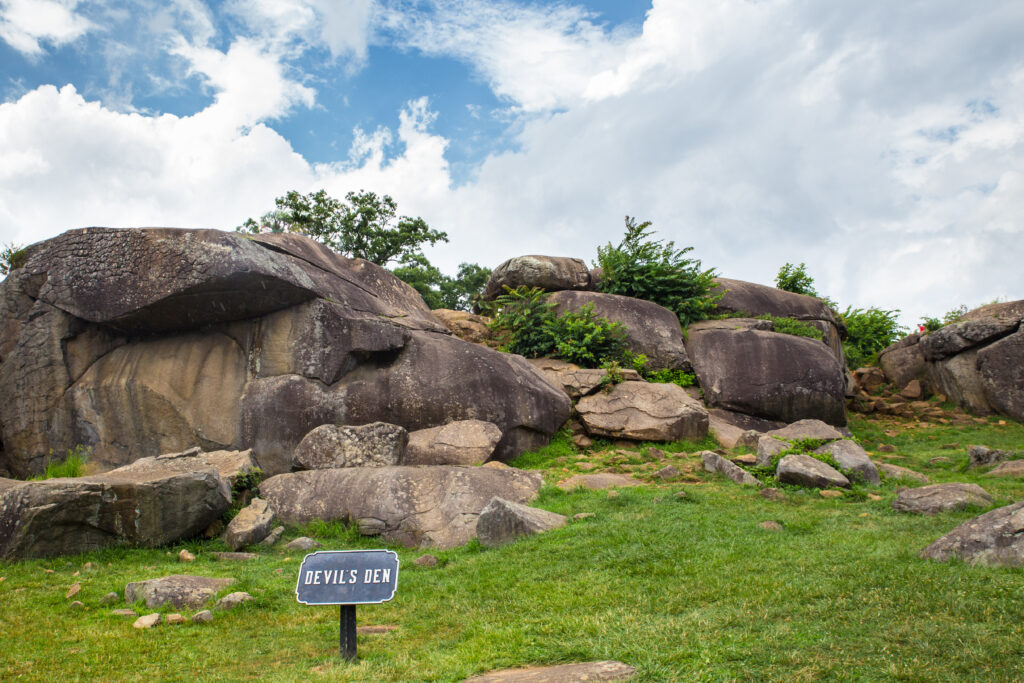 Devils Den and Little Round Top – The Battle of Gettysburg was fought July 1-3, 1863, in and around the town of Gettysburg, Pennsylvania. The battle resulted in a Union victory and is often considered the turning point of the American Civil War. Devils Den and Little Round Top are two key sites of the battle, where some of the fiercest fightings took place. Today, Devils Den and Little Round Top are popular tourist destinations, offering visitors a chance to experience history first-hand. These hallowed grounds are rich with stories of bravery and sacrifice, making them must-see stops for anyone interested in American Civil War history.
Sachs Covered Bridge – The Sachs Covered Bridge is a historic wooden covered bridge that spans the swollen waters of Beaver Creek in Cumberland County, Pennsylvania. The bridge was originally built in 1832 by Jacob Sachs and was destroyed by floods in 1936. It was rebuilt in 1937 by the Works Progress Administration and is now one of only two remaining covered bridges in Cumberland County. The Sachs Covered Bridge is an important part of Pennsylvania's history and is a beautiful example of early American engineering.
Gettysburg is a great place to visit, and there are plenty of things to do in the area that won't cost you a penny. If you want to save money on your trip, be sure to check out some of these free activities. Did I miss any free things to do in Gettysburg PA? Please let me know if I did!