This post may contain affiliate or referral links. Read more about this in our disclosure policy.
Newport Rhode Island, located on the Atlantic Ocean is such a beautiful city. Even in such a small state, there are 21 free things to do in Newport RI! Read on I share a way to even take in the Newport Mansions free!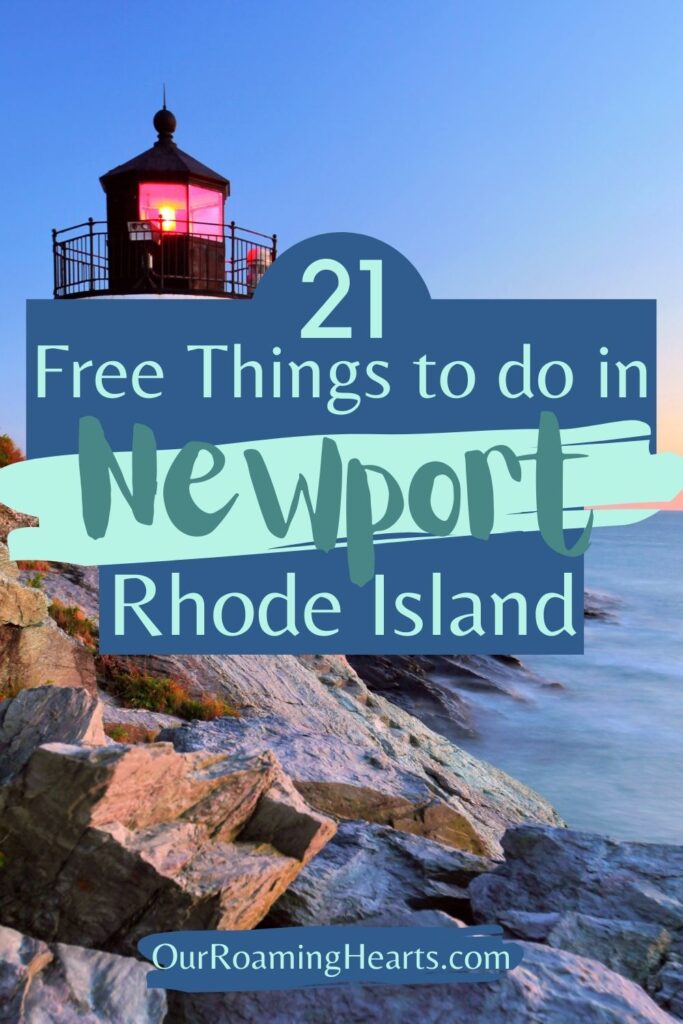 Travel Tips
With rentals available all over the world, you're sure to find the perfect place to stay. Airbnb has something for everyone. Plus, with prices that are often much cheaper than traditional hotels, you'll be able to stretch your vacation budget even further.
If you can not find an Airbnb that fits your needs a second option is VRBO. Find an amazing vacation home for your family.
Make sure to check out our travel deals page for any deals or sales on your next trip no matter where it is!
21 Free Things to do in Newport Rhode Island
While traveling be sure you bring change so you can take advantage of any pressed penny machines you come across. These make great souvenirs.
We visited Newport Rhode Island on our way up to Portland Maine and loved the area! Newport has so much history, and it's so pretty! While there we did take in the Newport Mansions we offset the costs with the free things to do in Newport RI.
The Prescott Farms – The grounds are free and open to the public from dawn until dusk. This is a colonial farm with buildings, gardens, and more.
Bristol-Warren Art Night – Discover the talents of Rhode Island on the last Thursday of the month.
Ballard Park – This park is known for its outdoor movies, homeschool events, hikes, and illuminated gardens.
Jamestown Windmill – This windmill was built in 1787 and was used for over 100 years. You can still climb to the top!
Fort Adams State Park – Hike the trails at Fort Adams State Park, take in the fort and the beaches!
Related: Top 16 Things to do in Salem MA
Gooseberry Beach – You can't be this close to the Atlantic Ocean but not visit! This is a public beach that is always free.
Rhode Island Trinity Church – Visit the most famous church on Rhode Island, the architecture here is breathtaking!
Rhode Island State House – The State House offers free tours just about every hour.
Providence Athenaeum – While outside Newport, I really want to run away and live here. Just open the website and see why. I can't look away!
Related: 15 Bewitching Free Things to do in Salem MA
Sachuest Point Wildlife Refuge – Get involved during your visit they always have a lit of events.
Brenton Point State Park – Many call this one of the most scenic parks in the state.
The Touro Synagogue – Enjoy the rich history of the oldest synagogue in the state. Lots of history here!
Cliff Walk – While the Newport Mansion costs money to get into and tour (and is well worth the admission) you can walk along the cliff walk, on the water, and still see the grounds. You can take this Cliff Walk book with you and do a self-guided tour.
Redwood Library – Libraries are always free to visit, but this one is a step back in time in a beautiful historic building. This library is also a part museum with changing exhibits.
Boyds Wind Grist Mill – While there used to be over 20 of these on the island, this is one of the only two left. It is also the only eight-vane smock mill built in New England and one of the few survivors in the USA. You can see the mill and learn more about its history here.
New Port Gallery Night – The galleries downtown will all get together and have a night where you can walk from one to another and enjoy all the great art.
Related: Top 20 Things to Do in Cape Cod Massachusetts
Beaver Tail Lighthouse and Museum – You can climb to the top of the lighthouse and get a birds-eye view of the point and grounds. A donation is suggested, but there is no admission fee.
Colt State Park – This park is over 400 acres of lawns, stones walls, and shorelines. There are over 4 miles of bike trails and many great areas to have a picnic.
Easy Bay Bike Path – If you're biking and visiting the above Colt State Park make sure to check out this bike path!
The Newport Historical Society is a great way to start your journey through Newport. There is a suggested donation of $4 per person, but no admission. This is the same Society that runs the Newport Mansions.
When it comes to having fun, doing it for free is always fun. Take advantage of these free things to do in Newport RI. What other free things have you found to do in Newport, RI? Share your free activities in the comments below!