This post may contain affiliate or referral links. Read more about this in our disclosure policy.
Colorado Springs, Colorado is one of those places everyone wants to visit. You know it's a very beautiful place already, it's just a matter of what to do while you're there. With everything from Pikes Peak to the old west trails, there is so much history to take in while there. Make sure to make time for these free things to do in Colorado Springs CO while visiting too!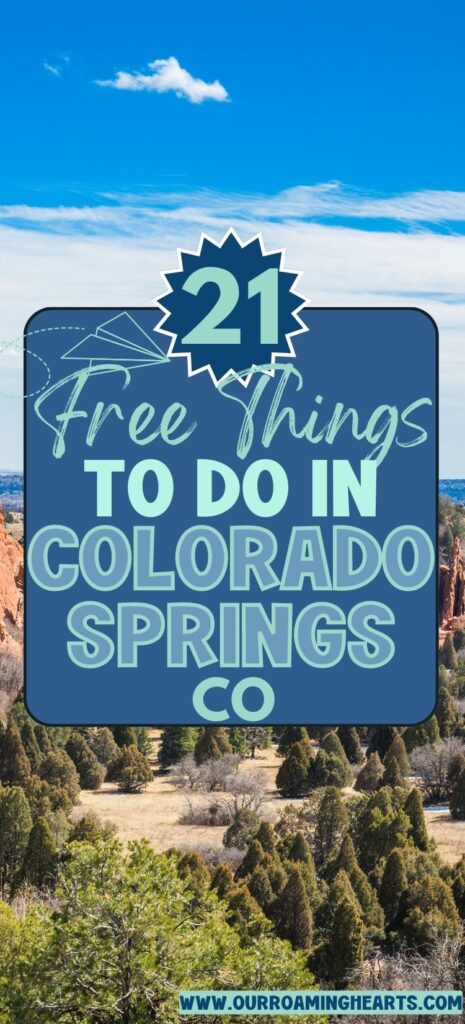 Travel Tips
With rentals available all over the world, you're sure to find the perfect place to stay. Airbnb has something for everyone. Plus, with prices that are often much cheaper than traditional hotels, you'll be able to stretch your vacation budget even further.
If you can not find an Airbnb that fits your needs a second option is VRBO. Find an amazing vacation home for your family.
Make sure to check out our travel deals page for any deals or sales on your next trip no matter where it is!
While traveling be sure you bring change so you can take advantage of any pressed penny machines you come across. These make great souvenirs.
Boondockers Welcome
Boondockers Welcome opens up a world of new camping opportunities. Escape the crowded and noisy campground in favor of a private spot on a beautiful property and a meaningful connection with a friendly host. Enjoy truly unique stay experiences often without any sacrifice to comfort as 70% of Boondockers Welcome hosts offer hookups.
Harvest Hosts
Harvest Hosts offers RVers unlimited access to farms, breweries, wineries, and attractions across North America. Your membership allows you to stay overnight at any of these businesses and in return, all you have to do is support them by making a purchase (go on a farm tour, enjoy a wine tasting, grab a flight of beers, etc.) How fun is that!? head to Harvest Hosts site and see where you can stay as you're driving through.
What are the most popular attractions in Colorado Springs?
Colorado Springs is home to many popular attractions including Garden of the Gods, Pikes Peak, Cheyenne Mountain Zoo, and Peterson Air & Space Museum.
What are some of the best outdoor activities to do in Colorado Springs?
Outdoor activities in Colorado Springs range from hiking, biking, and camping, to rock climbing at Garden of the Gods and exploring Seven Falls. Many people also enjoy skiing and snowboarding at The Broadmoor Resort during the winter months.
Related: Camping 101: Everything You Need To Know
Is there good public transportation in Colorado Springs?
Yes, there is a good public transportation system in Colorado Springs known as Mountain Metro Transit which offers bus routes throughout the city. There is also a free shuttle service that runs between downtown and Old Colorado City as well as a free summer trolley service that serves various stops on weekends from Memorial Day to Labor Day.
What kind of weather can you expect in Colorado Springs?
Generally speaking, Colorado Springs has mild weather with an average temperature of 42 degrees Fahrenheit (5 degrees Celsius). Summers are typically warm and sunny while winters can be cold but can receive significant snowfall each year.
Looking for something fun and unique to help you keep track of the days? Check out our selection of yearly travel calendars! Amazing scenic views, ocean photos, international landscapes, and even National Parks to choose from. No matter what your taste, there is the perfect scenic calendar for you. Hang it in your office, or home, or give one as a gift – they make perfect stocking stuffers!

Colorado Bucket List Scratch Off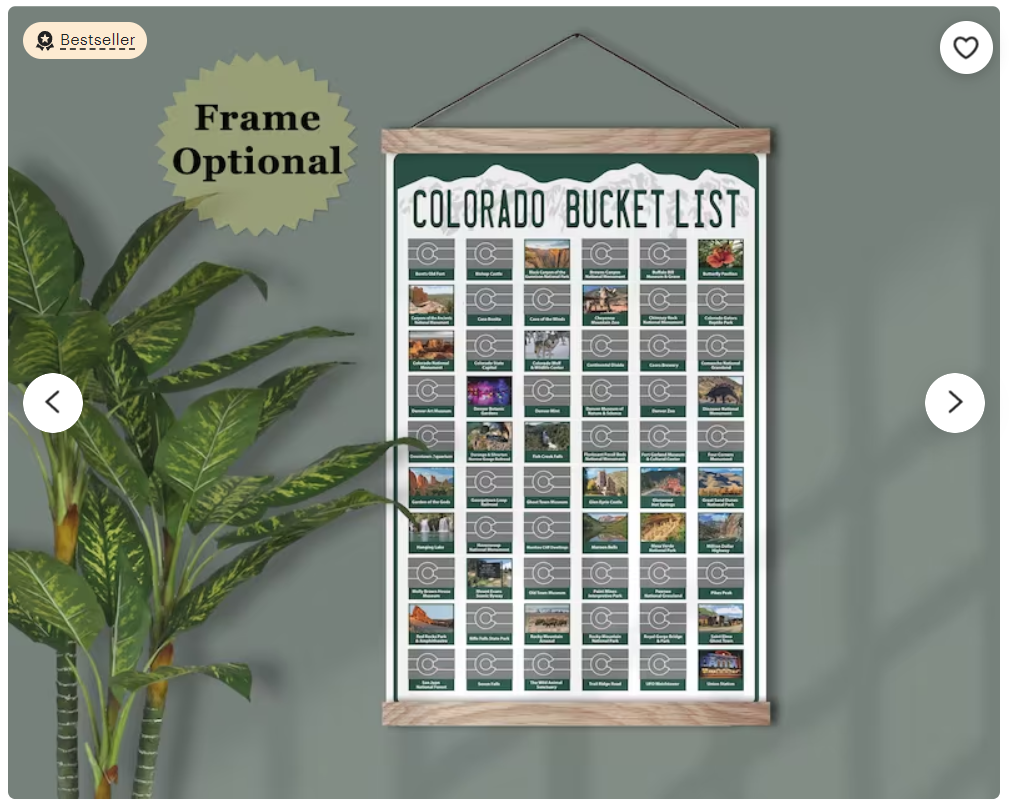 Take your Colorado bucket list up a notch with the Colorado Bucket List Scratch Off! Explore the best of what this great state has to offer and uncover all the hidden gems. This high-quality scratch-off map reveals the best of Colorado and allows you to keep track of all the amazing places you've discovered. Don't let another day pass without experiencing something new in a place as magnificent as Colorado. Plus, it's an ideal gift for any lover of travel or exploration! So get ready to start scratching and unveiling some magical destinations!
21 Free Things to do in Colorado Springs CO
I remember learning about Colorado Springs while watching Dr. Quinn Medicine Women with my mom growing up! The show talked about Pikes Peak and so many of the real-life things in the area that it's always been on my radar to visit!
While there one of my favorite ways to save money on your trip is by using Airbnb (sign up for a free account with my link and get a free $40 travel credit!) there are so many cabins with amazing views that cost less than most hotels!
Related: Free Campsites in Colorado
Garden of the Gods – A beautiful public park located in Colorado Springs, natural beauty doesn't get much better than this. Garden of the Gods is a free park to enjoy with your family and friends.
Bear Creek Regional Park – This is a huge park with around 546 acres! You can spend all day playing in the fields, doing archery, and more!
North Cheyenne Cañon Park – There is a visitor center a nature center at the park entrance, hiking trails that lead to amazing views, and waterfalls.
The United States Air Force Academy – Since my husband served in the Navy, we're so curious about these types of places. If you get the chance, you'll want to take a tour of the United States Air Force Academy.
Old Colorado City – This was the original capital of the Colorado Territory back in the 'Wild West' days. It is no longer its own city but very much still has a 19th-century feel to it. Take a walk around and window shop there is so much to see.
Related: 27 Free Things to do in Denver Colorado You Don't Want to Miss!
Rocky Mountain Motorcycle Museum – This is a museum that's run by volunteer staff and it's one cool place to see and experience. Seeing these old bikes up close and personal is an experience you may not always be able to partake in.
The Rocky Mountain Motorcycle Museum aims to preserve motorcycle history.
Red Rock Canyon – Another great park to check out in Colorado Springs is Red Rock Canyon. This park is huge! There are tons of trails, but you can easily spend the day here sightseeing. It's simply magnificent.
Cripple Creek Heritage Center – While there is no gold rush happening now, Colorado Springs was once a hotspot for this activity. In the 1800s, thousands of people headed this way to search for gold.
This Pikes Peak travel center is well worth the visit.
Dr. Lester L. Williams Fire Museum – This museum is Dr. Lester William's personal collection of firefighting memorabilia including some early forms of the fire truck.
Colorado Springs Pioneer Museum – Wouldn't it be awesome to see how the pioneers of Colorado Springs did it? Well, now that dream can come to life by visiting the Colorado Springs Pioneer Museum. To see what this community has been and is becoming is amazing!
Related: 31 Free Things To Do in St George Utah
America the Beautiful Park – This is a smaller park in Colorado Springs that's a little more intimate. There's a huge sculpture to check out, right along with interactive pieces of art.
This is a one-of-a-kind park that you will want to check out.
El Pomar Foundation, Penrose House – This home is on the National Register of Historic Places and is just beautiful. They also do a nice Christmas lights display.
Manitou Springs Heritage Center – A free museum you can check out to experience the culture of Colorado Springs. There is always some type of event happening at Manitou Springs Heritage Center.
Acacia Park – Colorado Springs is already a beautiful place but Acacia Park makes it that much more beautiful.
Flowers and walking paths make this the perfect free activity to partake in while in Colorado Springs.
Fox Run Regional Park – With a couple of ponds and a couple of playgrounds mixed with hiking trails and views of Pikes Peak this is a relaxing park.
Helen Hunt Falls – These falls are located above North Cheyenne Canon Park but are worth a stop all on their own. These falls have their own visitor center. You can see the falls from the bottom or crossing the bridge from above.
Related: What is Airbnb & Pro Tips for Using Airbnb
Peterson Air & Space Museum – This museum is on the air base so if you do not have a form of military or DoD ID then you will need to get a visitor pass so be prepared for that.
This museum has many airplanes you will want to check out some going back as far as WWII.
Focus on the Family Welcome Center – This is a completely family-friendly area. There is a short film, kid's play area with a 3 story slide, an art gallery, and a Discovery Emporium, with a puppet stage and reading area.
They have an old fashion soda shop and coffee area, a Narnia Adventure Room, a radio show, and more.
Interpretive Paint Mines – Over 750 acres of plains with mines that have early signs of human life dating back almost 9,000 years.
The Gold Belt Scenic Tour – Travel the trail miners would follow in the wagons while racing the Colorado gold rush. You can see the wagon tracks and some of the amazing views along the drive.
Art on the Streets – While the guided tours cost money you can roam the streets in downtown Colorado Springs and see the art yourself for free.
All in all, Colorado Springs is a great destination for those looking to explore and experience the beauty of nature without spending a lot of money. There are plenty of free things to do that can be enjoyed by people of all ages and interests, from exploring Garden of the Gods to hiking Seven Falls or taking advantage of the free shuttle service and trolley rides. Whether you're looking for outdoor adventure or learning opportunities, Colorado Springs has something for everyone on a budget. Did I miss any free things to do in Colorado Springs CO? Let me know in the comments below!