This post may contain affiliate or referral links. Read more about this in our disclosure policy.
While Rome may be best known for its ancient ruins and tourist traps, there are plenty of free things to do in the city if you know where to look. From admiring the street art and sampling local cuisine to visiting some of the lesser-known museums and parks, Rome has something for everyone. If you're looking for ideas on how to spend your time in this iconic city without spending a fortune, check out our list of the top free things to do in Rome.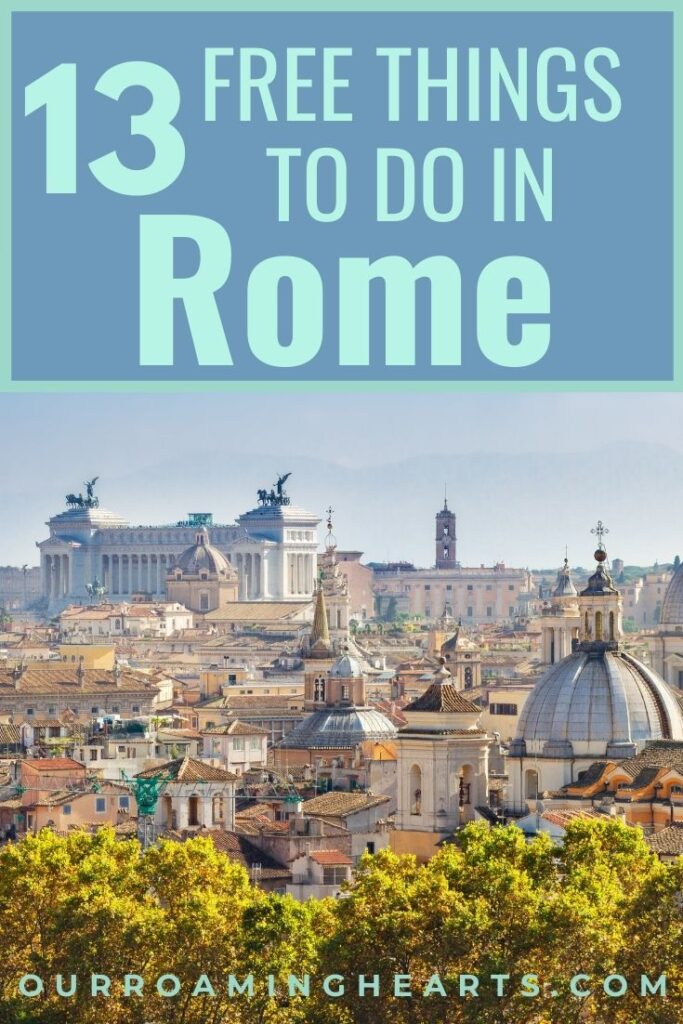 Ways to Save In Rome
When in Rome, you might as well see as many things as you possible can. Rome is one of the most historical places in the world. You could spend weeks here and not see everything, free or not. They have an amazing Hop-On-Hop-Off Rome Tourist Bus that would be perfect if you are on a tight schedule but still want to see all the things.
With rentals available all over the world, you're sure to find the perfect place to stay. Whether you're looking for a rustic cabin in the woods or a luxury villa by the beach, Airbnb has something for everyone. Plus, with prices that are often much cheaper than traditional hotels, you'll be able to stretch your vacation budget even further. Sign up today and get $40 off your first stay.
You can also check for Rome Vacation Homes and see what is available for your travel dates.
There is also the Rome GoCity pass. Here you can bundle big attractions like the Catacombs, Colosseum, Vatican Museums, and many tours. If you will be in Rome for a few days this is the best deal for you! For one price you can get access to MANY of the bigger, more costly attractions. This will save you money and then you will be able to enjoy the free things to do in Rome still as well.
Free Things to do in Rome
Pantheon – The Pantheon is one of the most well-preserved ancient Roman buildings. The word "Pantheon" means temple for all gods, which pretty much sums up what it is. It was built in 126 AD by Emperor Hadrian and later. Admission is free during the weekdays however you can upgrade to an audio tour or guided tours as well.
Related: Top 4 Best Castles in Wales You HAVE to See!
The Piazza Navona is a must-see while in Rome. It's packed with tourists and locals, there are many restaurants and shops nearby, it's right by the Pantheon and Trevi Fountain, you can't miss it! A beautiful piece of architecture worth checking out in Rome is the Trevi Fountain. Rome is known for its architecture and this is one of the more popular places to visit! These two are side by side so you won't have to navigate far.
Feeling up for a challenge? The Basilica di Santa Maria Maggiore is a place I would recommend to any traveler. It's an amazing historical landmark and the architecture is beautiful. There is also a 550+ set of stairs that takes you to a view of Rome unlike any other.
Want to visit one of the most important Roman roads in history? Check out Appia Antica. Walking down this road will make you feel as though you're walking back in time.
Villa Borghese is a party villa developed by Flaminio Ponzio (1560–1613). The details of this villa are phenomenal. It is one of the most astonishing gardens. The park itself has many beautiful statues and fountains, but it's also near the Spanish steps and Trevi Fountain. It is free to access however you are able to purchase seats if you would like.
You can also purchase a guided tour for an in-depth visit.
Related: 71 Truly Free Things to do in London England
One of the best places to visit while traveling through Rome is Trastevere. The bars and restaurants will provide excellent experiences, the people are nice, and it's easy to navigate. There are little shops you can enjoy as well.
Checking out the Spanish Steps is a must, while in Rome. These steps carry a lot of history! Just imagine yourself in front of these steps! You'll feel as though you're right smack in Rome's history.
Largo di Torre Argentina is a sight to see for those who love the architecture of historical temples and more. This is also where Julius Cesar was assassinated. Today the ruins of the temples can still be seen but the entire location is now a cat sanctuary.
Via Margutta is a place to walk and enjoy fun and food in Rome. It's a short street with a very long history. You can't put a price on being able to see Via Margutta and enjoying delicious Roman food in the process.
Related: Best New England Vacations – New England Vacation Ideas Perfect for Families
Interested in seeing Trajan's Column? You'll love the 126-foot marble pillar in Rome that exhibits a tale that reads like a comic strip. The Colonna Traiana is one of the most famous buildings in Rome. It's right near a metro station, so it's easy to see if you're traveling through Italy.
Gianicolo Hill is a romantic place to take your loved one to enjoy the sweet side of Rome. Whether or not you are in a romantic relationship, you can admire the beauty and history that lies here.
Last Sunday of the Month the Vatican Museums are free, so make sure you take the time to visit these. You can upgrade to a guided tour to get the full experience but it is not required.
An ancient city gate called Porta Portese is definitely a sight worth seeing in Rome. Can you imagine having to enter a city gate when you entered a new city? An interesting concept, but it's even cooler to see up close and personal.
As you can see, Rome is a city full of history and culture that offers plenty for visitors to do without spending a penny. If you're looking for an affordable vacation destination with plenty to offer, look no further than Rome. Have you been to Rome before? What were your favorite free activities? Let us know in the comments below.