This post may contain affiliate or referral links. Read more about this in our disclosure policy.
Are you heading to Denver, Colorado soon? You just can't beat the views there! However, I LOVE all the free stuff there is to do. Check out these free things to do in Denver Colorado today. You can find many more free things to do in Colorado for your visit as well.
Plus I mean any city you can see the mountains from is a win for me right?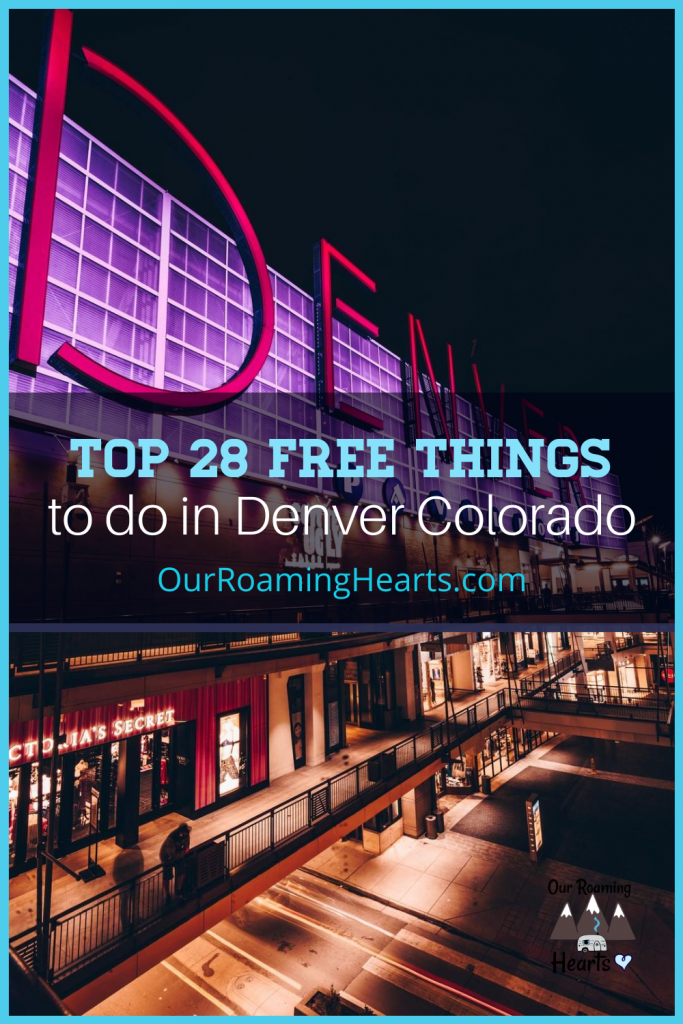 27 Free Things to do in Denver Colorado You Don't Want to Miss!
If you are looking for the best deals on a place to stay make sure you look for places to stay on Airbnb. You can also get a free $40 Airbnb credit when you sign up for a free account via my link.
There are many places to rent right downtown, several historical places, and for less than $100 a night you can get some amazing places to rent that are HGTV quality!
Also, make sure to check out our travel deals page for any deals or sales on your next trip no matter where it is!
Related: Best Free Camping Sites in the USA
What is Denver famous for?
The 1976 Olympic Games is probably what put Denver on the map for many people. It was also the central hub for the territory back in the wild west days.
It also has a claim to fame of being the hometown of Chipotle Mexican Grill.
That probably is what leads to the next question…
What food is Denver famous for?
Well as stated above it is the birthplace of Chipotle Mexican Grill.
Denver is also well known for the Rocky Mountain Oysters. No these are not seafood, I'm sorry if you have a weak stomach but these are bull or bison testicles seasoned and deep-fried.
This also means they are well known for their Bison. Bison burgers, Bison steak, and more.
They are also known for their craft beers since they are the home to Coors.
What is the coldest month in Denver?
Denver is a textbook town. Your coldest month will be January with temperatures averaging in the teens.
This means your warmest month will be July with your average temperature in the high 80s.
Free Things to do in Denver Colorado
On to the fun things to do!
Colorado Capitol Building – Tours are available Monday – Friday but not on holidays. Make sure to book your tour as spots fill up quickly! State capital tours are a great way to learn about the state you are in. This one of the must-see free things to do in Denver.
Hammond's Candy Factory Tour– We love doing factory tours because it allows our kids to learn how things are made, it qualifies as a homeschool field trip, AND many times you get some excellent free samples!!
Chocolate tours are our favorite! We did another great free one on our Vermont vacation, and we LOVED it!
Related: 21 Free Things to do in Colorado Springs CO
Denver Mint – You can't beat getting to learn the history of the United States currency. The tour is free, but tickets are first-come, first-serve so grab them early in the day!
You will get to see money being made and learn history. This is one of the best freebies in the city as there are only a few mints in the US!
National Center for Atmospheric Research – Visit the visitors center to learn about the weather in the Rockies. They have several exhibits on weather, climate, and the atmosphere.
Red Rocks Park & Amphitheatre – This is a famous naturally formed amphitheater right outside Denver that is a must-see! Yes, you have to pay to see a concert here, but you can visit during a non-event and take in the beauty!
Colorado Sports Hall of Fame – This museum is housed in Sports Authority Field At Mile High Stadium, and the museum is free, but the tour of the stadium is not.
Denver Free Walking Tours – See the city on foot for free! There are so many different tours to chose from, pick a great day and have fun!
Related: Things to do in Billings MT
Littleton Historical Museum – With a 19th century living history museum, and a kids hands-on gallery there is a lot of great things to take in completely free!
Tattered Cover – If you are any kind of bookworm then you have probably heard of this bookstore. It's free to browse and take it all in!
Celestial Seasonings– Another great free tour! This one is just outside of Denver (less than an hour) but worth the drive! You will get a 45-minute tour of how tea is made and be able to take in the mint shop, tea room, and cafe!
Coors Brewery – One of the biggest beer companies and you can tour the brewery for free! Watch for their sampling days as well! I think this will be dad's favorite of the free things to do in Denver!
Denver Beer Trail – Make sure to check out the Denver beer trail, many breweries have free tours and even free tastings!
Rockmount Ranch Wear – Ok western wear may not be your thing, but this is their flagship store and offers a free museum as well. Plus really the boots are super cute!
Related: 19 of the Best Free Things to Do in Dallas Texas
Movies in the Park – Denver has quite a few movies in the parks around the city. If you are in town during any of them, it's a great way to take in the city!
Denver Skate Park – Even if skateboarding and such isn't your thing it's worth a visit just to watch some of the talents here, even if some of it is cringe-worthy!
Christmas Lights – If you are in town for the holidays take a stroll downtown and takin all the Christmas lights. Denver sure knows how to do them upright!
Lookout Mountain – Drive up to Lookout Mountain to take in one of the most famous views of Denver.
Denver Story Trek – Learn the stories behind many of the historic sites around town. You can walk, drive, or bike and then listen to the MP3s of info. LOVE this concept!
Children's Museum of Denver – While this is only free one day a month it is worth taking advantage of if you are in town! That free day is every first Tuesday of the month from 4-8 PM.
Union Station – This 100-year-old building is amazing just to check out, but there is plenty to do here as well. Lots of window shopping and food, plus it's a great place to people watch!
Mile High Flea Market – This is part flea market, part farmers market, and part carnival. There are live music rides, food, and more. It's worth a visit just to take in the sights!
Larimer Square – This is Denver's oldest city block. While the area is now shops and restaurants, they have lots of events, so many sure to check out the calendar while in town!
Related: 33 Amazing Free Things to Do in Nashville TN
Rocky Mountain Arsenal – This is a 15,000-acre wildlife refuge and visitor center. It is free to visit, and there is so much to see and learn. Plus who can pass up the chance to see some bison?
Sloan's Lake – Head here just for the view alone but there are some great statues to take in and even some Bald Eagle sightings!
Denver City Park – This is the park that surrounds the zoo and science museum. While it costs money to get into those two attractions the park is free to check out and has lots to see!

Denver Zoo – While this attraction is usually paid there are two ways to get in for free.
One you can have one of the reciprocal memberships we recommend or take advantage of one of the free zoo days listed on their website.
Head to the Local Farmer's Market – Denver has so many great farmers' markets, and they are free to stroll through. We love talking to the locals here, and we always tend to find some of the best local food at farmers' markets!
Listen to jazz in the park for free – I love introducing my kids to music, and when it's free cultural jazz music, it's even better. Check out the website for when the free jazz concerts will be this summer.
Did I miss any awesome free things to do in Denver? Please let me know below I'd love to add them!