This post may contain affiliate or referral links. Read more about this in our disclosure policy.
Just off the shores of Jackson Lake with the Grand Tetons in the background, lies Colter Bay Village. It's the perfect location for an epic family vacation that you've been searching for. The village has great affordable cabins and campgrounds for lodging, along with great places to eat, and some fun things to do. Your family will enjoy hiking, kayaking, canoeing, fishing, swimming, and even horseback riding. Let's not forget about Grand Tetons National Park, that provides countless breath-taking views. Here are a few things for you to know before you plan your visit.
Colter Bay Village – Staying in Grand Teton National Park
You can see a video tour of my Colter Bay Cabin on YouTube (don't forget to subscribe!)
Does Colter Bay Village Have WIFI?
Yes while many areas in the park you will have a hard time even getting a phone signal you can connect to Wifi at Colter Bay Village. The wifi is strongest at places like the visitor center and the Ranch House Restaurant. The wifi doesn't extend to the cabin.
How far is Yellowstone from the Grand Tetons?
Both of the National Park pretty much butt right up to each other, just a small forest separating each one. So you can easily stay in beautiful Colter Bay Village and take a day to see to go see Yellowstone.
Can you swim in Jackson Lake?
Yes, just not in the marina area. There is a small beach on the other side of the village area for swimming. But be warned it is pretty darn cold!
Even if you aren't staying in the village there is plenty to see and do!
Grand Teton & Yellowstone Adventure Notes Books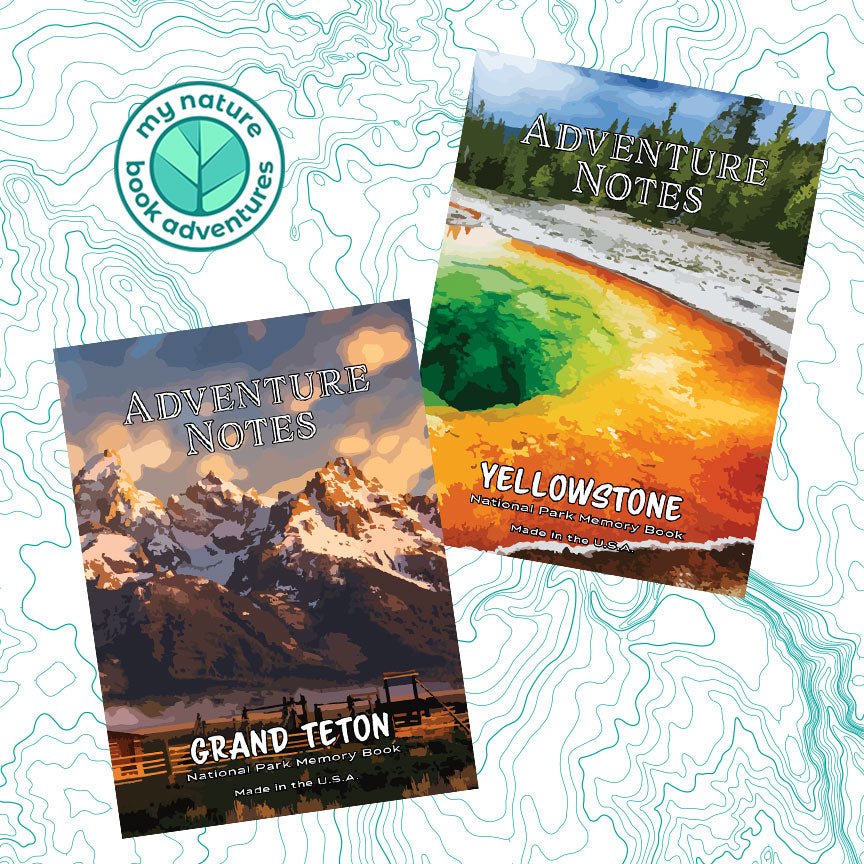 The perfect way to remember your trip to each iconic National Park. These Grand Teton and Yellowstone Adventure notes books are great for memories to look back on years down the road. Fill them in, add photos, and reminisce. Find even more National Park Adventure books for future visits.
Colter Bay Visitor Center
When you first get to Colter Bay Village, make sure you stop in at the Colter Bay visitor center. The rangers will give you all kinds of information, show you many Indian artifacts, or provide you with a permit for boating and backpacking. This is also where your kids can get their book for their National Park Junior Ranger badges.
They will also have wildlife watches, small presentations, a tipi demonstration and a program for a chance for your son or daughter to become junior rangers.
They also will teach your house to use your bear spray, which trusts me, you do need!
When it comes to lodging there are several choices for you! One thing to note is they do have a 24-hour front desk for check-ins. I was worried about this because I did have a later flight and wanted to stop at the grocery store in town before heading into the National Park
Colter Bay Cabins
The cabins at Colter Bay Village are near originals, each with a history and a unique design. These beautiful cabins might seem basic but they are indeed comfortable. You won't find a t.v or an electric air conditioner, but not to worry, the cool temperatures and amazing views will help you forget about that.
This is where I stayed most cabins have their own bathrooms but there are a few that do share a bathroom.
While the Colter Bay Village Cabins do not have things like wifi, air conditioning, and TV, they do have heat, super comfy beds, and a desk which I needed for working (very little!)
They are in walking distance of everything in the village, the stores, the visitor center, the marina, and more.
Colter Bay Campground
There's no better way to enjoy the great outdoors than by camping near the Tetons at Colter Bay Campground. There are over 330 sites, with 66 of them being tent camping, with running water and showers. These are first come first serve sites that do not require a reservation. Make sure you come before noon to secure your spot. Wifi is also limited in this campground.
Related: 32 Free Camp Sites in the Midwest USA
Colter Bay Village Tent Cabins
This is a neat experience at Colter Bay Village. The tent cabins in Colter Bay Village are a step up from traditional tent camping. Each site has a fire ring, wood-burning stove, picnic table and lighting.
Great Eats at Colter Bay Village
For lunchtime, stop on in at John Colter Cafe Court and get a pizza made-to-order and also a good selection of subs and salads. After a long exciting day exploring the Tetons, make sure you pay a visit to the Ranch House Restaurant, that has all your favorite comfort food, a salad bar, and barbecue foods.
The Ranch House opens early and closes late, they serve all meals and have a bar there as well. Now I will be honest I wasn't expecting much from National Park food because of how it's been at other parks. But here? The food was amazing.
That is breakfast, it's it pretty? It's their skillet sausage gravy and biscuits with an egg and breakfast potatoes.
They also have a mini grocery store here if you wish to cook or grill your own food as well.
What is there to do in Colter Bay Village?
Honestly, the best thing here is the views of Jackson Lake and the Grand Teton Mountains and there are plenty of ways to take it in! They have a marina there and they offer canoe, kayak, and motorboat rentals.
They offer scenic cruises of the lake along with breakfast, lunch, and dinner cruises. They have guided lake fishing and even horseback riding around the lake.
They have a pretty easy trail out around the peninsula that offers many great views on the mountains.
There are many picnic and grilling areas along with a small beach for those brave enough to attempt swimming in the cold waters.
There is also an amazing hiking trail around Jackson Lake that starts at Colter Bay Villiage.
This is a little bit of information about Colter Bay Village and why it should be your family's next getaway. If you've visited here before, tell us about your experience and if it will keep you coming back in the future.