This post may contain affiliate or referral links. Read more about this in our disclosure policy.
It is time to hit the open road in your RV, and I bet you want to be prepared. Whether you are going out just for a week-long vacation or going to be traveling full-time, there are some key essentials that every 1st Time RVer needs to have.
What do first-time RV campers need?
First-time RV campers need to make sure they have the necessary items for a successful journey. They should bring enough water for drinking, cooking, and washing up; some non-perishable food items; toiletries; versatile clothing that can work for different weather conditions and activities; printed maps and travel guides; RV supplies and repair kits; and accessories or gadgets for entertainment or outdoor comfort. Having these essentials in tow will ensure a safe and enjoyable trip.
What should you not bring in an RV?
When you're packing for your RV trip, there are certain items that you should leave behind. Household items such as furniture, large appliances, and electronics can take up precious space and cause your RV to become unbalanced and unsafe to drive. Additionally, flammable liquids or items such as propane tanks should not be brought into the RV because they pose a fire hazard. Remember to only bring what you need so that your journey is safe and enjoyable!
What Every 1st Time RVer Needs to Have
Tools for the Road
Emergency Road Kit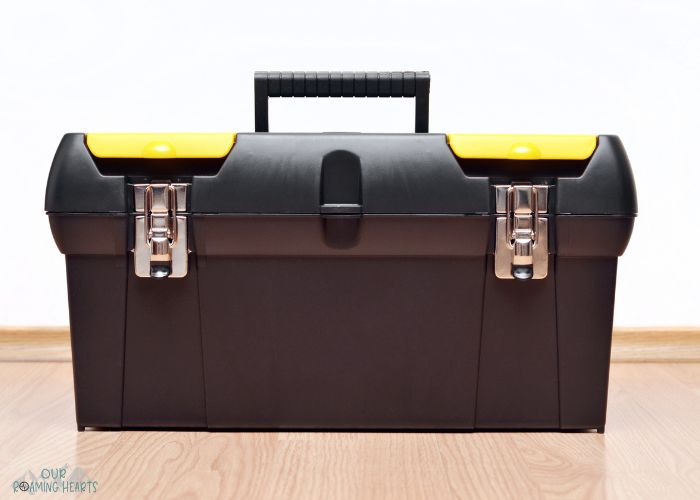 A lot of RVs have space on the side to store a toolbox. Fill it with the basics like the tools to fix a flat tire or jumpstart the battery. Then fill it with essentials like extra lug nuts for your tires, plus nuts and bolts, and of course a cordless screwdriver, wrenches, and pliers. Also make sure you have a can of Fix a Flat, an air compressor, and anything necessary to fix a tire – which includes obviously a spare tire! If your RV doesn't have a built-in toolbox, invest in one first thing.
Along with all the necessary tools, think of the fluids you might need. This includes extra oil, transmission fluid, engine coolant, brake fluid, and power steering fluid. I remember as a kid RVing with my dad and he always taught us to take care of the RV first and everything else would work itself out.
I've been around RVs and road-tripping long enough to know not to go anywhere without Duct Tape, Zip Ties, scissors, and tow straps. Also, toss in a blanket as who wants to get down on hot asphalt to fix anything? Not me!
Inside the RV
Emergency First Aid Kit
Make sure you have an Emergency Kit and that it is filled with the basics, but also have an Epi-Pen and Benadryl (better safe than sorry), mylar blankets in case of severe cold, and every medicine to combat an ill stomach, headaches, and even severe bleeding.
I'm a tech girl and need to be able to plug in while on the road. My fave is the Goal Zero Yeti, which will not only charge my laptop and phones but will also jump my RV's battery if needed. Keep an electrical kit handy too in case you need to fix any of the lights inside the rig.
Non-Essential Items for your RV
State Park Adventure Books
State Park Adventure Books are part planner and part journal. Plan your trip and then write about it for a keepsake. All the State Parks in each book are alphabetized to make it easier to locate the park you want. Each state is unique with gorgeous photos and every state park listed out. Ready to explore?
The most important thing a 1st Time RVer can have though is a sense of humor. Things will go wrong, really wrong. It is how you deal with these upsets that will determine how your trip goes. Just remember – you are building memories from mishaps.