This post may contain affiliate or referral links. Read more about this in our disclosure policy.
Maine is a Pine Tree State with plenty of outdoor activities to keep you busy. Whether you're looking to camp, hike, bike, kayak, or simply relax on the beach, Maine has something for everyone! In addition to its natural beauty, Maine also offers a variety of delicious restaurants and cozy bed and breakfasts. So what are you waiting for? Come explore everything that this Maine Travel Guide has to offer.
Table of contents
If you're looking to get out and explore the natural wonders of the world, or just relax in a charming small town, Maine has you covered.
Make sure to check out our travel deals page for any deals or sales on your next trip no matter where it is!
Things to do in Maine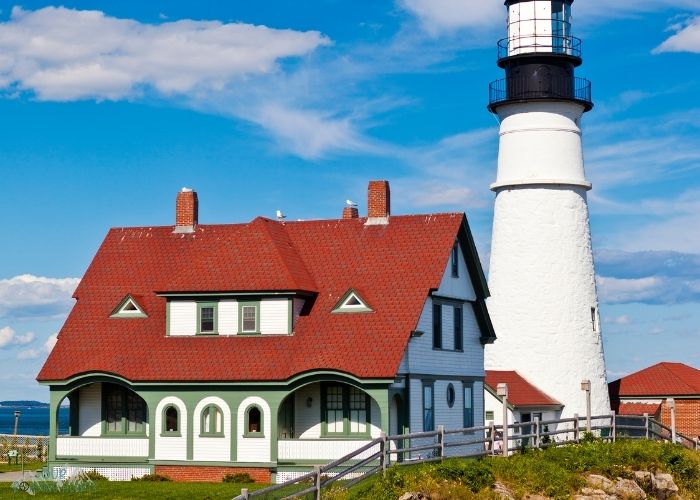 While traveling be sure you bring change so you can take advantage of any pressed penny machines you come across. These make great souvenirs.
39 Must See Things to do in Maine – If you are planning a trip I highly suggest Maine! Here are 20 things to do in Maine that you do not want to miss! Check out these Maine attractions in the Maine Travel Guide.
31 Free Things to do in Portland Maine – When visiting Portland there is so much to do from lighthouses to lobsters but make sure to take advantage of these free things to do in Portland Maine too!
The 15 Best Things to do in Portland Maine with Kids – There is so much to see in beautiful Maine. If you are traveling with kids you don't want to miss these 15 best things to do in Portland Maine with your kids
Best New England Vacations – New England Vacation Ideas Perfect for Families – Looking for New England vacation ideas? These are the best New England vacations perfect for families you do not want to miss.
Free Things to do in Bar Harbor – Did you know there are 18 free things to do in Bar Harbor, Maine? This is home to Acadia National Park and a few famous lighthouses!
National Parks, State Parks, Historic Sites In Maine
Ask the rangers at the desk for their Junior Ranger program book for any kids traveling with you. You can also ask them about any must-see locations at the park! Don't forget to visit the Ranger Station so any kids traveling can get their National Park Passport stamped.
The Ultimate List: Acadia National Park Things To Do! – There are miles and miles of forest and vegetation to explore at Acadia National Park. Check this list of Acadia National Park things to do.
Appalachian National Scenic Trail
Katahdin Woods and Waters
Roosevelt Campobello International Park
Saint Croix Island International Historic Site
Places to Stay in Maine
With rentals available all over the world, you're sure to find the perfect place to stay. Airbnb has something for everyone. Plus, with prices that are often much cheaper than traditional hotels, you'll be able to stretch your vacation budget even further.
If you can not find an Airbnb that fits your needs a second option is VRBO. Find an amazing vacation home for your family.
Good Eats in Maine
Coming Soon
Maine is a great place to get away from it all. Whether you're looking for a quiet spot to relax or an adventure to take your breath away, Maine has something for everyone. Have you been to Maine? What was your favorite thing to do there? Share your thoughts in the comments below and let us know if there are any other places in Maine that we should add to our Maine travel guide.